Tyre Nichols: What we know about his death and the Memphis officers charged with murder
MEMPHIS, Tenn. - Five fired Memphis police officers are facing second-degree murder and other charges in the arrest and death of Tyre Nichols, a Black motorist who died three days after a confrontation with the officers during a traffic stop.
The five officers charged are Tadarrius Bean, Demetrius Haley, Desmond Mills Jr., Emmitt Martin III and Justin Smith. 
Here's what we know about Nichols, his death and what led to criminal charges for the officers involved.
Who was Tyre Nichols?
Tyre Nichols was a 29-year-old father and FedEx worker. He was stopped by police on Jan. 7 for reckless driving while returning home from a suburban park where he'd taken photos of the sunset.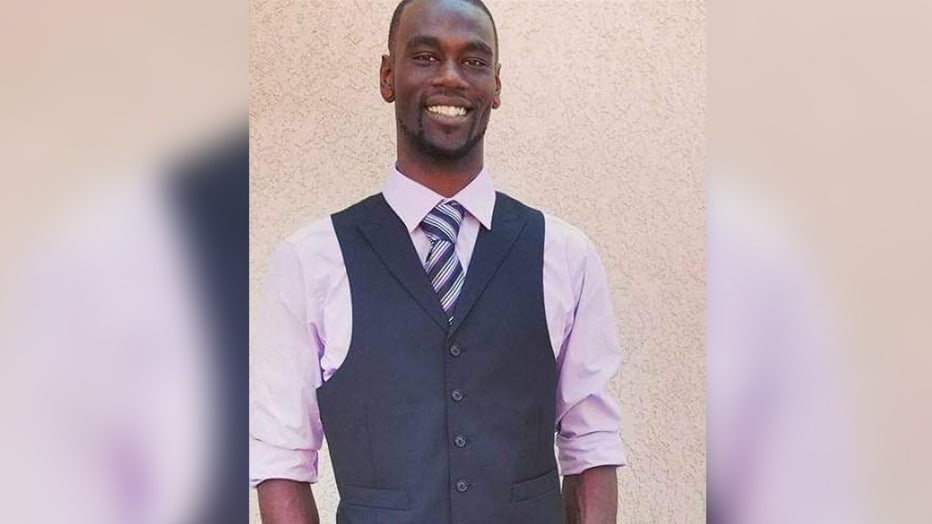 Tyre Nichols (Photo credit: Ben Crump Law) (Ben Crump Law)
Police said in a statement the day after the encounter that "a confrontation occurred" as officers approached the vehicle and Nichols ran; they said officers caught up to him and that "another confrontation occurred" while they were taking him into custody. Police said Nichols complained of shortness of breath and was taken to a hospital, where he died three days later.
Attorney Ben Crump, who has seen video of the encounter, said Memphis police officers beat Nichols for three minutes, treating him like "a human piñata."
Nichols was described by family as a "good kid" who loved skateboarding, photography and his 4-year-old son.
Nichols' stepfather, Rodney Wells, told reporters that his stepson had good reason to run from the officers.
"Our son ran because he was scared for his life," Rodney Wells said. "And when you see the video, you'll see why he was scared for his life."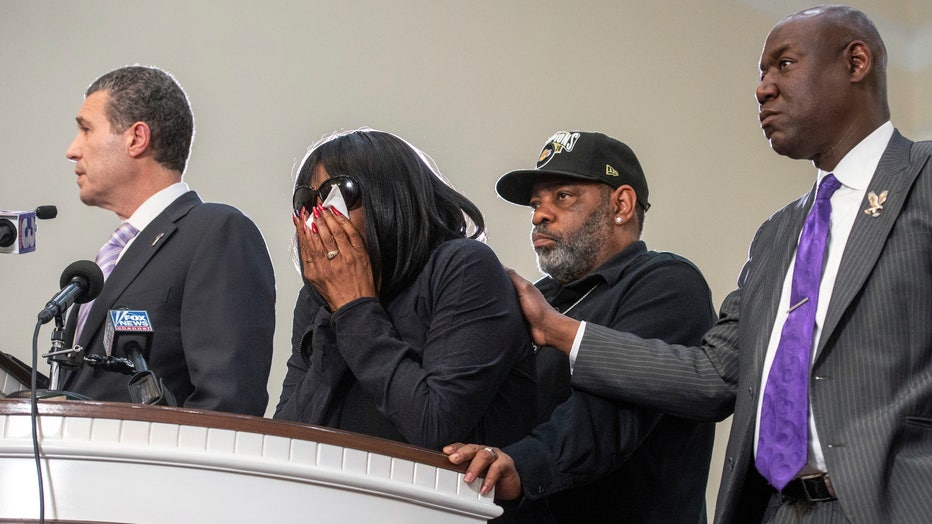 RowVaugn Wells, second from left, becomes emotional during a press conference at Mt. Olive Cathedral CME Church after she viewed footage of the violent police interaction that led to the death of her son Tyre Nichols Memphis, TN on January 23, 2023.
Relatives have accused the police of causing Nichols to have a heart attack and kidney failure. Authorities have only said Nichols experienced a medical emergency.
RowVaughn Wells, Nichols' mother, said that on the day of the arrest, her son was looking forward to a chicken she was going to cook for dinner that night.
"All my son was trying to do was come home," said Nichols' mother, who sobbed during the news conference and told reporters Nichols was less than 80 yards (73 meters) from home when Memphis police officers "murdered him."
"We're going to get justice for my son, Tyre, if that's the last breath I take," she said.
Who are the Memphis officers charged with murdering Tyre Nichols?
About a week before they were charged with murder, Memphis Police Director Cerelyn "CJ" Davis announced that the five officers involved in the arrest were fired after the police probe determined that they used excessive force or failed to intervene and render aid.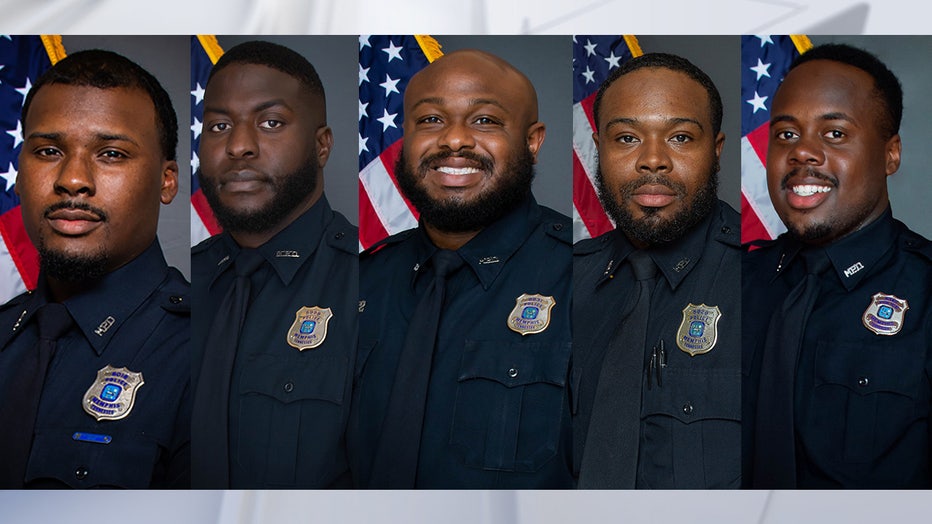 Justin Smith, Emmitt Martin III, Desmond Mills Jr., Demetrius Haley, Tadarrius Bean (Memphis Police Department)
Tadarrius Bean, Demetrius Haley, Desmond Mills, Jr., Emmitt Martin III and Justin Smith have been charged with second-degree murder, aggravated assault, aggravated kidnapping, official misconduct and official oppression.
All five officers are Black, though Crump said that was irrelevant and that Black motorists often are treated differently than Whites regardless of the officers' race, and that the pain of Nichols' death "is just the same."
The Memphis police chief has called the actions of five officers involved in the violent arrest of Nichols "heinous, reckless and inhumane" and urged residents of the predominantly Black city to protest peacefully when video is released.
"This is not just a professional failing. This is a failing of basic humanity toward another individual," Davis said in a video statement released late Wednesday on social media.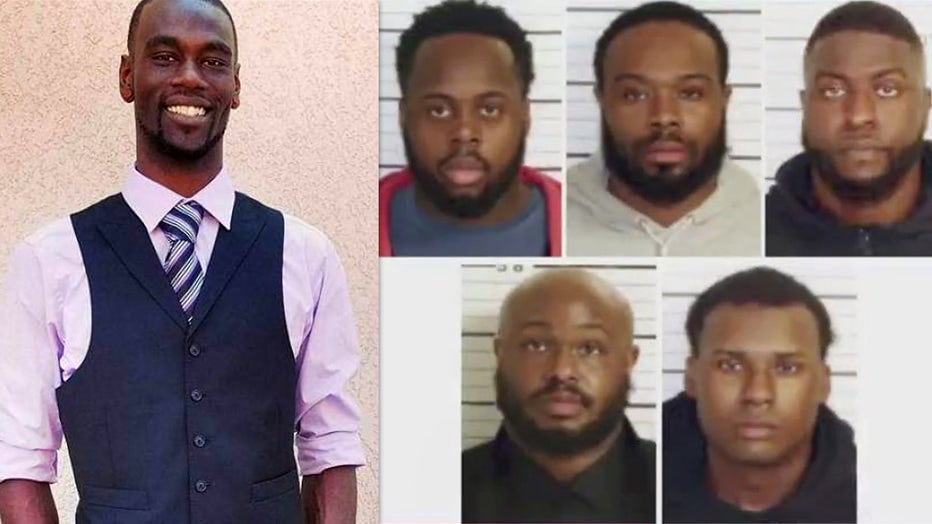 Davis said the five officers found to be "directly responsible for the physical abuse of Mr. Nichols," were fired last week, but other officers are still being investigated for violating department policy. In addition, she said "a complete and independent review" will be conducted of the department's specialized units, without providing further details.
As state and federal investigations continue, Davis promised the police department's "full and complete cooperation" to determine what contributed to Nichols' death.
The U.S. Justice Department has opened a civil rights investigation into the officers and their actions.
One of the officers, Haley, was accused previously of using excessive force. He was named as a defendant in a 2016 federal civil rights lawsuit while employed by the Shelby County Division of Corrections.
In the complaint, Cordarlrius Sledge stated that he was in inmate in 2015 when Haley and another corrections officer accused him of flushing contraband. The two officers "hit me in the face with punches," according to the complaint. A third officer then slammed his head to the ground, Sledge said. He lost consciousness, waking up in the facility's medical center, according to the complaint.
The claims were ultimately dismissed after a judge ruled that Sledge had failed to file a grievance against the officers within 30 days of the incident.
Two fire department workers were also removed from duty over the Nichols' arrest.
When will the Tyre Nichols video be released?
Police video viewed by the family on Monday showed that Nichols was shocked, pepper sprayed and restrained, Crump said. He said the encounter was reminiscent of the infamous 1991 police beating of Los Angeles motorist Rodney King.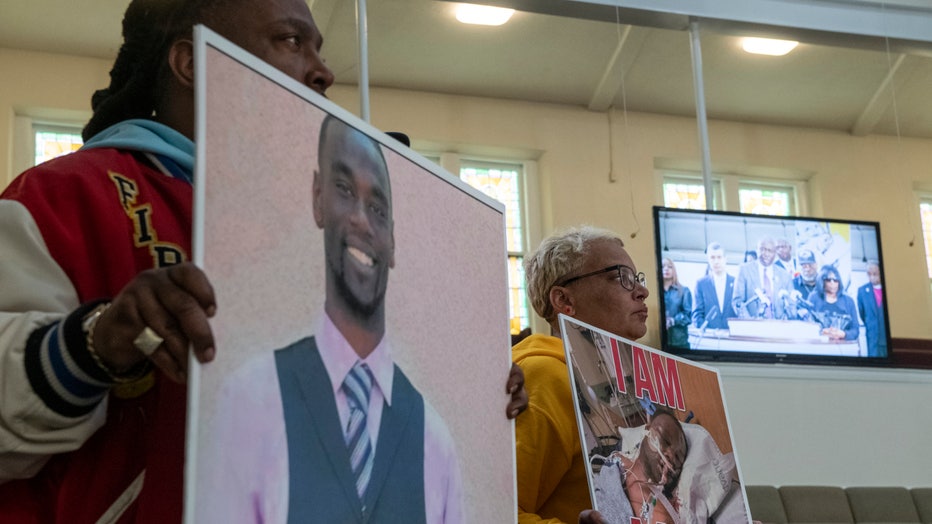 Activists hold signs showing Tyre Nichols as attorney Ben Crump is seen speaking on a monitor during a press conference at Mt. Olive Cathedral CME Church addressing video footage of the violent police encounter that led to Nichols death in Memphis, T
Crump said the video shows the encounter was "violent" and "troublesome on every level." Romanucci called it "savage" and out of proportion to the alleged offense.
Attorneys said Nichols can be heard on the video crying out for his mother.
Shelby County District Attorney Steve Mulroy initially said releasing the video would risk compromising the investigation, but later officials said the video will be released. Mulroy said the video will be released after 6 p.m. Friday (Jan. 27).
Will there be protests in Memphis?
The city has been on edge about the release of the police footage because of the possibility of unrest.
Nichols' stepfather asked that if there are protests, that they remain peaceful, saying violence "is not what Tyre wanted and won't bring him back."
The city's police chief said she expects the community to react.
"I expect our citizens to exercise their First Amendment right to protest, to demand actions and results, but we need to ensure our community is safe in this process," Davis said. "None of this is a calling card for inciting violence or destruction on our community or against our citizens."
In a statement, President Biden said Nichols' family deserves a "swift, full, and transparent investigation into his death."
"As Americans grieve, the Department of Justice conducts its investigation, and state authorities continue their work, I join Tyre's family in calling for peaceful protest," he said. "Outrage is understandable, but violence is never acceptable. Violence is destructive and against the law. It has no place in peaceful protests seeking justice.
"Public trust is the foundation of public safety and there are still too many places in America today where the bonds of trust are frayed or broken," he continued. "Tyre's death is a painful reminder that we must do more to ensure that our criminal justice system lives up to the promise of fair and impartial justice, equal treatment, and dignity for all."
The Associated Press contributed to this report.