Twins testing proposed Target Field protocols at spring training
FT. MYERS, Fla. (FOX 9) - With the Twins' home opener seven weeks away, the team is still working through the details of how to welcome fans back to Target Field this summer.
Matt Foy, the Twins Vice President of Operations, is in Florida with the team for spring training right now, but discussed what this season could look like in Minneapolis.
The Twins proposed a plan for 25 percent of Target Field seats to be filled this year, which is just shy of 10,000 fans sitting in pods of two or four people spaced six feet apart.
The plan was submitted to the governor's office in Minnesota. If approved, MLB says they can go ahead and open the gates.
Over the next two months, the team will be using spring training as a trial run, using the same regulations they proposed to the Governor's office in Ft. Myers.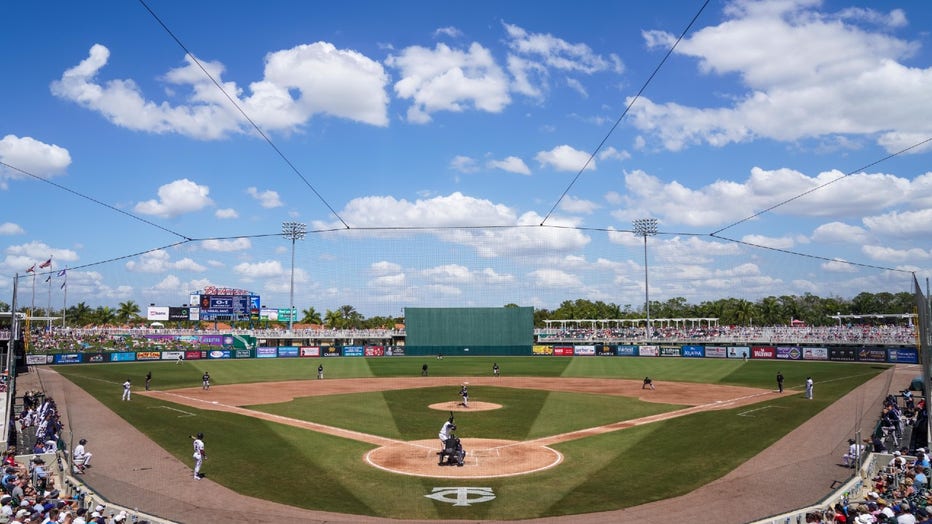 A general view of Hammond Stadium prior to a spring training game between the Atlanta Braves and Minnesota Twins on March 11, 2020 in Fort Myers, Florida. ((Photo by Brace Hemmelgarn/Minnesota Twins/Getty Images))
At Target Field, the Twins have also partnered with 3M to help with cleaning and disinfecting and help develop protocols to get people safely in and out of the gates.
"I'm confident we can open the season with some fans in the building," said Foy. "Which after last year being in the ballpark for all those games with no fans around, was really kind of strange."
CONTACTLESS CONCESSIONS
The Twins are also launching a contactless ordering system for food, beverages and merchandise at Target Field to reduce lines at the concession stand. 
Through the MLB Ballpark app, fans will be able to order and pay for the food and drinks they want without having to leave their seats and then pick up their pre-packaged orders from designated "grab-and-go" stations around the ballpark. 
The new system "minimizes concourse congestion and potential touchpoints, while maximizing fan safety and convenience," the Twins said in a news release. 
This story was reported from Minneapolis.