Twin Cities teachers rally to 'Reclaim Our Schools' in protest of Trump's Ed Sec pick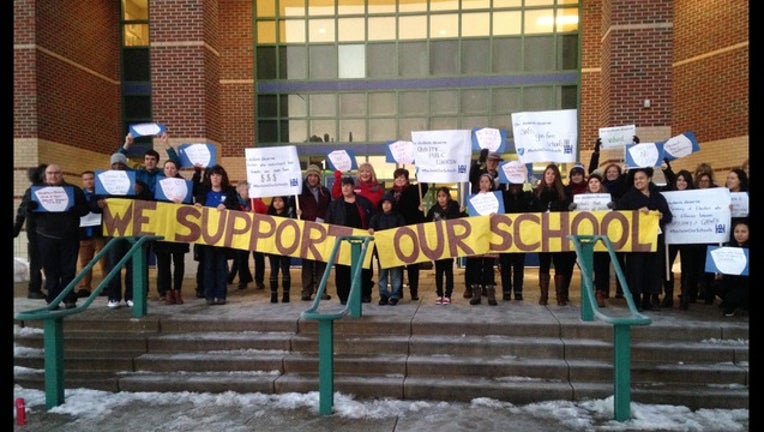 article
ST. PAUL, Minn. (KMSP) - Teachers, parents and neighbors from across Minneapolis and St. Paul are holding rallies Thursday as part of a nationwide "Reclaim Our Schools" day of action. The teachers are parents are calling on the U.S. Senate to reject president-elect Donald Trump's Education Secretary nominee, Betsy DeVos.
Teachers are standing up Thursday to reassure students that they will work to make their schools sanctuaries that protect students of all backgrounds from bullying, racism and deportation. The rallies also call on elected leaders to commit to fully funding public schools.
"We are wrapping our arms around our students and schools," said a statement from Michelle Wiese, president of the Minneapolis Federation of Teachers. "We are committed to keeping our students and public education safe from any and all attacks."
In Minneapolis, a before-school rally was held at Richard Green Central Park Community School. In St. Paul, morning rallies were held at Washington Technology High School and American Indian Magnet School. An afterschool rally is planned at LEAP High School in St. Paul, an alternative high school that enrolls students up to age 20, including many immigrant students.
Alliance to Reclaim our Schools National Day of Action
"We stand for fully funded public schools that provide a quality education to every child. We will not cooperate with Donald Trump's stated plans to divert billions of public dollars to vouchers and charter schools.  We will not cooperate with his hateful rhetoric and bullying of immigrant children, LGBT students, Muslims and others. We oppose the confirmation of billionaire Betsy DeVos as Secretary of Education. We demand safe and nurturing schools where children can learn without being frightened or harassed.  We will work for policies and practices that strengthen our public schools, not dismantle them."