Twin Cities metro upgraded to Winter Storm Warning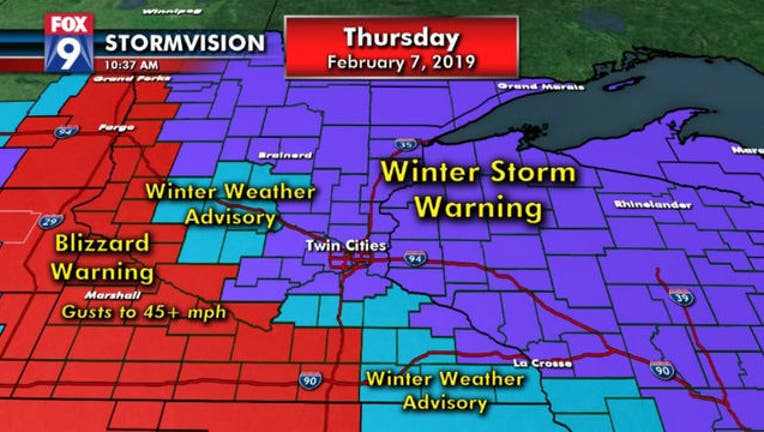 (FOX 9) - The Twin Cities metro has been upgraded from a Winter Weather Advisory to a Winter Storm Warning through Thursday evening. 
It looks like we will see a few heavier bursts of snow with rates in the 1 to 2 inches per hour range. The metro is still expected to get around 3 to 5 inches of snow, while northern Minnesota and northwestern Wisconsin should see 5 to 8 inches. 
Regardless of how much snow we get, travel and commutes will be greatly impacted for the rest of the day. 
SNOW TIMELINE
Afternoon: Snow and blowing snow with gusty winds as temperatures fall to the lower teens, with wind chills below zero.
Evening: Snow tapers off in the metro as temperatures continue to fall.
Tonight into Friday: Wind Chill Advisory until noon Friday. It will be cold; wind chills will get to minus 30 in the Metro tomorrow morning with a high struggling to get back to zero Friday afternoon. 
Stay up to date during this week's winter weather by downloading the FOX 9 Weather App. It has the latest temperatures, snow totals, forecasts and school closings 24/7. Download it for Android or Apple.