TSA to post REAL ID deadline notices at MSP Airport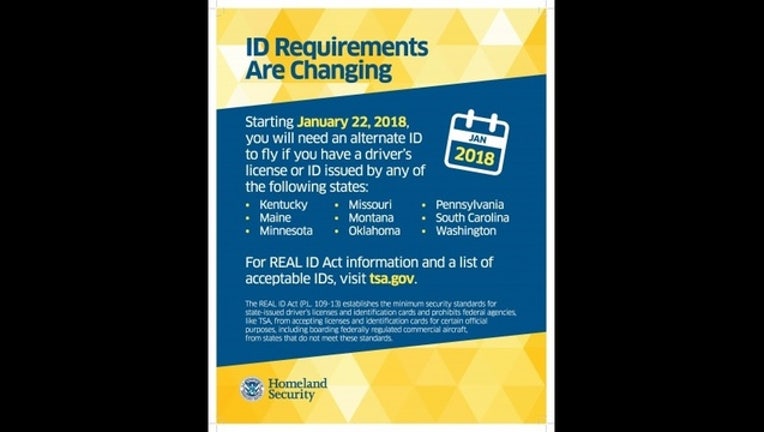 article
MINNEAPOLIS (KMSP) - Signs will soon be posted at Minneapolis-St. Paul International Airport with a warning that your current Minnesota driver's license won't be enough to pass through security in 2018.
Starting Jan. 22, 2018, you will need an alternate ID to fly if you have a standard driver's license or ID card issued by any of the following states: Kentucky, Maine, Minnesota, Missouri, Montana, Oklahoma, Pennsylvania, South Carolina or Washington. Alternate forms of ID include a passport, military ID, or permanent resident card. You can find a full list of accepted ID at https://www.tsa.gov/travel/security-screening/identification
The REAL ID Act, passed by Congress in 2005, establishes the minimum security standards for state-issued driver's licenses and identification cards and prohibits federal agencies, like TSA, from accepting licenses and identification cards for certain official purposes, including boarding federally regulated commercial aircraft, from states that do not meet these minimum standards and have not received an extension for compliance from the Department of Homeland Security.
Minnesota is currently non-compliant with the federal REAL ID Act. A Minnesota Enhanced Driver's License (EDL) is an option for Minnesota travelers.  To apply for an EDL or enhanced identification card  in Minnesota, you must visit one of the following 14 exam stations:
Anoka – 2830 Cutters Dr. Suite 108
Arden Hills (North Metro) - Cty Rd. I & 35W
Austin - 430 10th St. NE
Bemidji - 111 2nd St., Union Square
Detroit Lakes - 1000 Hwy 10 W
Duluth - 4602 Grand Ave.
Eagan (South Metro) - 2070 Cliff Rd.
Hastings - 1355 S Frontage Rd., Ste. 150
Mankato - 2161 Bassett Dr.
Plymouth (West Metro) - 2455 Fernbrook Ln
Rochester - 1633 N Broadway
St. Paul - 445 Minnesota St.
St. Cloud - 3333 W Division St., Midtown Sq.
Virginia - 101 Hoover Rd.
How to Apply for an EDL or EID in Minnesota
You can apply for an EDL or EID at any time:
At the time your current driver license or ID is due for renewal
First time application for your driver's license (and learner's permit) or non-driver photo ID card
Replace your current driver's license prior to the date you are due for renewal, with no change in the expiration date of your license
Age: Applicants must be 16 years of age or older
Fee: $15 in addition to the fee required for your driver's license or non-driver photo ID card transaction.
Identification: Only an applicant who can provide proof of identity, full legal name, social security number, photographic identity, Minnesota residency and U.S. citizenship is eligible for a Minnesota EDL or EID (View EDL/EID Identification Requirements)
Proof of Minnesota Residency: Two different types of documents must be submitted. Only one of a document type (List F) will be accepted. For example, an electric bill and phone bill are not acceptable because they are both utility bills.
At time of application: Complete an Interview Questionnaire. Allow extra time when applying -- an application takes between 4-6 weeks to process
Residence Address: An EDL/EID must list the Minnesota residence address