Trump suggests Starbucks boycott due to plain red holiday cups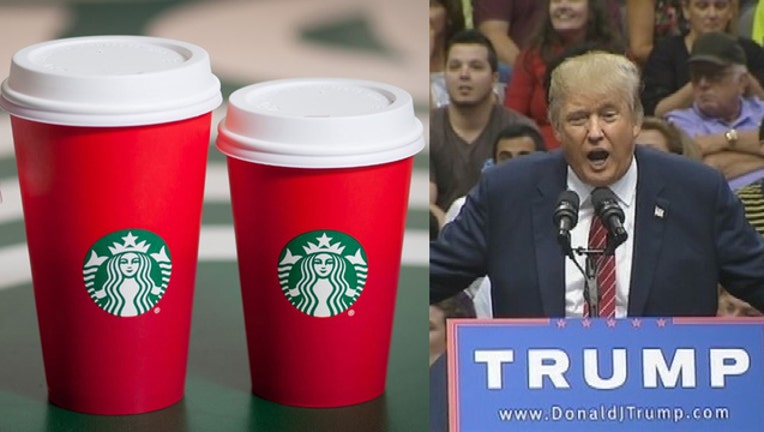 article
SPRINGFIELD, Ill. (AP) — Republican presidential contender Donald Trump is suggesting boycotting Starbucks over the minimalist design of its annual holiday cups.
"Did you read about Starbucks? No more Merry Christmas on Starbucks," Trump told a capacity crowd of thousands gathered to hear him speak at a pre-debate rally in Springfield, Illinois on Monday evening.
"Maybe we should boycott Starbucks. I don't know," he said. "Seriously, I don't care."
Some religious conservatives have expressed anger over the coffee company's annual holiday-time cups — a minimalist all-red design with no images aside from the company's green and white logo.
Previous years' cups have featured snowflakes, winter scenes and sometimes Christmas ornaments. But a small number of critics see the design choice as part of a larger movement away from exclusively Christian-themed holiday decorations. The company did not immediately respond to requests for comment.
Trump, who is working to win the support of evangelical and other conservative Christians in a crowded field, has often expressed frustrations over companies using the term "Happy Holidays" in place of "Merry Christmas."
He said on Monday that: "If I become president, we're all going to be saying, 'Merry Christmas' again. That I can tell you."
He added that Starbucks operates a store in one of his buildings and that "that's the end of that lease, but who cares?"
The rally comes on the eve of the next Republican presidential debate, which will be taking place Tuesday evening in Milwaukee.
Brian Oaks, general manager of the Prairie Capital Convention Center, said the billionaire businessman and reality television star had attracted a record-setting crowd for the convention center of 10,200 in downtown Springfield, a solidly Republican city in a Democratic-leaning state.
Trump did not mention the debate during his rally speech, but previewed some of the attack lines he may choose to use against rivals, including retired neurosurgeon Ben Carson, who is now running neck-and-neck with him in several polls.
Trump expressed near-exasperation at Carson's continued popularity in the face of growing questions about discrepancies in his autobiography, "Gifted Hands," which included claims that he tried to hit his mother with a hammer and unsuccessfully tried to stab someone when he was an angry youth.
"With what's going on with this election? I've never seen anything like it," said Trump. He went on to mimic the back-and-forth between Carson and reporters trying to verify the story of his rise from poverty to acclaimed surgeon, including a claim by Carson that the person he'd tried to stab had been saved by his belt buckle.
"You stab somebody and the newspapers say, 'You didn't do it.' And you said, 'Yes I did, I did it!'" said Trump.
"This is the only election in history where you're better off if you stabbed somebody," he said. "What are we coming to?"
___
Colvin reported from Jersey City, New Jersey.