Trump lawyers ask judge to throw out Georgia grand jury report
FULTON COUNTY, Ga. - Lawyers for former President Donald Trump are attacking a special grand jury and prosecutors who investigated him in Georgia, asking a state court to throw out its report and all testimony from the inquiry and bar Fulton County District Attorney Fani Willis from continuing to investigate or prosecute Trump.
The filing, made Monday in Atlanta, argues that the Georgia law that allows for special grand juries is unconstitutionally vague because it doesn't say whether such a grand jury is handing criminal matters or civil matters. The lawyers also argue that the grand jury didn't sufficiently protect Trump's right to due process.
Lawyers Jennifer Little and Drew Findling wrote that the world watched a special grand jury process "that was confusing, flawed, and at times, blatantly unconstitutional."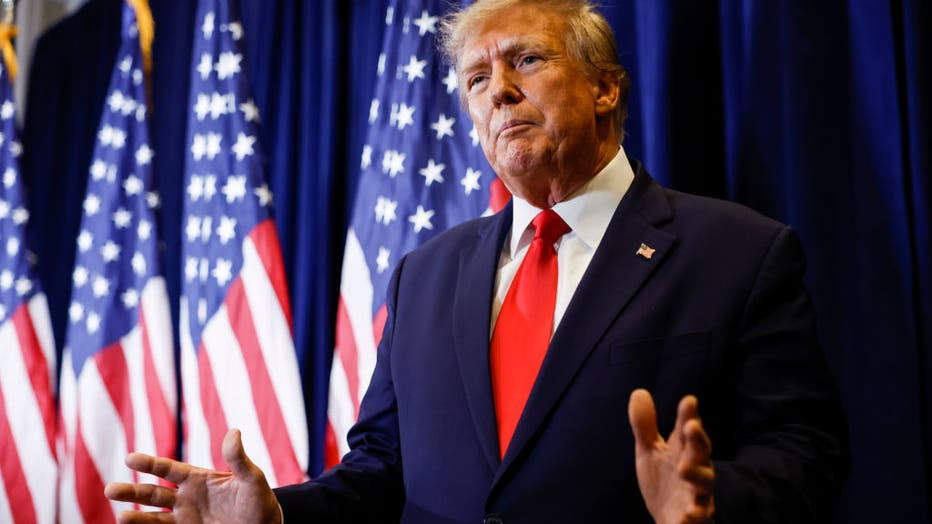 Former U.S. President Donald Trump speaks to reporters before his speech at the annual Conservative Political Action Conference (CPAC) at Gaylord National Resort & Convention Center on March 4, 2023 in National Harbor, Maryland. (Photo by Anna Mo
REPORTS: FULTON COUNTY GRAND JURY PROBE HEARD UNRELEASED TRUMP CALL RECORDING
The lawyers wrote that the special grand jury "involved a constant lack of clarity as to the law, inconsistent applications of basic constitutional protections for individuals being brought before it, and a prosecutor's office that was found to have an actual conflict, yet continued to pursue the investigation."
Willis opened the Georgia investigation in early 2021, shortly after a recording of a phone call between Trump and a top state official was made public. During that Jan. 2, 2021, phone call, Trump suggested that Georgia Secretary of State Brad Raffensperger could "find" the votes needed to reverse his narrow loss in the state.
The special grand jury, which was seated in May 2022, heard from about 75 witnesses and considered other evidence before wrapping up its work in December. It did not have the authority to issue indictments but instead produced a report with recommendations for Willis. Fulton County Superior Court Judge Robert McBurney ordered most of that report to remain under seal.
The foreperson of the special grand jury said in news interviews last month that the panel recommended that numerous people be indicted, but she declined to say who. It is ultimately up to Willis to decide whether to go to a regular grand jury to seek one or more indictments in the case. She said during a hearing in January that decisions in the case are "imminent."
The lawyers also attacked interviews that the foreperson and other grand jurors have given, writing that "the foreperson's public comments in and of themselves likewise violate notions of fundamental fairness and due process and taint any future grand jury pool."
What portion of the special Fulton County grand jury report is released?
Fulton County Superior Court Judge McBurney, who presided over the grand jury investigation, said he would allow three parts of the report to be released: the introduction, the conclusion, and section eight.
In section eight, McBurney says the special grand jury discusses its concern that "some witnesses may have lied under oath during their testimony."
Prominent Trump allies whose testimony was sought included former New York mayor and Trump attorney Rudy Giuliani, U.S. Sen. Lindsey Graham of South Carolina, former White House chief of staff Mark Meadows and former national security adviser Michael Flynn, as well as John Eastman and other lawyers who participated in Trump's attempts to stay in power.
Some Trump advisers and allies fought Fulton County District Attorney Fani Willis' attempts to bring them in for testimony, but Willis prevailed in most cases.
High-ranking Georgia officials who testified include Secretary of State Brad Raffensperger and Gov. Brian Kemp.
Because the jury does not identify the witnesses in the report, Judge McBurney said the section could be released.
Willis had asked the judge not to release the findings saying that "decisions are imminent" and the release of the report could impact the possibility of a fair trial for "future defendants" connected to the probe.  She could ultimately go to a regular grand jury to pursue charges.
However, Judge McBurney acknowledged there was "great interest" in the results.
Who could be charged after the special Fulton County grand jury?
Many believe Willis will pursue charges under the state Racketeer Influenced and Corrupt Organizations statute, commonly known as RICO. In a high-profile prosecution when she was an assistant district attorney, she used that law successfully to secure charges against Atlanta educators in a test cheating scandal. She has also used it more recently to target alleged gang activity.
The state RICO law, which is broader than the federal version, requires prosecutors to prove a pattern of criminal activity by an enterprise, which could be a single person or a group of associated individuals. It allows prosecutors to assert involvement in a pattern of criminality without having to prove that each person participated in every act.
As the special grand jury was working, Willis informed some people they were targets of the investigation, including Giuliani and the state's 16 fake electors. It is possible others received similar notifications but haven't disclosed that publicly.
The Associated Press contributed to this report.