Trump: Final decision on Paris Accord to be made next week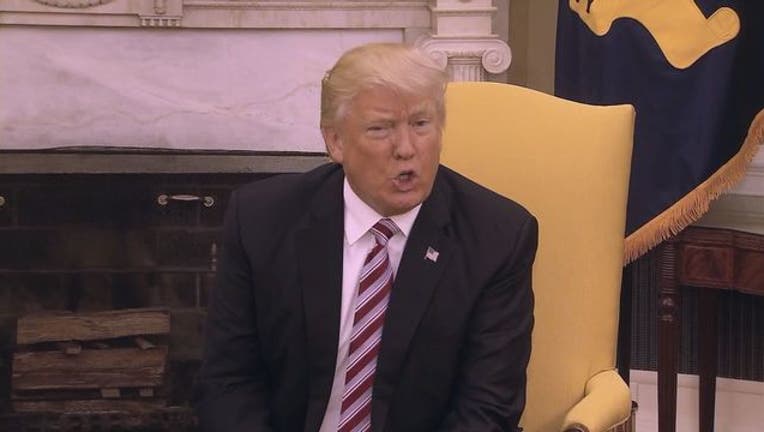 article
TAORMINA, Sicily (AP) -- The Latest on President Donald Trump's visit to Europe (all times local):
President Donald Trump says he'll make a final decision next week on whether the U.S. will stay in the Paris climate agreement.

Trump made the surprise announcement in a tweet after resisting pressure from European leaders to stay in the agreement.

Nearly every nation that signed the 2015 agreement has agreed to curb greenhouse gas emissions.

The president tweeted Saturday, "I will make my final decision on the Paris Accord next week!"

Trump's pending review of U.S. climate policies has left environmentalists bracing for the possibility of bland G-7 promises that say little after years of increasingly stronger commitments to reduce reliance on fossil fuels and cut greenhouse gas emissions.

Trump once proclaimed global warming a Chinese hoax.

   ------

   2 a.m.

   President Donald Trump and Canada's prime minister met on the sidelines of the G-7 summit to discuss economic issues.

   Prime Minister Justin Trudeau's office says they also addressed trade cooperation and efforts to boost job creation on both sides of the U.S.-Canada border.

   Tensions recently escalated between the two countries after the Trump administration imposed new tariffs on softwood lumber from Canada and railed against its pricing of domestic milk to cover more dairy ingredients, which impacts U.S. dairy producers.

   Trump and Trudeau also discussed "issues of global concern."

   The White House did not disclose the meeting ahead of time, and officials offered no comment after it was announced by the Canadians.

   ------

   12:15 p.m.

   President Donald Trump says NATO will be stronger because member countries have increased payments "considerably."

   Trump tweeted Saturday, "Many NATO countries have agreed to step up payments considerably, as they should. Money is beginning to pour in- NATO will be much stronger."

   NATO countries do not pay the U.S. or NATO directly. They spend domestically on weapons or other defense-related needs.

   The president supports ongoing efforts to push member countries to spend at least 2 percent of their gross domestic product on defense. Only five members currently meet the target, but the other nations are committed to the goal by 2024.

   Trump is meeting with leaders from the G-7 nations in Sicily.

   He also tweeted, "Big G7 meetings today. Lots of very important matters under discussion. First on the list, of course, is terrorism."

   ------

   11:30 a.m.

   Leaders of seven wealthy democracies have reached a deal to give the Trump administration more time to tell them whether the United States plans to stay in the Paris climate agreement.

   A person familiar with the negotiations at the Group of Seven summit said that six members of the G-7 would stick with their endorsement of the Paris deal, and await a decision from the U.S.

   The person spoke on condition of anonymity to discuss the matter before the formal announcement.

   The G-7 members were still wrestling over a statement on trade and whether it would condemn protectionism, as previous group statements have.

   President Donald Trump has pushed back against earlier group statements opposing protectionism and has argued trade must be balanced and fair as well as free.

   -By David McHugh

   ------

   9:47 a.m.

   President Donald Trump is kicking off the final day of his first trip abroad with a meeting with Group of Seven and African nation leaders.

   Trump is seated between Beji Caid Essebsi, president of Tunisia, and Mahamadou Issoufou, the president of Niger, for his first meeting of the day.

   He was also spotted chatting with German Chancellor Angela Merkel before the session began.

   It's the final day of the president's nine-day trip. He'll be returning to Washington, D.C. late Saturday.

   ------

   9:10 a.m.

   President Donald Trump is in Taormina, Sicily for a second day of meetings with Group of Seven wealthy nation leaders.

   Leaders from the G-7 countries were expected to gather at the San Domenico Palace Hotel on Saturday morning.

   Trump is set to engage in discussions about the global economy and climate. He will also participate in a meeting with African nations, including Niger and Tunisia.

   This is the final day of Trump's first official trip abroad.

   After the G-7 summit of economically advanced countries, the president will address American troops on an Italian base before departing for home.

   The G-7 includes the U.S., Canada, France, Germany, Italy, Japan, and the United Kingdom.

   ------

   7:15 a.m.

   President Donald Trump will return to Washington having rattled some allies and reassured others, but his White House still sits under a cloud of scandal.

   Trump will spend Saturday at the second day of the G-7 summit in Sicily, bringing to an end a nine-day trip that started in Saudi Arabia and Israel before moving on to Europe.

   The trip has gone off without a major misstep, with the administration touting the president's efforts to create a new coalition to fight terrorism while admonishing partners in an old alliance to pay their fair share.

   In Washington, though, a newly appointed special counsel is just beginning his investigation into links between the Trump campaign and Russian officials.