Tick season in Minnesota: First deer tick of the season spotted in Twin Cities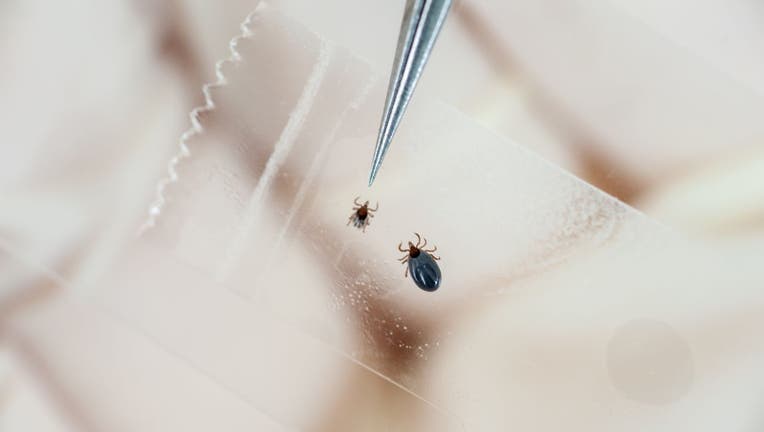 article
DAKOTA COUNTY, Minn. (FOX 9) - The first deer tick of spring has been spotted in the Twin Cities, marking the start of tick season in Minnesota. 
The Metropolitan Mosquito Control District (MMCD), which recently broke the news that it's officially mosquito season in Minnesota after finding mosquito larvae, said on Thursday its tick specialist found their first deer ticks of the year. 
The MMCD used the discovery to remind Minnesotans to check themselves for ticks if they are in a tick habitat. 
According to the Minnesota DNR, deer ticks (also known as blacklegged ticks) are one of 13 known tick species in Minnesota, and are most common in the eastern and central areas of the state. Deer ticks are most often talked about because they are potential carriers for Lyme disease, as well as human anaplasmosis and babesiosis.
The DNR says the risk for tick-borne illness is lower in the early spring and fall (late September-October) when the adult stage of the deer tick is active. Risks are higher from mid-May through mid-July when the smaller nymph stage of the deer tick is feeding. 
Ways to help prevent getting tick bites
The Minnesota DNR has the following tips to prevent getting tick bites:
When in deer tick habitat, walk in the center of the trail to avoid picking up ticks from grass and brush
Wear light-colored clothing, so ticks will be more visible
Wear long pants, socks or tick gaiters and appropriate footwear such as closed-toe shoes or boots
Create a barrier to ticks by tucking pants into socks or boots and tucking long-sleeved shirts into pants
Use a repellent containing DEET or permethrin
When you get inside after being in a tick habitat, remove the clothes you wore outside and wash them immediately. Check your body for ticks, shower, and vigorously towel dry
Check your pets for ticks
Check and re-check for ticks when you are in tick-infested areas