House fire in Washington state fire kills 5 family members, including 3 children
OLYMPIA, Wash. - Investigators say a deadly fire in Western Washington claimed the lives of five family members early Saturday morning, including three children.
The Thurston County Sheriff's Office says it happened at around 6:30 am, off Sherman Valley Rd SW on a rural property.  
"It brings a tear to our eye just to think about the fact, you could lose kids, much less an entire family," said neighbor Ken Smith. "My grandson went to school with their youngest and there are a couple of middle-schoolers over there."
Smith lives across the road from the mom, dad and three younger children that lost their lives. 
"I saw the kids out there all the time, getting off the bus, on the bus. Real good quiet neighbors. It's a shame to have lost them.  We're heartbroken," he said.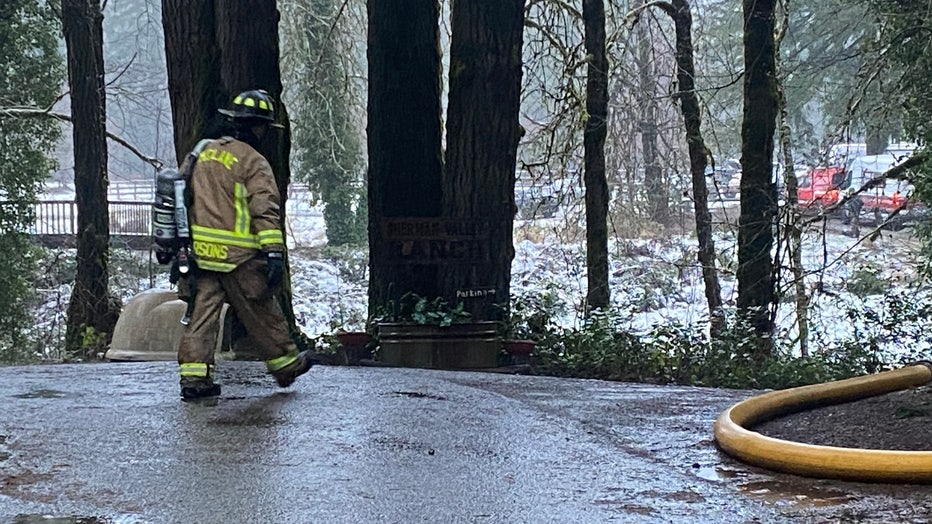 Lt. Cameron Simper with the Thurston County Sheriff's Office says the family lived in a home that was attached to a barn.  Before the pandemic, neighbors said the family rented out space for events like weddings on the property under the name "Sherman Valley Ranch". 
Lt. Simper says the home also sat on a larger "family property" where the grandparents also lived. He said the closest neighbors are family members, and they were the first to call 911. 
"This was called in by a neighbor who saw the flames and heard the screams, the calls for help," said Lt. Simper. "When the firefighters arrived, the residence was fully engulfed in flames."  
Lt. Simper said a girl that was staying at the house as a visitor was the only one in the home at the time who made it out alive, by escaping to the roof.
"She climbed out onto the roof of the second story," said Lt. Simper. 
He says the Bureau of Alcohol, Tobacco, Firearms and Explosives was called upon by fire crews to help investigate because of the large loss of life.  So far, he says it's too early to determine a cause.  Because there are no fire hydrants in the rural area, it did prompt a large fire response.  
"There were departments from virtually all over Thurston County, and even into Grays Harbor County, that brought their tenders, as you can see, there are no hydrants in this area, so the water that was used to fight this fire had to be brought in on trucks," said Lt. Simper.   
"Kids were always outside playing and enjoying life.  Wonderful neighbors, they have all kinds of animals and the kids play outside.  It's going to be tough or the whole neighborhood," said Smith. "I have got believe this is the worst tragedy in Thurston County in years. I just haven't heard of anything this bad."