This weekend's NASCAR race on FOX: Daytona 500 kicks off sport's 75th season as Austin Cindric defends title
Racing fans are in for a treat with the return of NASCAR on FOX this weekend with the 65th running of the Daytona 500.
Coverage of "The Great American Race" starts at 1 p.m. ET Sunday with "NASCAR RaceDay" on FOX, followed by the race at 2:30 p.m. ET. 
Austin Cindric, the defending Daytona 500 champion, hopes to repeat this year as he competes against the sport's best drivers.
RELATED: Daytona 500: Austin Cindric wins, celebrates Penske's 85th birthday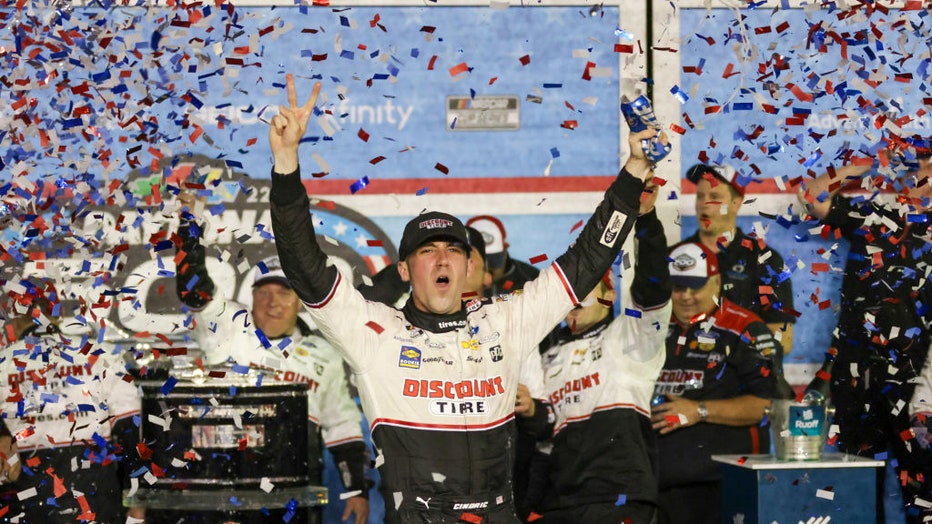 FILE-Austin Cindric (#2 Team Penske Discount Tire Ford) celebrates after winning the Daytona 500 NASCAR Cup Series race on February 20, 2022. (David Rosenblum/Icon Sportswire via Getty Images)
Denny Hamlin has won three Daytona 500 titles and enters the racing season only needing two wins to reach 50 for his career. If Hamlin captures the victories, he would be tied with Hall of Famers Ned Jarrett and Junior Johnson for 13th on the all-time list, the Associated Press noted.
Kyle Busch is now driving for Richard Childress after his long run with Joe Gibbs Racing ended. Joey Logano will try for a second consecutive championship for Team Penske.
NASCAR will celebrate the start of its 75th season with nine winners of both the Daytona 500 and a Cup Series championship giving the command for drivers to start their engines at the Daytona 500, according to the Associated Press.
NASCAR Hall of Famers Richard Petty, Bobby Allison, Bill Elliott, Jeff Gordon, and Dale Jarrett will be joined by Kevin Harvick, Jimmie Johnson, Kurt Busch, and Joey Logano.
Petty and Johnson are both seven-time Cup Series champions. Petty also has a record seven Daytona 500 victories, and Johnson has a pair of Daytona 500 wins. Allison, Jarrett, and Gordon are three-time Daytona 500 champions, Elliott won the race twice, and Harvick, Busch, and Logano each have one Daytona 500 victory.
The Associated Press contributed to this report. This story was reported from Washington, D.C.