Texas-based soldier has ear re-grown on forearm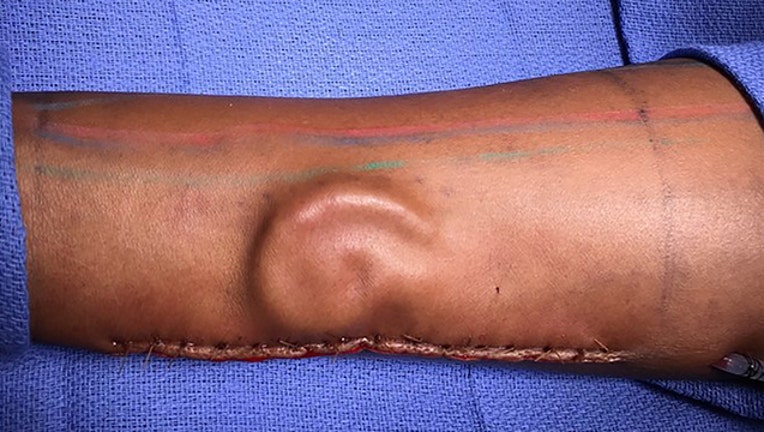 article
EL PASO, Texas - A young soldier who lost her ear in a car accident will soon have a new one thanks to a revolutionary surgery. Her new ear is being reconstructed on her forearm.
According to the U.S. Army, Pvt. Shamika Burrage was injured in a crash in 2016. She and her cousin were returning to Fort Bliss, Texas after visiting family in Mississippi and had a blowout.
"We were driving and my front tire blew, which sent the car off road and I hit the brake. I remember looking at my cousin who was in the passenger seat, I looked back at the road as I hit the brakes. I just remember the first flip and that was it," she said.
Burrage suffered head and spinal injuries, including the total loss of her left ear.
After physically recovering, she turned to counselors and a plastic surgeon to help deal with the emotional stress of the accident. She said she no longer felt comfortable with the way she looked.
Plastic surgeons at William Beaumont Army Medical Center in El Paso, TX harvested cartilage from Burrage's ribs to form the shape of a new ear. The ear was placed under the skin of her forearm and is being allowed to grow.
New blood vessels and nerves will form in the ear. Burrage never lost her hearing and after the transplant, she will again be able to feel her ear. Some of the skin from her forearm will be used to cover up scar tissue on her jawline.
Burrage has two more surgeries before the total reconstruction is complete. It will be the first of its kind for the Army, which has a long history of plastic surgery advancements rooted in battlefield trauma.
"The whole goal is by the time she's done with all this, it looks good, it's sensate, and in five years if somebody doesn't know her they won't notice," said Lt. Col. Owen Johnson III, the chief of plastic and reconstructive surgery at WBAMC. "As a young active-duty soldier, they deserve the best reconstruction they can get."
SOURCE: https://www.army.mil/article/204869/army_surgeon_transplants_ear_grown_on_soldiers_forearm