Taylor Swift makes surprise 'Saturday Night Live' appearance after Travis Kelce cameo
NEW YORK - Taylor Swift made a surprise appearance on Saturday Night Live this weekend to introduce her friend Ice Spice.
Swift's surprise cameo came after her rumored boyfriend, Kansas City Chiefs tight end Travis Kelce, also appeared on the show in a skit poking fun at the media hype over Kelce and Swift's budding relationship. The two were photographed holding hands as they left the SNL afterparty Saturday night.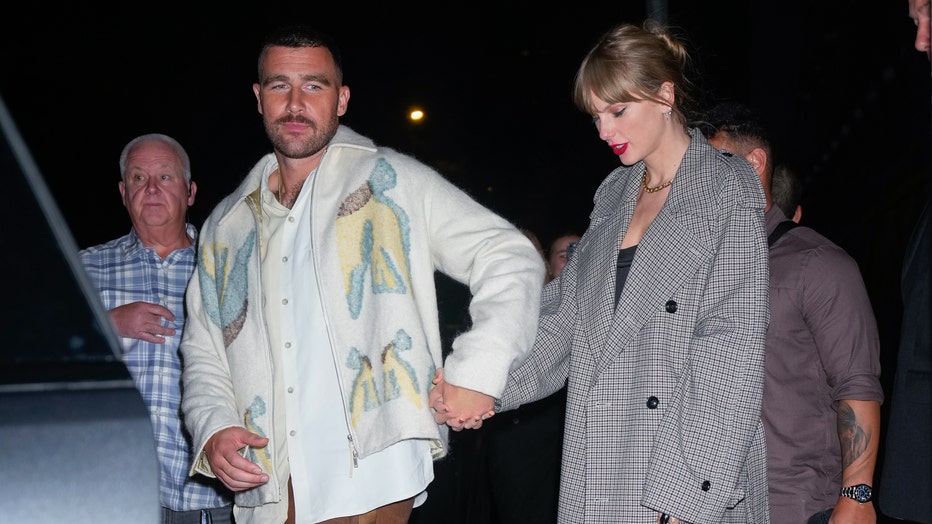 Travis Kelce and Taylor Swift depart the SNL Afterparty on October 15, 2023 in New York City. (Photo by Gotham/GC Images)
Kelce has publicly agreed that NFL TV coverage has been "overdoing it" with the amount of times Taylor Swift has been on screen while attending his Kansas City Chiefs' games.
Swift was in a suite at MetLife Stadium for the Chiefs' victory over the New York Jets in prime time. Jason Kelce, who plays for the Philadelphia Eagles, told his brother during their "New Heights" podcast that cameras showed live shots of the suite no fewer than 17 times during the game.
Travis did say that it's fun when the cameras show which famous people are at a game. Swift was in the suite with actors Ryan Reynolds, Blake Lively and Hugh Jackman.
"But at the same time, I think they're overdoing it a little bit for sure, especially my situation," Travis added.
MORE: These Taylor Swift Halloween costumes might just steal the spotlight!
SNL also opened with a powerful monologue from Pete Davidson. Davidson, whose father was killed on 9/11, discussed the Israel-Hamas war and the innocent suffering taking place in Gaza.
Swift's appearance comes on the opening weekend of "Taylor Swift: The Eras Tour" movie. The concert film, compiled from several Swift shows at Southern California's SoFi Stadium, is expected to launch with $100 million, or possibly more. Advance ticket sales worldwide have already surpassed $100 million.
The Associated Press contributed to this report.