Iowa police officer fatally shot, suspect arrested in Minnesota
SLEEPY EYE, Minn. (FOX 9) - The man suspected of fatally shooting an Iowa police officer was arrested near Sleepy Eye, Minnesota, Wednesday night. 
According to a press release from the Iowa Department of Public Safety, Officer Kevin Cram was attempting to execute an arrest warrant for Kyle Lou Ricke, 43, of Algona, Iowa, and located him around 8 p.m. on the 1100 block of South Minnesota Street.
After informing Ricke he was going to be placed under arrest, authorities say he shot Officer Cram, and allegedly said "I did it cause I am tired of this [expletive]," according to court records. 
Officer Cram was taken to the hospital where he died from his injuries. The 33-year-old officer was a 10-year veteran of Iowa law enforcement and served the Algona Police Department from 2015-2023, according to authorities. A state medical examiner will conduct an autopsy at a later date.  
Residents in Algona were placed on lockdown Wednesday night, with authorities saying the suspect is believed to be armed and dangerous. 
Ricke was apprehended hours later in Minnesota. The Brown County Sheriff's Office says it was informed the suspect was at an address in Leavenworth Township, near Sleepy Eye, Minnesota, approximately 47 miles west of Mankato. 
The Minnesota State Patrol, Minnesota State Patrol Air Unit, Sleepy Eye Police Department, and Brown County Sheriff's Office Deputies "took the suspect into custody without incident" around 11:49 p.m. Wednesday. The suspect is currently in the Brown County Jail in Minnesota. 
Ricke was charged with first-degree murder on Thursday and will be extradited back to Iowa at a later date. 
Authorities did not say what the arrest warrant was for. The incident remains under investigation.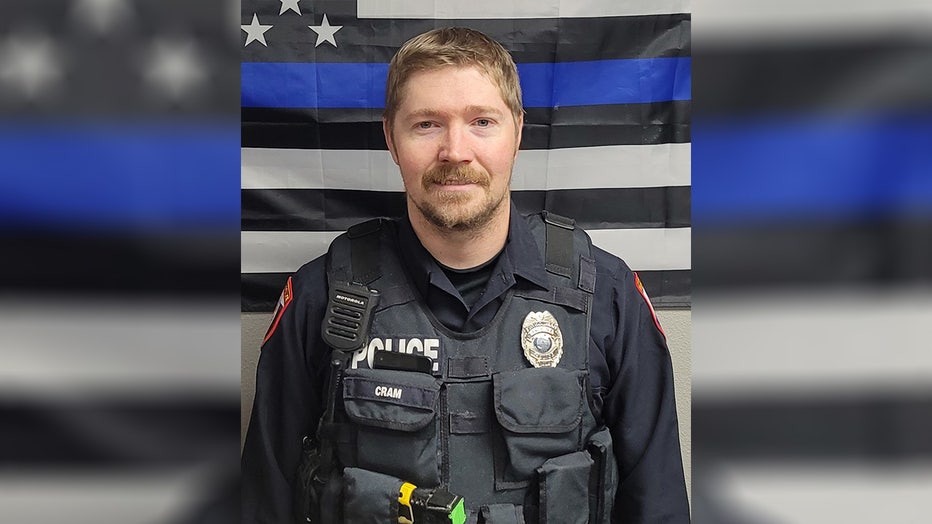 Officer Kevin Cram with the Algona Police Department was shot and killed in the line of duty.