Survey: 40 percent of people call in sick to work when they aren't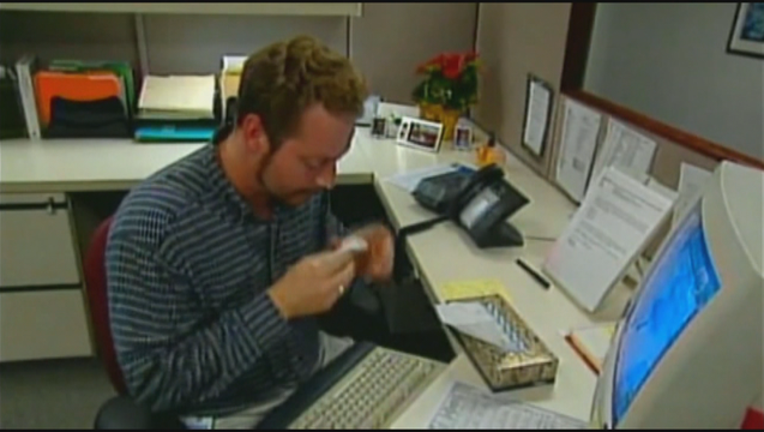 (KMSP) - Have you ever called in sick to work when you weren't really ill? A recent study found you're not alone. 
According to data compiled by CareerBuilder, 40 percent of workers have called in sick in the last 12 months when they weren't – up from 35 percent in 2016 and 38 percent in 2015. The study also found that women were more likely than men to take sick days when they were well. 
CareerBuilder surveyed 2,3697 full-time workers across industries and company sizes in the private sector. 
Thirty percent of the workers surveyed cited having a doctor's appointment as the top reason to call in sick when they weren't. Just not feeling like going to work, needing to relax and needing to catch up on sleep were other top reasons. 
However, calling in sick when you're well can get you into trouble at work. CareerBuilder also surveyed 2,257 full-time hiring managers and human resource professionals about employee's sick days. According to the results, 38 percent of employees say they have checked up on a sick worker and 26 percent have fired some for using a fake excuse. 
To check up on employees who call in sick, most employers require a doctor's note, while some call the employee or drive by the employee's house or apartment. 
A trend to note – 43 percent of employers have caught an employee lying about being sick by checking out their social media posts, up from 34 percent in 2016. 
CareerBuilder also asked employers about the most unbelievable excuses they've heard for calling in sick. Here are some of our favorites:  
Employee not sure how the solar eclipse would affect them so it would be safer to stay at home

A bear was in employee's yard and they were afraid to come out

Dog swallowed employee's car keys so she was waiting until it came out

Employee called in "fat" because their uniform did not fit

Employee broke his arm wrestling a female bodybuilder