Super Bowl 2023: Commercials you'll see at this year's big game
LOS ANGELES - Many eyes will be glued to television screens Sunday – not only for Super Bowl LVII – but also for the commercials. 
FOX said Monday that in-game ads for the big game between the Kansas City Chiefs and the Philadelphia Eagles had officially sold out – a hot ticket for advertisers. 
In fact, big name advertisers from Netflix to Google are paying as much as $7 million for a 30-second spot during the big game on Sunday, seeking to capture the attention of the roughly 100 million viewers who tune in each year.
From alcohol brands to packaged foods to streaming services, here is a look at some of 2023's Super Bowl commercials that may be viewed by the more than 100 million people that watch the game each year.
RELATED: Super Bowl commercials sell out, most spots cost between $6-7 million
And spoiler alert: Maya Rudolph, Bryan Cranston and John Travolta are just a few of the many celebrities featured.  
Doritos Super Bowl commercial
Music stars Jack Harlow, Missy Elliott and Elton John team up in an ad for Doritos Sweet & Tangy BBQ that shows Harlow abandoning his rap career to focus on the triangle — a Doritos-shaped musical instrument.
Budweiser Super Bowl commercial
Budweiser recently debuted "Six Degrees of Budweiser," the beer company's Super Bowl commercial with narration by Kevin Bacon. In the 45-second spot, the beverage company features a six-pack of beers that are passed around to six different people.
Kia Super Bowl commercial
Kia's ad for its 2023 Telluride X-Pro SUV shows a dad making an epic trek to recover a child's left behind "binky." The 1-minute ad touts the vehicle's all-terrain capability so that "you you can be ready for larger-than-life adventures – whether they be on or off-road." 
Squarespace Super Bowl commercial
In this Super Bowl ad for Squarespace, Adam Driver contemplates the fact that "Squarespace is a website that makes websites" and in a journey for truth splits into multiple versions of himself.
Google Super Bowl commercial
Google promotes its Pixel 7 photo editing tools including the "Magic Eraser" and "Photo Unblur" with a 90 second spot featuring Amy Schumer, Doja Cat and NBA star Giannis Antetokounmpo.
WorkDay Super Bowl commercial
Rock stars have worked hard to earn their titles, and it's the premise behind Workday's first Super Bowl ad. In the enterprise software company's ad, actual rock stars Ozzy Osbourne, Billy Idol, Joan Jett and others complain that office workers shouldn't call each other "rock stars."
Busch Light Super Bowl commercial
Grammy Award-winning singer-songwriter Sarah McLachlan is finding "shelter" in Busch Light's new Super Bowl advertisement. The new campaign features Busch Light's mascot "Busch Guy" teaching outdoor survival skills to viewers before McLachlan enters, and confusion – and a bit of humor – ensues about the topic of shelter. 
General Motors and Netflix
GM and Netflix are joining forces in a new Super Bowl commercial featuring electric vehicles. The spot stars actor and comedian Will Ferrell driving different GM EVs through different Netflix shows, including "Bridgerton" and "Stranger Things," to announce that Netflix will feature electric vehicles in its original shows.
Uber One Super Bowl commercial
Uber's ad for its membership program Uber One shows hip hop mogul P. Diddy working to create a hit song for Uber One. The ad features singers of famous hits, including Montell Jordan "This is How We Do It", Kelis "Milkshake", Donna Lewis "I Love You Always Forever", Haddaway "What is Love", and Ylvis "What Does the Fox Say." 
Crown Royal Super Bowl commercial
This year Crown Royal teased two commercials ahead of Super Bowl 57 featuring Foo Fighters frontman Dave Grohl. In the first advertisement, Grohl repeats the words "thank you" into a microphone, while another finds him reading a list of random items, such as "Hawaiian Pizza" and "peanut butter" in disbelief. 
PopCorners Super Bowl commercial
It's the reunion that "Breaking Bad" fans will appreciate. Bryan Cranston and Aaron Paul reprise their characters in a Super Bowl commercial for PopCorners. The one-minute spot features callbacks to the iconic Emmy-winning television series. 
Dexcom
Singer Nick Jonas is returning for the second year in an ad that highlight's Dexcom's glucose monitoring system. Designed for people with all types of diabetes, Dexcom says it is the company's smallest, most powerful, and easiest to use1 CGM.
Sketchers Super Bowl commercial
This year, Sketchers features entertainment icon Snoop Dogg on a whirlwind adventure as he demonstrates how Skechers fits every part of his unique life. Set to his song "Who Am I? (What's My Name?)," Snoop rides, chills, clips and coaches in Skechers shoes through his day. Watch for cameos from Howie Long, Tony Romo and Snoop's close friend Martha Stewart.
Downy Unstopables Super Bowl commercial
In Down Unstopables' new  Super Bowl commercial, the laundry brand will not tell us who is underneath a sweater – although, according to viewers, it's unquestionably Danny McBride. In the spot, the unnamed celebrity is not convinced with Downy Unstopables can make your clothes fresh for more than 12 weeks. So, he says he will sniff his hoodie until he believes it – even if it takes until Super Bowl Sunday.
Rakuten Super Bowl commercial
Hold our cell phones! Alicia Silverston is reprising her role as Cher Horowitz from the iconic '90s movie "Clueless" in a new Super Bowl ad for Rakuten. In the ad, Silverstone recreates several iconic moments from the film, including a famous debate scene. The ad features cameos from Elisa Donovan – who played Amber in the movie – along with fashion designer Christian Siriano. 
Hellmann's Mayonnaise Super Bowl commercial 
What happens when celebrities Jon Hamm and Brie Larson find themselves stuck in a dark fridge with a giant Hellmann's bottle? Well, that's what happens in this commercial that will air during Super Bowl 57. 
Actress Melissa McCarthy stars in a musical number for the travel site about her desire to go on a trip "somewhere, anywhere."
Bud Light Super Bowl commercial
Bud Light is back on the Super Bowl stage with a brand-new campaign and the debut of its latest Super Bowl commercial, "Hold," featuring Hollywood couple, Miles and Keleigh Teller. According to the company, "Hold" signals a new era for the brand as it looks to reach fans 21+ in new ways.
T-Mobile Super Bowl commercial
Tell me about it, stud. To promote T-Mobile's 5G home internet, John Travolta sings a version of "Summer Nights" with "Scrubs" stars Donald Faison and Zach Braff touting its benefits.
Pepsi Zero Sugar Super Bowl commercial
Great acting or great taste? It's the premise behind this year's Pepsi Zero Sugar commercial starring Ben Stiller and Steve Martin. Pepsi is running two ads starring the actors that asks "Great acting or great taste?" and asks viewers to taste Pepsi Zero Sugar for themselves.
Michelob Ultra Super Bowl commercial 
Michelob Ultra has released a teaser for its highly anticipated Super Bowl ad featuring NFL football player Tony Romo – and he's playing gollf. In the spot, the quarterback channels Karl Spackler, a greenskeeper who played Bill Murray in the 1980s golf comedy "Caddyshack." 
M&Ms Super Bowl commercial
In the lead up to the Super Bowl, M&M'S announced that award-winning actress Maya Rudolph would be the star of the brand's Super Bowl LVII commercial.  In the ad, Rudolph implements a number of changes, including  renaming the brand Ma&Ya's and adding her face to the chocolate candies' outer shell. 
Pringles Super Bowl commercial
Anyone can get their hand stuck in a Pringles can, according to Pringles' latest Super Bowl ad effort, including singer Meghan Trainor.
Paramount + Super Bowl commercial
Sylvester Stallone and his daughters Sophia, Scarlet and Sistine set up camp on Paramount Mountain for this new Super Bowl commercial. Other familiar faces including Dora The Explorer, Captain Pike, Ensign Mariner, Lieutenant Dangle, and Beavis and Butt-Head are featured. 
TurboTax Super Bowl commercial
In this TurboTax ad, a man dances in front of a fountain to showcase the free time people will have if they let TurboTax professionals do their taxes for them. The spot also highlights a Sweepstakes #DanceWithTurboTax for a chance to win up to $10K. 
Evans said most Super Bowl ads sold much earlier than usual, with more than 90% of its Super Bowl ad inventory gone by the end of the summer, as established advertisers jockeyed for prime positions. But the remaining spots sold slower. Partly that was due to the implosion of the crypto space, as well as general advertiser concerns about the global economy, Evans said.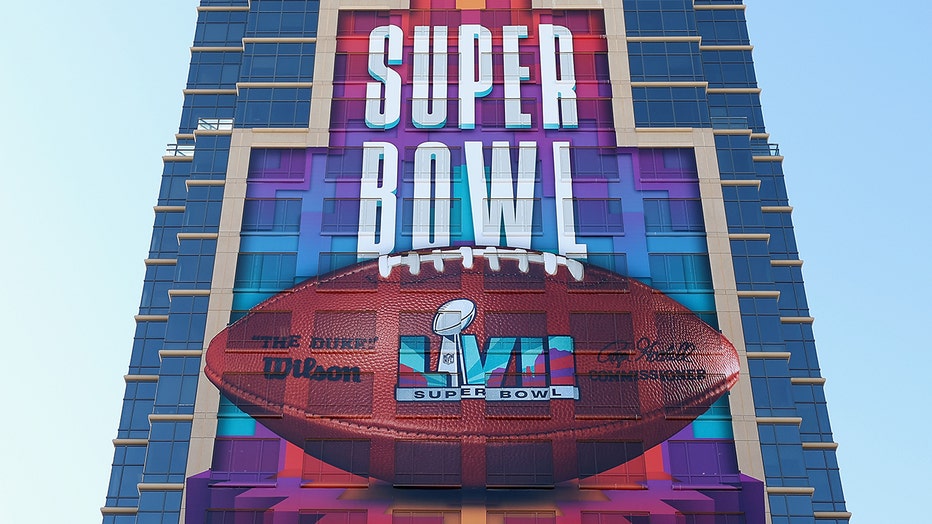 General view of Super Bowl LVII signage on February 6, 2023 in Phoenix, Arizona. Super Bowl LVII will be played between the Philadelphia Eagles and the Kansas City Chiefs on February 12, at State Farm Stadium in Glendale, Arizona. (Photo by Christian
Super Bowl 57 will be played on Sunday, Feb. 12, 2023 on FOX. Kickoff is slated for 6:30 p.m. ET.