Video shows man take Atlanta police car on joyride, crash on tracks, officers rescue him from oncoming train
ATLANTA - Police in southwest Atlanta saved a man from getting hit by a train just moments after they said he crashed a cop car he had just stolen.
"It's not safe driving out here with one light or anything," an officer can be heard telling a motorist during a routine traffic stop. 
The officer then realized something bizarre was happening behind him.
"Yo! Back up! Get out of the car!" the officer can be heard yelling in the footage. "Someone just got in my patrol car."
Dramatic video showed the stolen police car speeding away on Greenbriar Parkway just after 2 a.m.
"The officer immediately got on his radio and gave the lookout direction of travel," said Atlanta Sgt. Chaffee. Other law enforcement agencies joined the chase.
Moments later, Atlanta Police Department's helicopter spotted the stolen vehicle and tracked it as the suspect took it for a joyride.
The suspect then drove the car onto the train tracks off of McDonough Boulevard before it flipped over. Officers moved in thinking the whole ordeal was over.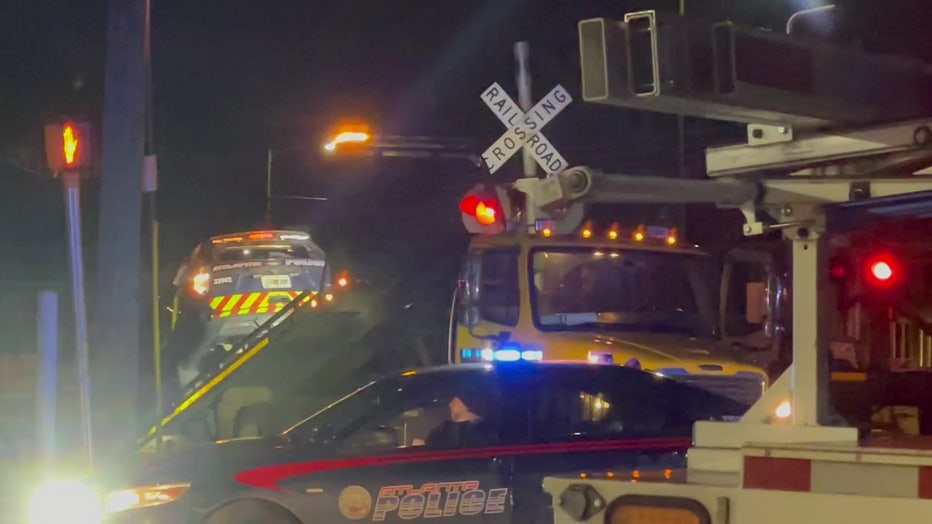 Atlanta Police Department patrol car loaded onto a wrecker after it was struck by a train.
"Train! Train!," the officers can be heard yelling.
They saw a freight train barreling toward the cruiser with the suspect stuck inside.
"They just immediately went into rescue mode where they got to get this guy out of the car and away from that train," the Sergeant told FOX 5.
The moment they got him out, the Norfolk Southern Locomotive smashed into the side of the overturned cop car.
Police said 29-year-old Mickal Parker was behind the wheel. Now, Parker is behind bars at the Fulton County Jail facing theft by taking, fleeing, reckless driving, obstruction and damage to city property charges.
"We're very proud of the actions of the officers this could've gone a number of different ways," Sgt. Chafee said. "It could've ended with this person being severely injured by this train, it didn't look like he was able to get out on his own."
Police said Parker had minor injuries from the car flipping. No officers were injured.
Officials said the suspect was uninvolved in the original traffic stop and are not sure why he jumped into the car.