Spring green up showed up in MN very early this year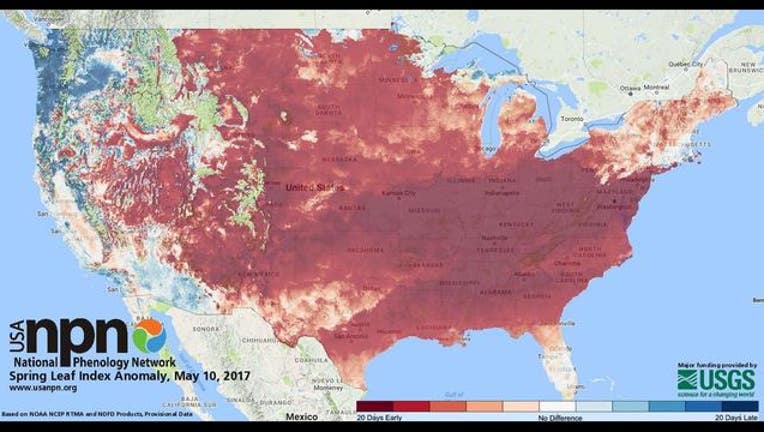 KMSP - The trees are now greening up and the flowers are getting planted which means we are fully into spring, but our spring green up showed up pretty early this year.  Thanks in large part to our very mild March and April, the leaves popped a bit early this year.  While it may seem like things were right on time, in many cases, we were a solid 2 weeks early, according to the National Phenology Network.  The network takes into account a host of factors like pollen levels, tree bud colors, soil temperature, and moisture levels to determine when each area's green up actually occurred.  They then compare those dates to previous years and you get the map you see above.  Red shaded areas are spots that experienced earlier than normal green up, the darker the shade is the earlier it occurred, and then blue areas are later than normal. 
The green up pretty much followed our winter and spring weather pattern this year with a very warm continental US, with the exception of the West Coast.  Areas around the Mid Atlantic saw some of the earliest green up when compared to average, with leaves popping more than a month earlier than normal.  The Pacific Northwest has seen the latest green up, coming in 2 to 3 weeks behind schedule from Seattle to Portland.  For Minnesota though, parts of the state have still not seen the green up, which is pretty normal.  It usually takes areas in the Arrowhead nearly June to begin to flourish.