SpaceX targets Saturday for Falcon Heavy launch, landing during triple-launch week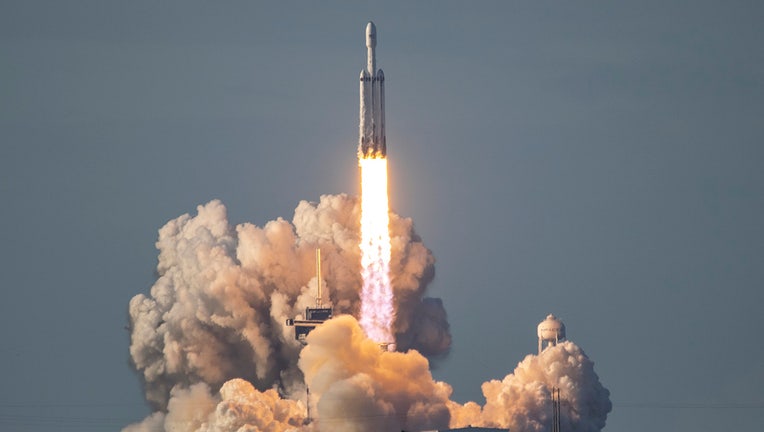 article
CAPE CANAVERAL, Fla. - SpaceX has three launches planned for the second week of January as the company furiously moves into the new year. 
On Monday night, SpaceX was targeting coast-to-coast launches in Florida and California. Due to the weather, only the Florida launch went up as planned. 
First up, SpaceX launched a Falcon 9 rocket at 11:50 p.m. ET with the OneWeb Launch 16 mission from Space Launch Complex 40 at Cape Canaveral Space Force Station in Florida.
Florida's weather was excellent for Monday's night launch. Launch weather officers with the 45th Weather Squadron had forecast a less than 10% chance weather would cause a scrub. 
After liftoff, the first stage Falcon 9 booster landed at Cape Canaveral Space Force Station, making the second launch and landing for the rocket. 
Those on Florida's Space Coast could likely hear and feel the Falcon 9 booster when it broke the sound barrier on reentry. The sonic booms from the rocket landings have been known to travel as far inland as the Orlando area. 
Satellite operator OneWeb plans to deliver global high-speed internet in 2023 with a constellation of satellites similar to SpaceX's Starlink service. 
SpaceX launched another batch of OneWeb satellites in December. 
After the OneWeb Launch 15 mission last month, the company said its constellation was 80% complete and had three more launches planned toward its first-generation constellation. 
On the opposite side of the country, the weather was less cooperative for SpaceX.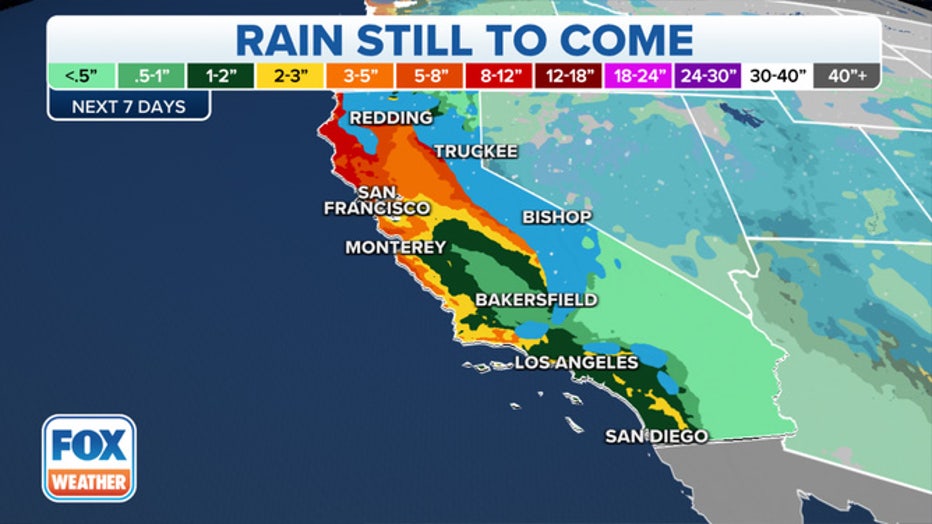 Expected rain totals over the next 7 days.
SpaceX planned to launch another Falcon 9 with 51 Starlink satellites on Monday night from Vandenberg Space Force Base in California but had to stand down due to the weather.
The forecast in California has been less than favorable as the state is getting slammed by a parade of atmospheric rivers. 
The company is now targeting Sunday at 8:18 p.m. PT to try again.
When it happens, the Falcon 9's first stage booster will return to Earth and land on the droneship called "Of Course I Still Love You" stationed in the Pacific Ocean.
This Starlink launch will add to the growing constellation of thousands of SpaceX satellites providing space-based internet worldwide.
SpaceX Falcon Heavy to bring the booms on Saturday night
The cherry on top of the launch calendar this week will be a SpaceX Falcon Heavy launch with the USSF-67 mission for the U.S. Space Force.
SpaceX is targeting no earlier than Saturday to launch spacecraft part of the USSF-67 mission, including a Space Force Continuous Broadcast Augmenting SATCOM satellite. The Long Duration Propulsive ESPA 3A is also onboard this launch and hosts several experimental payloads as part of a rideshare mission. 
The launch window opens at 5 p.m. ET and runs until 9 p.m. ET.
Space Force Launch weather officers are forecasting between an 80 and 90% chance of good conditions for liftoff Saturday evening. 
A front will make its way across central Florida on Friday bringing rain and possible thunderstorms, however, it will quickly move through the Spaceport area leaving cooler, dryer air in the region, according to the launch forecast.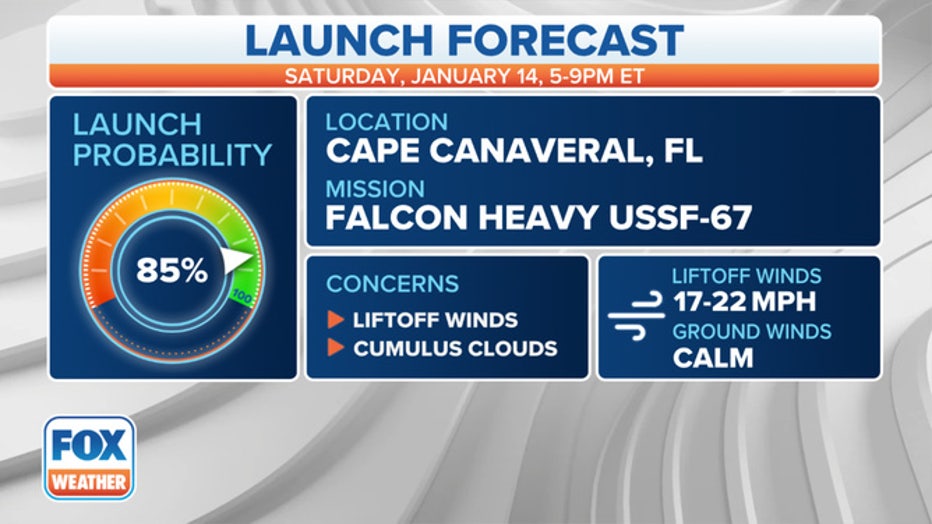 SpaceX Falcon Heavy launch forecast for Saturday.
Saturday will have mostly clear skies and temperatures in the mid-40s near Cape Canaveral Space Force Station. The only weather concern for the launch window will be liftoff winds.
Before NASA's maiden launch of the Space Launch System rocket in November, the Falcon Heavy was the most powerful rocket in the world. 
With its triple rocket boosters, a Falcon Heavy launch is a unique experience to see in person.
Falcon Heavy has 27 Merlin engines and three first-stage boosters compared to the Falcon 9, with one first-stage booster and nine Merlin engines. The Falcon Heavy produces more than 5 million pounds of thrust at liftoff to get off the planet. 
SpaceX lands its rocket boosters on land and at sea to reuse the hardware, driving down the cost of launches by millions of dollars.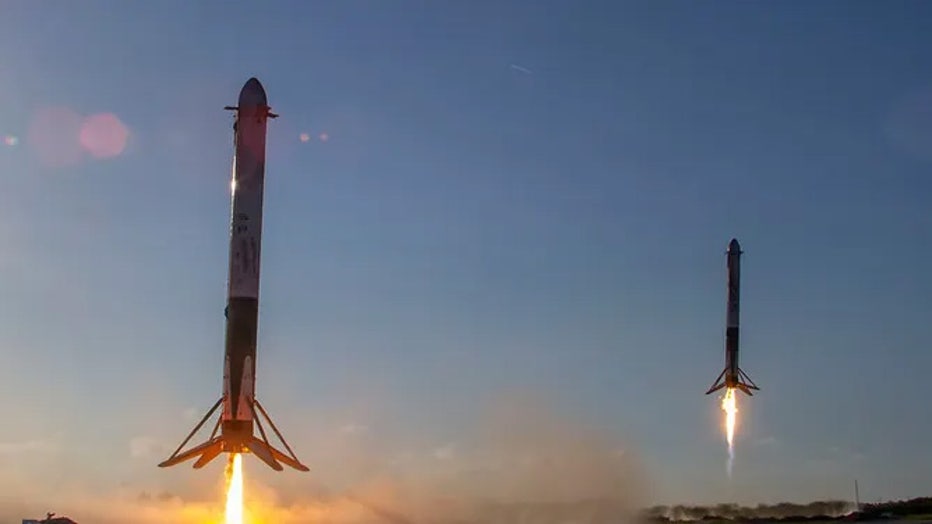 Two Falcon Heavy rocket boosters returning to land at Cape Canaveral Landing Zone 1 after launching the Arabsat-6A satellite from Kennedy Space Center in Florida on April 11, 2019. (SpaceX photo)
With three boosters, the Falcon Heavy's first stages perform a choreographed aerial ballet in the sky to return to Earth. One booster can land on a drone ship at sea, and two boosters head back to Cape Canaveral to land at Landing Zone 1 in near-perfect unison. 
As the rocket boosters return to land, the sound reverberates across the Florida coast, causing sonic booms. 
For this launch, the two side boosters will land at Cape Canaveral, and the middle booster will not be making a return trip. 
No rest for rocket launches
This year will be even busier for SpaceX and the space industry as a whole.
On Monday, the company said it had four rockets on four launch pads across the country and two spacecraft on orbit.
SpaceX's Starship spaceship and Super Heavy booster were stacked in Texas for testing, a Falcon 9 and Falcon Heavy were vertical in Florida, and another Falcon 9 was awaiting liftoff in California. 
Additionally, two SpaceX Dragon spacecraft were in orbit, one departing the International Space Station after a cargo resupply mission and the Crew Dragon remained docked at the orbiting laboratory.
Last week, Elon Musk's space company kicked off 2023 with a ride-sharing Falcon 9 rocket launch sending up more than 100 small satellites into low-Earth orbit. 
SpaceX achieved 61 launches in 2022, sending up a rocket nearly every week of the year. The company closed out December with seven additional launches.
According to SpaceX, after 2022, the Falcon 9 holds the world record for most launches of a single vehicle type in a single year.
Musk tweeted this week SpaceX is getting closer to the orbital flight test of its Starship spaceship and Super Heavy booster. The massive spacecraft has been under development and testing in Texas where SpaceX plans to launch Starship into orbit for the first time this year.