Snapchat threat at Mahtomedi High School prompts police investigation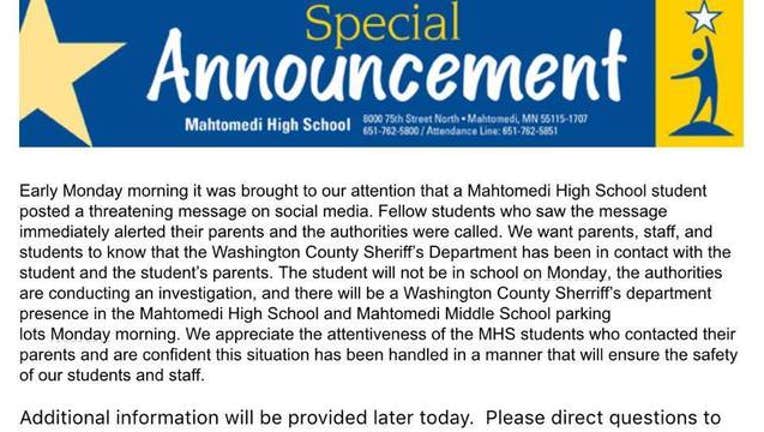 article
MAHTOMEDI, Minn. (KMSP) - A social media threat prompted a police presence at Mahtomedi High School Monday morning after a student allegedly posted a threatening message on Snapchat, an app that allows users to send short video and photo messages to others who also have the app. The messages disappear after they're played.

Washington County sheriff's officials were present at both the high school and middle school parking lots Monday morning and are conducting an investigation. A schoolwide alert said other students saw the message, told their parents, and police were called. Sheriff's officials have talked with the student and the student's parents.

Sheriff's officials couldn't comment on the nature of the threat or if there was a specific target, but no charges have been filed at this time and officials are not investigating anyone else's involvement.
Officials said they're "confident" there isn't an immediate threat to the school.
Full statement from Mahtomedi High School
"Early Monday morning it was brought to our attention that a Mahtomedi High School student posted a threatening message on social media. Fellow students who saw the message immediately alerted their parents and the authorities were called. We want parents, staff, and students to know that the Washington County Sheriff's Department has been in contact with the student and the student's parents. The student will not be in school on Monday, the authorities are conducting an investigation, and there will be a Washington County Sheriff's department presence in the Mahtomedi High School and Mahtomedi Middle School parking lots Monday morning. We appreciate the attentiveness of the MHS students who contacted their parents and are confident this situation has been handled in a manner that will ensure the safety of our students and staff."