Sears to close 72 stores, possibly more, after reporting $424 million first-quarter loss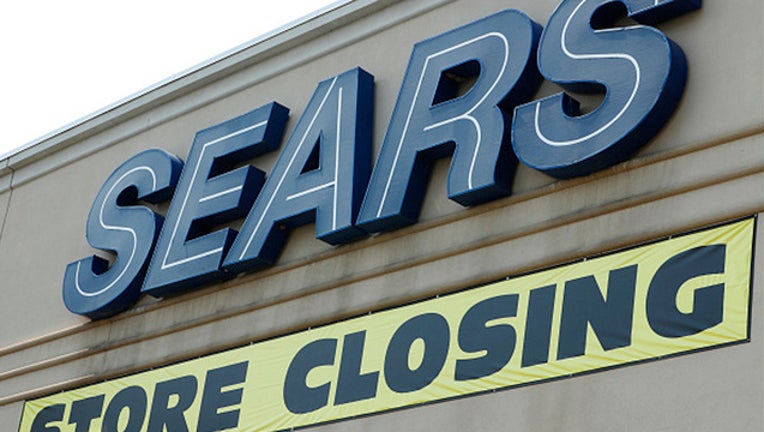 article
NEW YORK (FOX 46/AP) - Sears is closing another 72 stores after reporting a first-quarter losses and plunging sales.
The struggling retailer said Thursday that it has identified about 100 stores that are no longer turning profits, and 72 of those locations will be shuttered soon.
Sears Holdings Corp., based in Hoffman Estates, Illinois, lost $424 million, or $3.93 per share, in its first quarter.
It earned $245 million, or $2.29 per share, a year earlier, a quarter that included a $492 million gain tied to the sale of the Craftsman brand.
Revenue tumbled more than 30 percent to $2.89 billion, with store closings already under way contributing to almost two thirds of the decline.
Shares are down more than 3 percent before the opening bell.
Here's a list of the stores closing:
KMART STORES
910 North China Lake Blvd, Ridgecrest, CA
9881 W 58Th Avenue, Arvada, CO
5400 E Busch Blvd, Tampa, FL
4303 Nawiliwili Road, Lihue, HI
2535 Hubbell Avenue, Des Moines, IA
5909 E State Street, Rockford, IL
4070 Ryan Street, Lake Charles, LA
215 North Central Avenue, Duluth, MN
24 34 Barbour Avenue, Clifton NJ
2100 Carlisle Avenue, Albuquerque, NM
1000 Montauk Highway, West Babylon, NY
25301 Rockaway Blvd, Rosedale, NY
12350 N E Sandy Blvd, Portland, OR
1072 Mountain Laurel Plaza, Latrobe, PA
5000 San Dario Laredo, TX
SEARS STORES
10001 N Metro Parkway, West Phoenix, AZ
100 S Puente Hills Mall City Industry, CA
7902 Citrus Park Town Center, Tampa, FL
320 Towne Center Circle, Sanford, FL
2201 Henderson Mill Road N.E., Atlanta, GA
1300 Southlake Mall, Morrow, GA
2100 Pleasant Hill Road, Duluth, GA
320 W Kimberly Road, Davenport, IA
#2 Hawthorn Center, Vernon Hills, IL
#2 Fox Valley Center, Aurora, IL
6136 W Grand Avenue, Gurnee, IL
104 West White Oaks Mall, Springfield, IL
2415 Sagamore Pkwy S, Lafayette, IN
40 Muncie Mall, Muncie, IN
6020 E 82Nd Street, Indianapolis, IN
1781 Sw Wanamaker Road, Topeka, KS
Alexandria Mall, Alexandria, LA
Hwys 114 & 128, Peabody, MA
Eastfield Mall, Springfield, MA
3191 S Linden Road, Flint, MI
18900 Michigan Avenue, Dearborn, MI
14100 Lakeside Circle, Sterling Heights, MI
1212 S Airport Road W, Traverse City, MI
Shingle Creek Crossing, Brooklyn Ctr, MN
Miller Hill Mall Duluth, MN
250 S County Center Way, St. Louis, MO
#1 Chesterfield Mall, Chesterfield, MO
1000 Turtle Creek Drive, Hattiesburg, MS
1515 Grand Avenue, Billings, MT
2800 S Columbia Road, Grand Forks, ND
300 Quaker Bridge Mall, Lawrenceville, NJ
2341 Rt 66, Ocean, NJ
2501 Mt Holly Road, Burlington, NJ
10000 Coors Bypass N.W., Albuquerque, NM
3649 Erie Blvd E, Syracuse, NY
2400 Elida Road, Lima, OH
17271 Southpark Center, Strongsville, OH
300 S Hills Village, South Hills, PA
1000 Robinson Center Drive, Pittsburgh, PA
205 W Blackstock Road, Spartanburg, SC
3101 N Main Street, Anderson, SC
3400 Empire Mall, Sioux Falls, SD
2931 Knoxville Center Drive, Knoxville, TN
2401 S Stemmons Freeway, Lewisville, TX
1800 Green Oaks Road, Fort Worth, TX
11200 Lakeline Mall Drive, Cedar Park, TX
Golden Triangle Mall, Denton, TX
4502 S Steele Street, Tacoma, WA