Riot charges dropped against I-94 shutdown protesters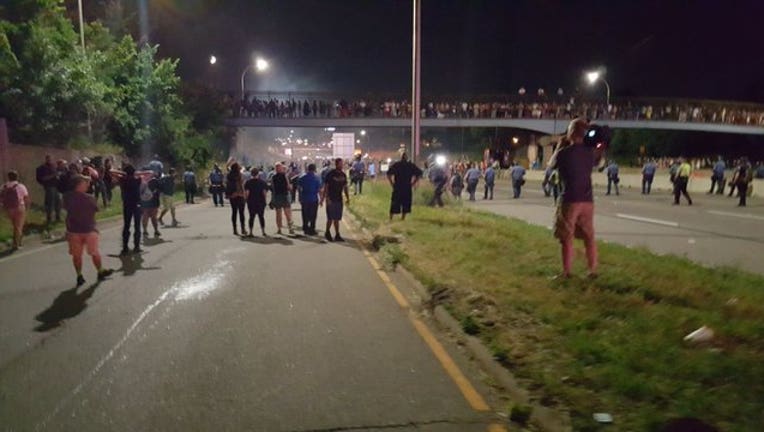 article
ST. PAUL, Minn. (KMSP) - A Ramsey County judge has dropped the riot charges against the 46 people who participated in the shutdown of Interstate 94 in St. Paul, Minnesota to protest the police shooting of Philando Castile.
Roughly 300 people walked onto I-94 last July, shutting down the interstate for more than 5 hours. The arrested protesters were charged with third-degree riot, misdemeanor public nuisance and unlawful assembly.
"The State Patrol supports the right to exercise one's First Amendment rights, but the freeway is not the place to do so," said Col. Matt Langer, Minnesota State Patrol Chief, said at the time of the arrests. "The closure of an interstate freeway for the purposes of a demonstration is unacceptable. They are used by everyone and are an artery for emergency vehicles. It is illegal to walk on the freeway and blocking traffic is dangerous for both pedestrians and motorists."
Ramsey County Judge Tony Atwal ruled Wednesday there was no evidence the defendants had thrown anything at police and that simply participating in the protest doesn't equate to a rioting charge. The charges of public nuisance and unlawful assembly remain in place.
Philando Castile, 32, was shot and killed by a St. Anthony police officer during a traffic stop in Falcon Heights, Minnesota at approximately 9 p.m. Wednesday night, July 6. A graphic video streamed live on Facebook by Castile's girlfriend captured the aftermath of shooting from inside the car.
St. Anthony Police Officer Jeronimo Yanez has been charged with second-degree manslaughter in the shooting after Ramsey County Attorney John Choi reviewed the case and concluded the use of deadly force was not justified.