Random act of early Mother's Day kindness in the Target aisle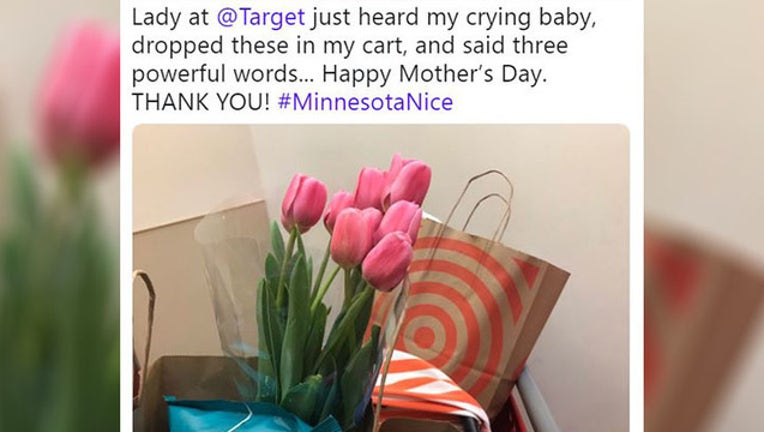 article
(FOX 9) - You don't need to wait until Mother's Day to do something nice for your mom, or for that matter a random act of kindness for any mom. FOX 9's Leah Beno was on the receiving end of some of that random kindness this week.
"Lady at Target just heard my crying baby, dropped these in my cart, and said three powerful words…Happy Mother's Day," Leah posted on Twitter, showing the bouquet of pink tulips a woman placed in her cart after checking out.
Just think of all the hard work moms do!
A survey of 2,000 American moms found that they spend an average of 97 hours per week taking care of their children, which is essentially the equivalent of having two full-time jobs — and then some. Time spent in various "jobs" include being a chef, meal planner, life coach, chauffeur and teacher.
Struggling to think of a way to make mom feel special this Mother's Day? Think brunch.
A new poll from TripAdvisor reveals that moms' favorite dining experience on Mother's Day is going out to brunch. The poll surveyed 7,951 people between March 8-12 about Mother's Day dining preferences and found that 30 percent of mothers selected brunch as their top choice to celebrate Mother's Day. Most moms aren't choosy when it comes to where to eat, the poll also revealed. The majority of them said they prefer everyday dining to fine dining.
Home-cooked meals came in second place with 24 percent of the votes and going out to dinner ranked third, with only 17 percent of the votes.
What's better than a gift or going out for brunch? Getting the chance to sleep in!
Roughly 53 percent of moms reported not getting enough sleep to make time for their children. On top of that, approximately 70 percent of the moms surveyed also reported having a full- or part-time job. This all leaves hardly any time for self-care. 
Roughly 88 percent of moms admit to sacrificing sleep – staying up late, waking up early or doing a combination of both — to find that elusive "me time." MORE: The big numbers behind the 'average' mom
So let mom sleep in, then take her out to brunch. A gift doesn't hurt too. And you don't need to put flowers in a stranger's shopping cart, but take a second to wish every mom a Happy Mother's Day.