St. Louis Park police chase thief down Hwy 7 after 3 vehicles stolen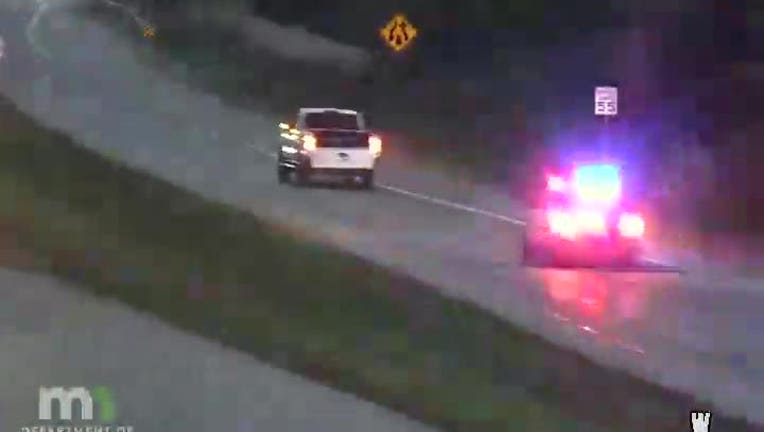 article
ST. LOUIS PARK, Minn. (FOX 9) - St. Louis Park police say a truck thief led officers on a chase spanning two counties on Saturday evening after an incident near Knollwood Mall, involving three stolen cars.
Police officers say it started just after 6 p.m. when they located a stolen vehicle near Knollwood Mall, at the intersection of Highway 7 and Aquila Avenue South. According to police, the vehicle was found unoccupied in the mall parking lot.
Police say soon after they found the vehicle they witnessed two men running from a store carrying merchandise believed to be stolen. The men were ducking and hiding between other cars, and police blocked the stolen vehicle with their squad cars, so the suspects couldn't leave in it. 
The two suspects then ran away on foot and were chased by officers. According to police, one suspect ran across Highway 7 and allegedly stole a construction worker's vehicle.
The second suspect allegedly stole another vehicle from a business north of Highway 7, law enforcement says. The vehicle's owner and a police officer were nearly struck as the suspect drove towards them to get away, according to police.  One of the workers from the business was in the bed of the truck and had to jump out as the second suspect drove away in it, police say. 
St. Louis Park officers pursued that truck to a location in Carver County but were ultimately able to take the suspect into custody.
According to law enforcement, the second suspect was evaluated at Hennepin County Medical Center for a minor injury and was released.
Police say the second suspect was booked at the Hennepin County Jail on suspicion of multiple felony charges including, auto theft, second-degree assault, and fleeing police in a motor vehicle. 
The first suspect hasn't been located at this time, police say. 
St. Louis Park police say this is an open and active investigation, and they ask anyone with information on this case to call them at 952-924-2618.