Small Minnesota city establishing first-of-its-kind park
PLAINVIEW, Minn. (FOX 9) - Leaders from America's top government service organizations are coming to a small, rural Minnesota town on Saturday to promote an idea as old as the country itself. The idea is service to the nation.
Retired Army four-star general Joseph Votel along with Peace Corps Director Carol Spahn, AmeriCorps Director Ken Goodson, and Colonel Eduardo Suarez from the Minnesota National Guard are appearing and speaking at Plainview High School to promote the establishment of a National Service Park on the south side of the southeast Minnesota town.
"There's nothing quite like that, that we know of in the country," said Ken Flies, president of the Peace Corps Legacy Association.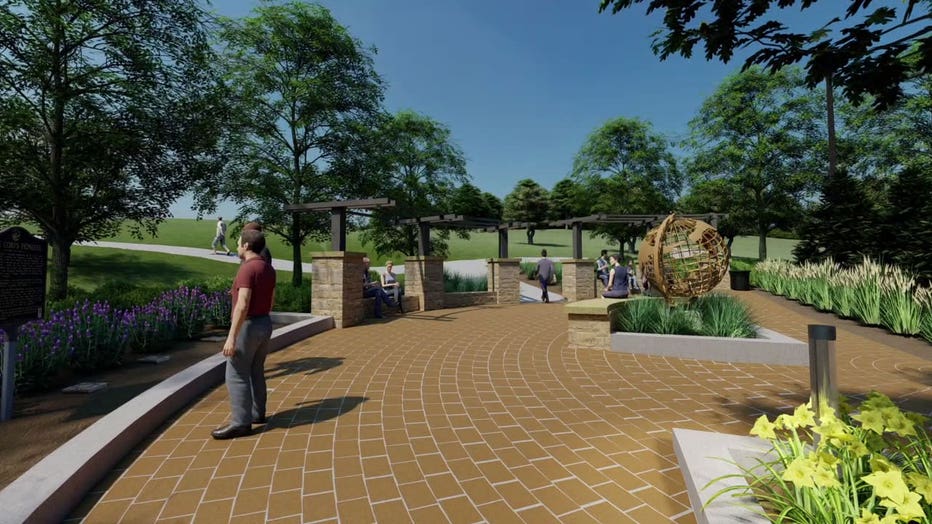 The volunteers
Flies represent a unique contribution to the legacy of service to the country. When President John F. Kennedy established the Peace Corps in 1961, an idea first proposed by Minnesota Senator Hubert H. Humphrey, Flies was among the very first volunteers. As one of 11 children growing up on an 800-acre dairy farm in Plainview, Flies had a desire to see what was beyond the pasture fence.
"I always had an aspiration to be in the Foreign Service," recalled Flies.
President Kennedy rolled out the Peace Corps during Flies' freshman year in college.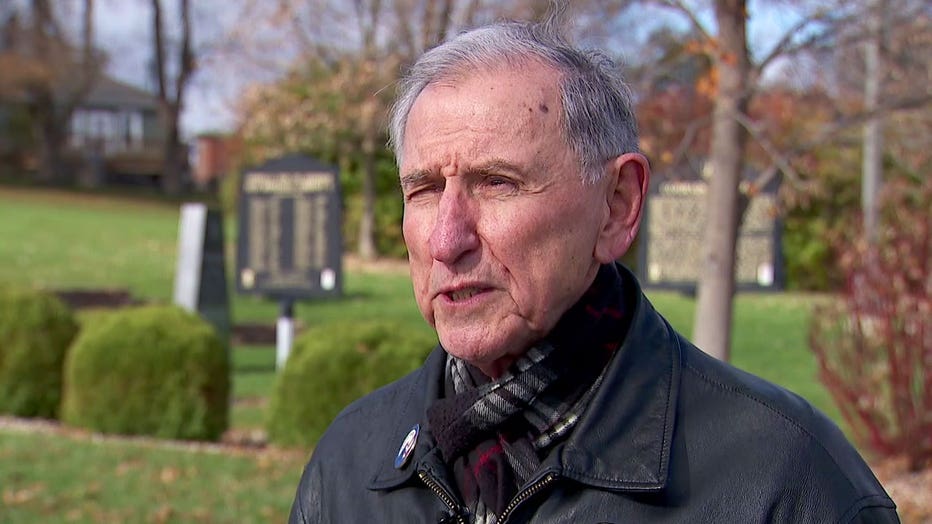 Ken Flies, president of the Peace Corps Legacy Association (FOX 9)
"I applied because I thought if I really wanted to do that kind of work abroad, maybe it would be great to go and apprentice on how to work with the government and work abroad with foreign people and see if I really liked that kind of work."
He recalls applying on a lark and was surprised to get accepted.
"The rest is history, as they say," said Flies with a beaming smile.
Three more volunteers from Plainview joined him in the same inaugural class of Peace Corps volunteers. Flies served in rural Brazil where he repaired a non-functioning hydroelectric dam, restored a village water pumping station, and taught the local farmers how to grow hybrid corn without wasting large quantities of seed.
A historical marker commemorating the four original volunteers from Plainview is now erected at a small village park that serves as the trailhead for the Great River Ridge State Bike Trail. Other Peace Corps volunteers from Plainview over the years have their own names engraved in markers at the park.
"I served two years in Paraguay, and I loved it," said Alyce Tidball who served in the Peace Corps from 1975-1977. "I worked with rural women in 4-H clubs and clubs of women and girls on very basic skills for home extension."
For Tidball, her experience in the Peace Corps forever changed her life. "I came back and went to graduate school, and then I joined the Foreign Service. So, I continued serving my country even in my whole career," she reflected.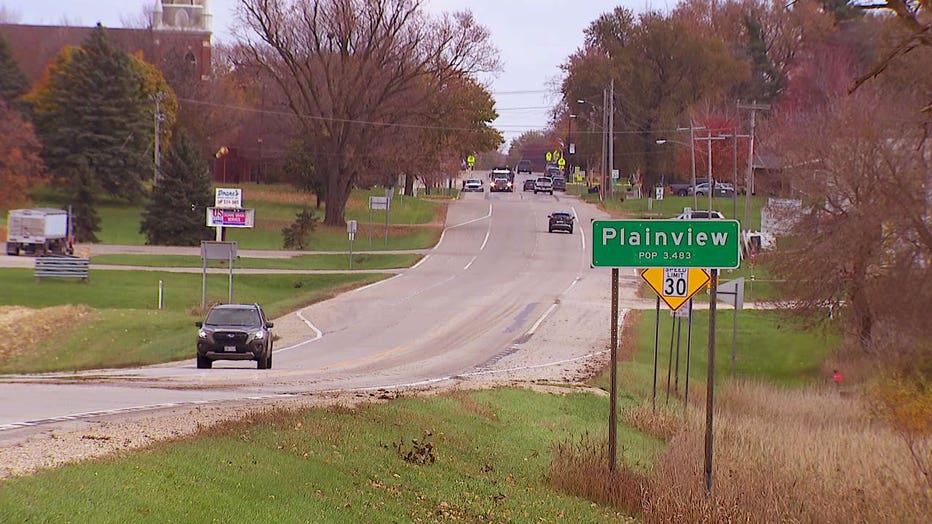 Plainview, Minnesota (FOX 9)
Creating a 'National Service Park'
Tidball and Flies are joining forces to make the space at the corner of Highway 42 and 3rd Street the country's first National Service Park, celebrating those who have served their country.
The park already contains a veterans memorial dedicated to those who've served in the five branches of the military. It also contains a historical marker dedicated to the Minnesota soldiers who fought in the Battle of Nashville during the Civil War. Eighty-seven Minnesota soldiers and officers were killed in the battle that defeated the Confederate Army of Tennessee on Dec. 15, 1864. It was considered the last great battle of the war and positioned the Union Army as the victor. Less than four months later, Confederate Army General Robert E. Lee would surrender to Union General Ulysses S. Grant at Appomattox Court House, Virginia.
The fact that such historical markers are placed at a single site in rural Minnesota, and not in St. Paul, is completely by design.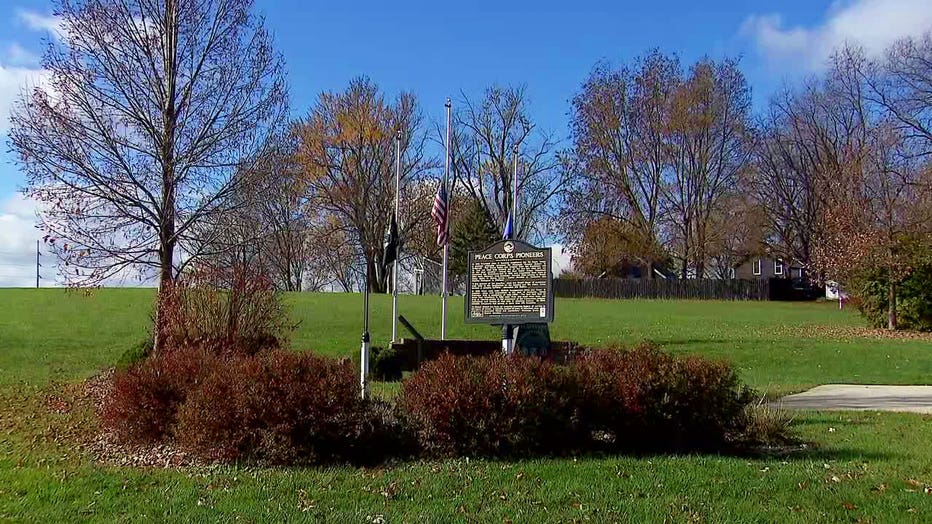 "What's really interesting is three of the four original Peace Corps volunteers from here were farm boys. Seventy percent of those Civil War soldiers were farm boys," said Flies who also noted that Minnesota's only Nobel Peace Prize recipient, Frank B. Kellogg, was a farm boy from the Plainview area.
"So, it's in this rural area of Minnesota, very agricultural, but it shows that the volunteers with interest in national service that small communities have, may be overlooked sometimes by most of our prominent markers that go in the Capitol in Washington, D.C., or in state capitols," Flies pointed out.
The fundraising efforts now begin to build out the memorials to national service at Plainview Park.
"We want to expand it, have pavers," Tidball explained about the efforts to sell personalized bricks. "We want to make it more open to the public and have some other facilities available."
It's hoped that the park will become a tourist destination, especially because of its proximity to the National Eagle Center in Wabasha and the Minnesota Marine Art Museum in Winona.
"The audience we want to come here are the very young Americans and people that would be inspired by national service," said Flies.
It's their hope that with dedicated exhibits to the Peace Corps, AmeriCorps and the military branches maybe they can instill a sense of service and patriotism that once inspired themselves.
"When President Kennedy started the Peace Corps he said, 'Ask not what your country can do for you, but what you can do for your country,'" remembered Tidball. "And it's still the case. We have to give back."