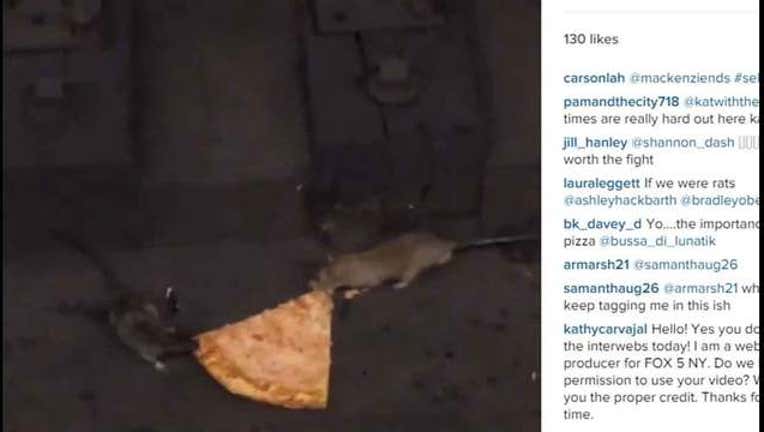 article
NEW YORK (FOX 5 NY) - Instagram user Jonathen Liu says he won the "interwebs" today with this video of 'pizza rat, part 2.' Following in the footsteps of the original rodent (#PizzaRat) that took off with a pizza slice down a set of subway stairs, this video shows another rat going to town on a pizza inside the Union Square subway station. It even tries to fend off a friend who wants in.
Take a look:
The original #PizzaRat-- assuming this isn't the same critter-- became a social media folk hero of sorts.
A video posted to YouTube showed the rat dragging an entire slice pizza down a flight of stairs in a subway station in Manhattan.
The rat made it almost to the bottom when it dropped the slice and scurried away.
Seconds later, it peered back through the railing at the slice, but the video ended there so the world will never know if #PizzaRat managed to bring the pizza home.
Comedian Matt Little shot the video in the First Avenue station on the L train line last month.
"I know that what I saw was so strange that I couldn't not record it," Little told Fox 5's Mac King. "I woke up and thumbed through my videos and saw that and said: 'Oh, I forgot I did this. This'll be fun to put up.'"