Photos: Thousands march in support of Palestine all over the world Saturday
From Washington to Milan to Paris, tens of thousands of pro-Palestinian demonstrators marched Saturday, calling for a halt to Israel's bombardment of Gaza.
The marches reflected growing disquiet about the mounting civilian casualty toll and suffering from the Israel-Hamas war. Protesters, particularly in countries with large Muslim populations, including the U.S., U.K. and France, expressed disillusionment with their governments for supporting Israel while its bombardments of hospitals and residential areas in the Gaza strip intensify.
The Palestinian death toll in the Israel-Hamas war has reached 9,448, according to the Hamas-run Health Ministry in Gaza. In Israel, more than 1,400 people have been killed, most of them in the Oct. 7 Hamas attack that started the war.
United States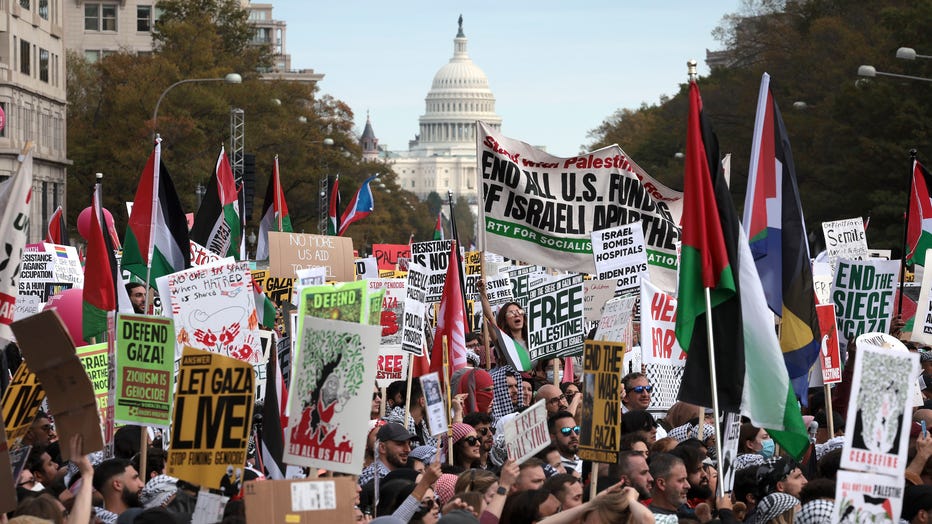 Protesters gather in Freedom Plaza during the National March on Washington for Palestine while calling for a ceasefire between Israel and Hamas on November 4, 2023 in Washington, DC. (Photo by Win McNamee/Getty Images)
In the U.S., thousands converged on the nation's capital to protest the Biden administration's support of Israel and its continued military campaign in Gaza. "Palestine will be free," demonstrators donning black and white keffiyehs chanted as an enormous Palestinian flag was unfurled by a crowd that filled Pennsylvania Avenue — the street leading up to the White House.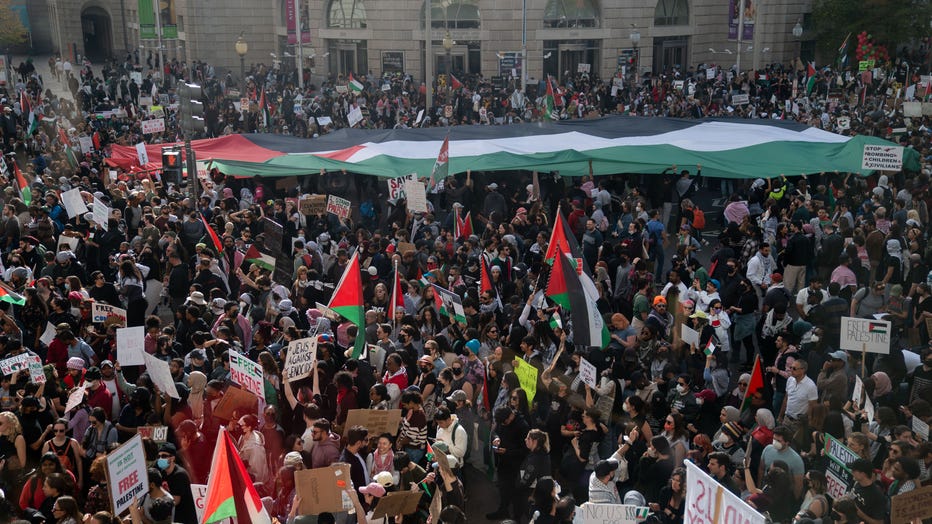 Demonstrators gather in Freedom Plaza during a rally in support of Palestinians in Washington, DC, on November 4, 2023. Thousands of people, both Israeli and Palestinians, have died since October 7, 2023, after Palestinian Hamas militants based in th
Dozens of small white body bags with the names of children killed by Israeli missiles lined the street and demonstrators held signs calling for an immediate cease-fire.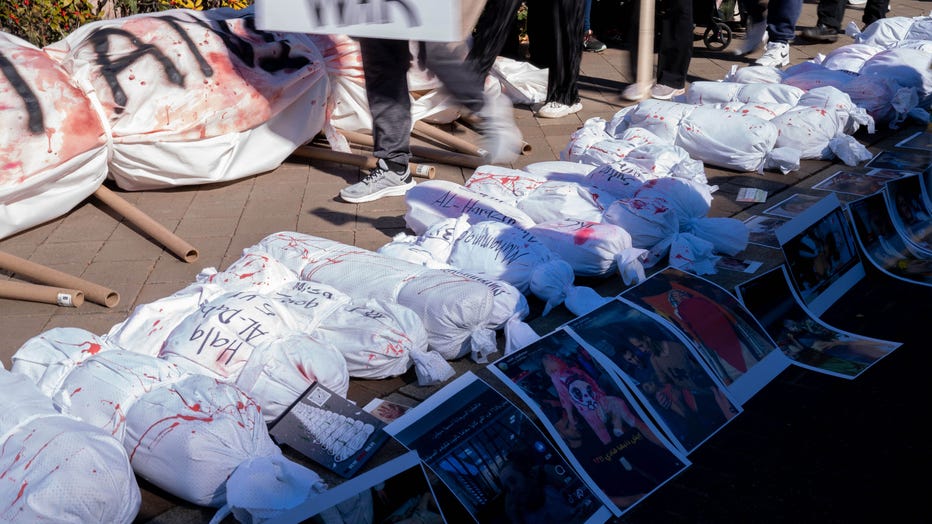 Demonstrators walk past imitation body bags as they gather in Freedom Plaza during a rally in support of Palestinians in Washington, DC, on November 4, 2023. Thousands of people, both Israeli and Palestinians, have died since October 7, 2023, after P
Protesters held signs and banners with messages such as "Biden betrays us" and "In November we remember," highlighting how the issue could be a factor in Biden's reelection bid.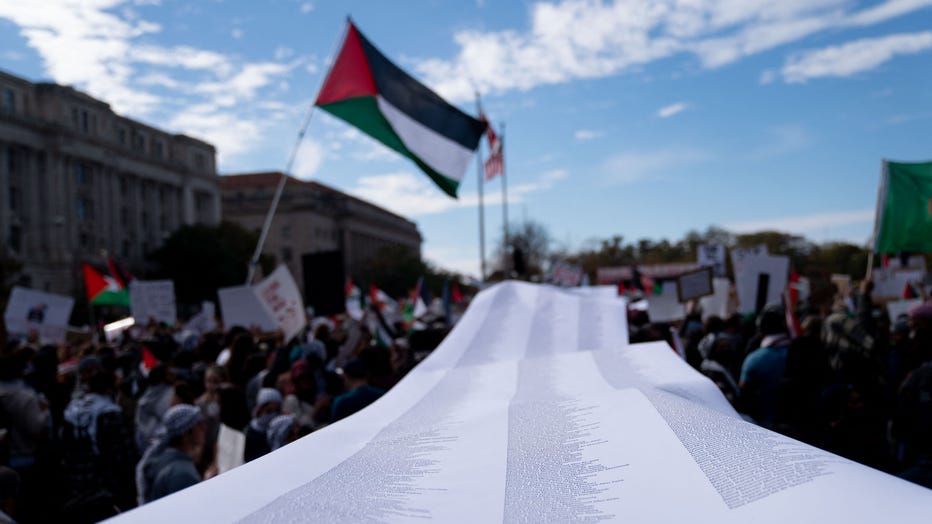 (Photo by Stefani Reynolds/AFP via Getty Images)
Paris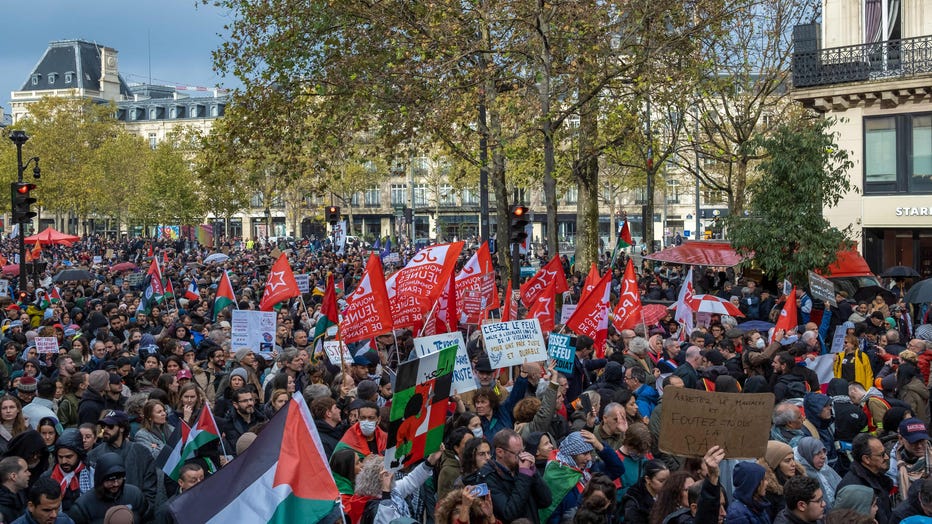 People gather as they carry Palestinian flags and banners to stage a demonstration in support of Palestinians in Paris, France on November 04, 2023. (Photo by Sara Kontar/Middle East Images/AFP via Getty Images)
In Paris, several thousand protesters called for an immediate cease-fire in Gaza and some shouted "Israel, assassin!"
Banners on a sound-system truck at the Paris march through rain-dampened streets read: "Stop the massacre in Gaza." Demonstrators, many carrying Palestinian flags, chanted "Palestine will live, Palestine will win."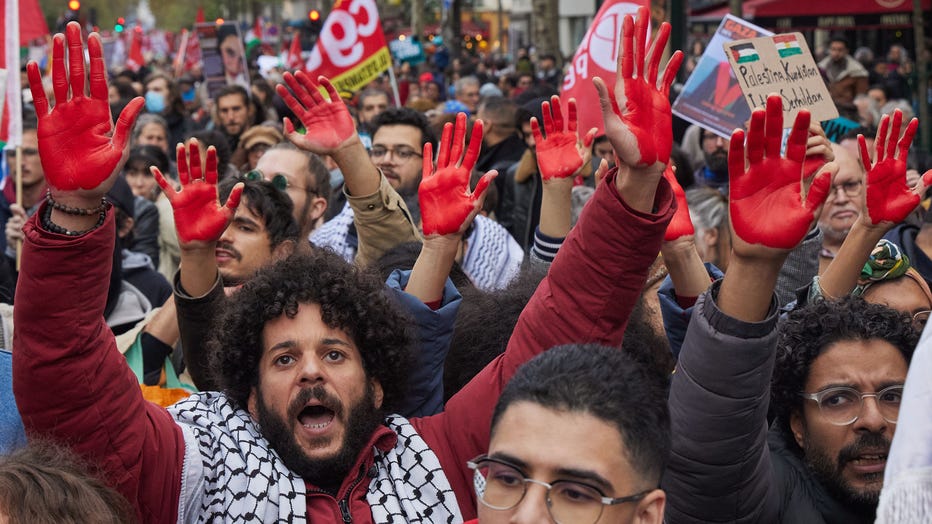 Demonstrators hold up their hands painted red to symbolize blood during a pro-Palestinian demonstration on November 4, 2023 in Paris, France. (Photo by Oleg Nikishin/Getty Images)
Demonstrators also took aim at French President Emmanuel Macron, chanting "Macron, accomplice."
Paris' police chief authorized the march from République to Nation, two large plazas in eastern Paris, but vowed that any behavior deemed antisemitic or sympathetic to terrorism would not be tolerated.
London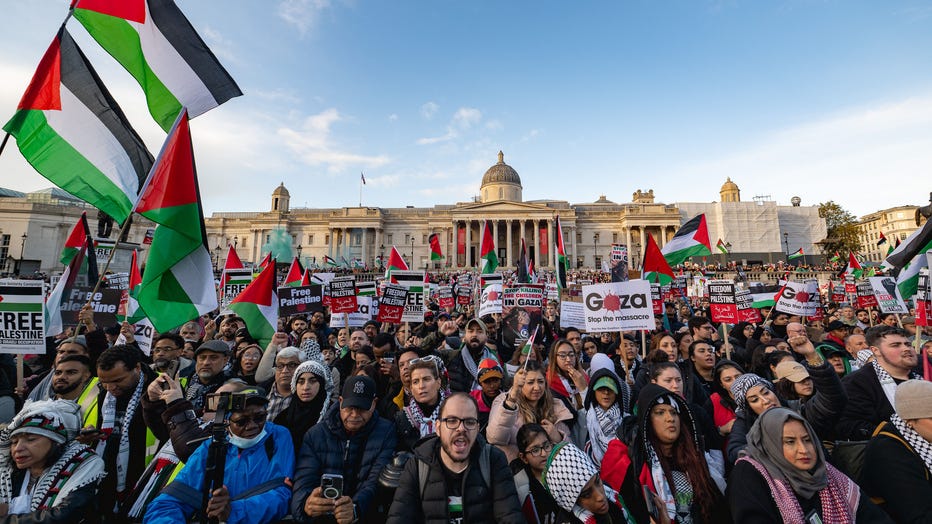 Trafalgar square is filled with protestors as Pro-Palestinian protest groups call for an Immediate ceasefire in Gaza on November 4, 2023 in London, United Kingdom. The action is being held to call for a ceasefire in the Hamas-Israel conflict. (Photo
At the London rally, the Metropolitan Police said its officers made 11 arrests, including one on a terrorism charge for displaying a placard that could incite hatred. The police force had forewarned that it would also monitor social media and use facial recognition to spot criminal behavior.
On Friday, two women who attended a pro-Palestinian march three weeks ago were charged under the U.K.'s Terrorism Act for displaying images on their clothing of paragliders. In its Oct. 7 surprise attack on Israel, Hamas employed paragliders to get some fighters across the border between Gaza and southern Israel. Prosecutors said the images aroused suspicion they were supporters of Hamas, which U.K. authorities regard as a terrorist group.
Berlin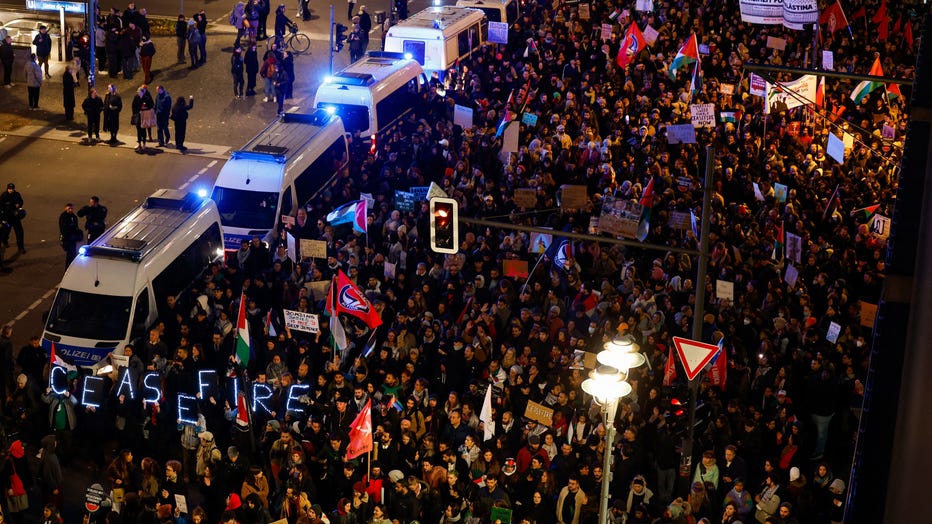 Demonstrators carry a sign reading "Ceasefire" during a protest rally in support of Palestinians under the slogan 'Free Palestine' passing a road blocked off by police vans in Berlin, Germany on November 4, 2023. (Photo by Odd Andersen/AFP via Getty
In Berlin, around 1,000 police officers were deployed to ensure order after previous pro-Palestinian protests turned violent. German news agency dpa reported that about 6,000 protesters marched through the center of the German capital.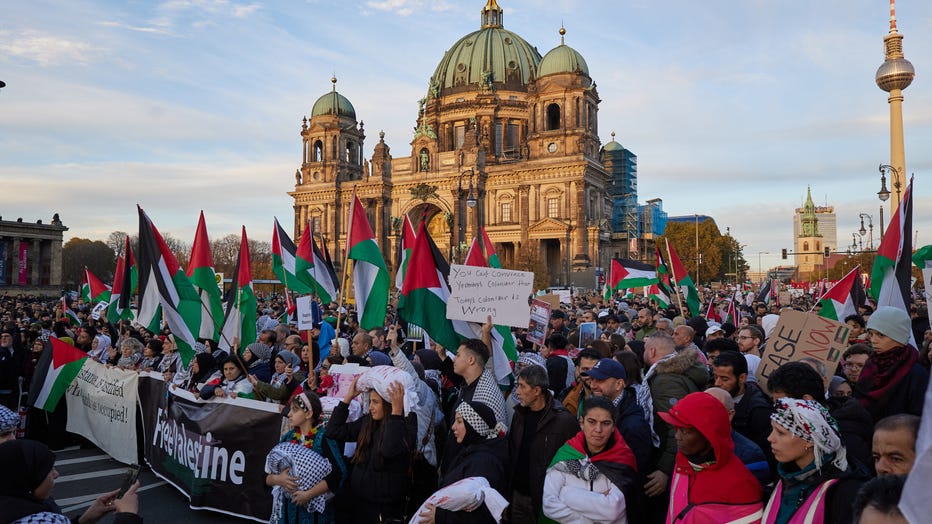 Numerous people walk past Berlin Cathedral during a pro-Palestine rally. Photo: Jörg Carstensen/dpa (Photo by Jörg Carstensen/picture alliance via Getty Images)
Police banned any kind of public or written statements that are antisemitic, anti-Israeli or glorify violence or terror. Several thousand protesters also marched through the west German city of Duesseldorf.
___
Cetinic reported from Paris. Associated Press writers Aamer Madhani in Rehoboth Beach, Delaware, John Leicester in Le Pecq, France, Stephen McGrath in Bucharest, Romania, Brian Melley in London, Frances D'Emilio and Silvia Stellacci in Rome, and Kirsten Grieshaber in Berlin contributed to this report.