Omarosa says she secretly taped her firing at White House, plays audio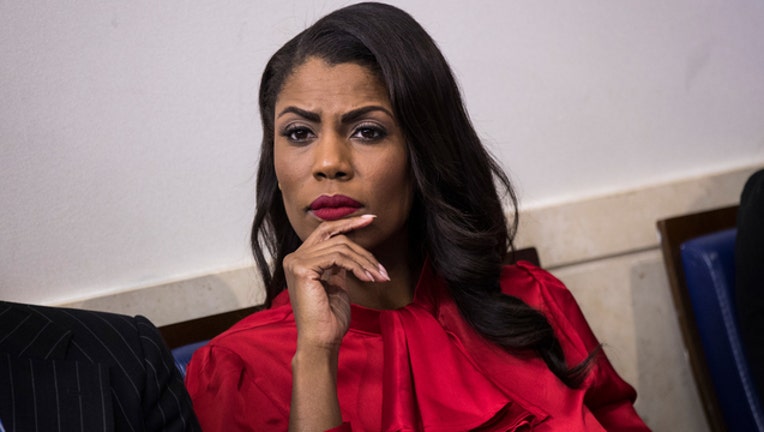 article
BRIDGEWATER, N.J. - (AP) — Former presidential adviser Omarosa Manigault Newman said Sunday she secretly recorded conversations she had in the White House, including her firing by chief of staff John Kelly in the high-security Situation Room. It was a highly unusual admission, which immediately drew fire from allies of the president.
Parts of her conversation with Kelly were played on the air during an appearance on NBC's "Meet the Press" to promote her new book, "Unhinged," which will be released next week.
In it, she paints a damning picture of President Donald Trump, including claiming without evidence that tapes exist of him using the N-word as he filmed his "The Apprentice" reality series, on which she co-starred.
Manigault Newman said in the book that she had not personally heard the recording. But she told Chuck Todd on Sunday that, after the book had closed, she was able to hear a recording of Trump during a trip to Los Angeles.
"I heard his voice as clear as you and I are sitting here," she said on the show.
But the other recording she discussed Sunday could prove equally explosive.
"Who in their right mind thinks it's appropriate to secretly record the White House chief of staff in the Situation Room?" tweeted Ronna McDaniel, chair of the Republican National Committee.
The Situation Room is a Sensitive Compartmented Information Facility, or SCIF, and staff are not permitted to bring in cell phones or other recording devices.
In the recording played on air, and which Manigault Newman quotes in the book, Kelly can be heard saying she can look at her time at the White House as a year of "service to the nation" and referring to potential "difficulty in the future relative to your reputation."
Manigault Newman said she viewed the comment as a "threat" and defended her decision to covertly record it and other White House conversations, describing it as a form of protection.
"If I didn't have these recordings, no one in America would believe me," she said.
?The White House did not immediately respond to the tape, but has tried to discredit the book. White House press secretary Sarah Huckabee Sanders called it "riddled with lies and false accusations" and Trump on Saturday labeled Manigault Newman a "lowlife."
White House counselor Kellyanne Conway also questioned Manigault Newman's credibility in an interview Sunday on ABC's "This Week."
"The first time I ever heard Omarosa suggest those awful things about this president are in this book," she said, noting Manigault Newman "is somebody who gave a glowing appraisal of Donald Trump the businessman, the star of the 'The Apprentice,' the candidate and, indeed, the president of the United States."
Conway said that, in her more than two years working with Trump, she has never heard him use a racial slur about anyone.
Manigault Newman had indeed been a staunch defender of the president for years, including pushing back, as the highest-profile African-American in the White House, on accusations that he was racist.
But Manigault Newman now says she was "used" by Trump for years, calling him a "con" who "has been masquerading as someone who is actually open to engaging with diverse communities" and is "truly a racist."
"I was complicit with this White House deceiving this nation," she said. "I had a blind spot where it came to Donald Trump."
On the anniversary of the deadly gathering of white supremacists in Charlottesville, Virginia, Manigault Newman told Todd that Trump uses race to "stir up his base" and doesn't have the ability to bring the country together "because he puts himself over country every day."