Officer charged in shooting death of Antwon Rose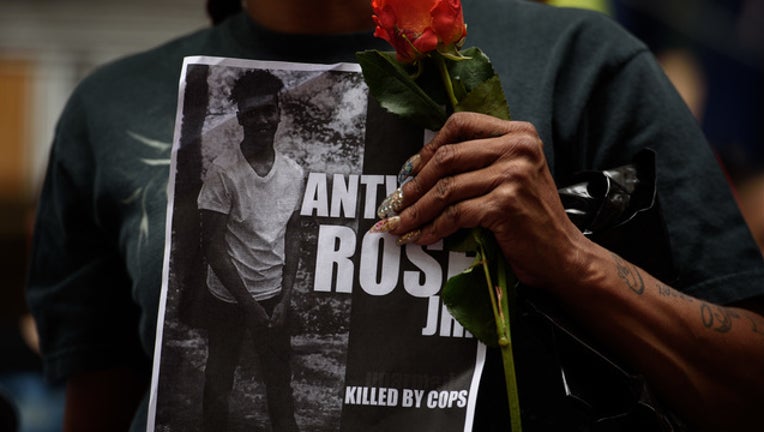 article
EAST PITTSBURGH, Pa. (AP) -- A police officer was charged Wednesday with criminal homicide for shooting to death an unarmed black teenager who fled a traffic stop after being pulled over on suspicion of involvement in a drive-by shooting.
The charge against East Pittsburgh Officer Michael Rosfeld is outlined in court documents. The 30-year-old turned himself in Wednesday morning, his attorney said. He was arraigned and faces a July 6 hearing. The district attorney's office did not immediately return a call for comment.
Rosfeld is charged in the June 19 death of 17-year-old Antwon Rose Jr. He had been sworn in just hours before the shooting but had been working at the police department for two to three weeks.
Authorities have said Rose and another teen, who was arrested this week , fled after being pulled over on suspicion they were involved in a drive-by shooting. Rose was shot three times, leading to daily protests around Pittsburgh.
Rosfeld pulled over the car Rose was a passenger in the night of June 19, about 15 minutes after reports of a drive-by shooting in nearby North Braddock. A 22-year-old man was shot in the abdomen in the drive-by, and was treated and released from the hospital.
A witness described a car from that shooting that matched the one Rose was a passenger in. A bystander from a nearby home captured video of a portion of the stop and the shooting.
As Rosfeld is taking the driver of the car into custody, the back door can be seen opening and Rose and the other teen can be seen running from the car. They run. The officer fires three shots.
Rosfeld has been on administrative leave since the shooting occurred.
The charge against him comes a day after authorities arrested the second teen seen running from the car the night of the shooting. Authorities say they expect to charge that teen, whose name had not been released as of Wednesday morning, in connection with the drive-by shooting that started the chain of events that led to Rose's shooting.