North Minneapolis Walgreens to close, leaving few places to get prescriptions filled
MINNEAPOLIS (FOX 9) - North Minneapolis will soon lose one of its two neighborhood pharmacies. The news comes the same week the community learned it will also lose one of its few options for fresh groceries.
The "closing" sign on the door is one people on the north side didn't see coming.
"I'm gonna miss it because I get a lot of good deals out of there," said Albert Holiday.
The sign says the Walgreens at West Broadway and Lyndale will close on March 6. For the community, it's more than a store but a staple.
"I get my meds here. I get food here," said north side resident Ricardo Diaz.
"Prescriptions is the biggest thing. And there's limits on the availability of different types of stores over here, too," said customer Penny Lane.
It will leave customers with few options for where they can buy life-saving medicines.
"Cub Foods… is the only other pharmacy in North Minneapolis. It's going to have a hard time trying to meet the demand," said Kristel Porter, executive director of the West Broadway Business and Area Coalition.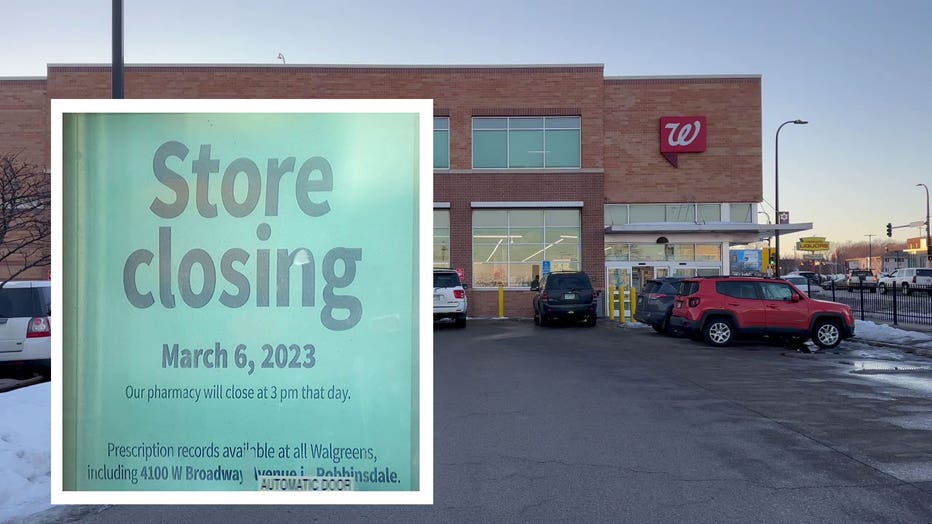 The Walgreens at the troubled intersection of West Broadway and Lyndale is set to close next month. It's another blow for northside residents after the announced closure of Aldi earlier this week. (FOX 9)
In a statement to FOX 9 on Thursday, Walgreens said: 
"Our location at 627 W Broadway Ave. in Minneapolis is closing on Feb. 22, 2023. Patients do not need to take any action. Their pharmacy files will automatically transfer to the Walgreens located at 4100 W Broadway Ave. in Robbinsdale, MN. Patients receive notice about any changes through mail and other means to provide details about continued access to their prescriptions and other services. 
"As we expand as a leader in healthcare, we are focused on best meeting the needs of patients and customers in communities we serve by creating the right network of stores in the right locations. When faced with the difficult decision to close a particular location, several factors are taken into account, including our existing footprint of stores and dynamics of the local market, and changes in the buying habits of our patients and customers."
Customers can't help but compare the Walgreens closure to the news this week that the Aldi less than 2 miles away is also closing down.
Northside leaders had heard rumblings about the potential that Aldi would close, but the news about Walgreens came as a complete shock.
Porter attributed the trend to a "security problem" and acknowledges how tough it is to operate a store in the area.
"Pandora's box was open when we had that issue with civil unrest in 2020 and people are assuming they can get away with whatever they want," she said.
Data from Minneapolis police show officers have already been called to the address 22 times this year for disturbances, thefts, drug activity and other reasons.
FOX 9 also saw two private security guards on site.
With the options on the north side shrinking, community leaders said those hit hardest are the ones who rely on public transportation, as well as people who are elderly or disabled.
"Rather than walking, I have to take the bus now honestly," Diaz said.
"People in the neighborhood really need to come to a place where they can get some good quality items," Holiday said.
Porter said the community needs to put pressure on the city and lawmakers to give kickbacks to businesses to come to the north side, as well as address security concerns.