Norfolk Southern to pay millions for Ohio train derailment, governor says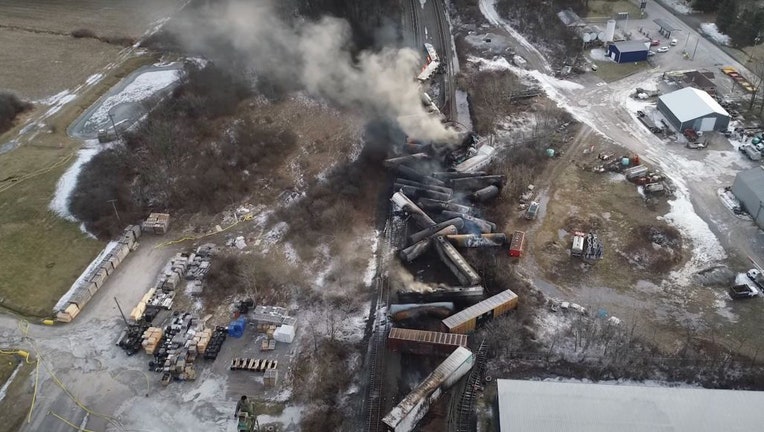 article
HARRISBURG, Pa. - Norfolk Southern has pledged several million dollars to cover the cost of the response and recovery in Pennsylvania after last month's derailment of a train carrying toxic chemicals just across the border in Ohio, Gov. Josh Shapiro said Monday.
Shapiro's office said he met with Norfolk Southern CEO Alan Shaw on Thursday and secured an initial commitment for financial aid as the cleanup from the Feb. 3 derailment continues.
Norfolk Southern has made similar pledges to Ohio, and the U.S. Environmental Protection Agency has ordered the company to cover the costs of cleanup from the derailment that toppled 38 rail cars in East Palestine, Ohio.
RELATED: Train derailment latest: EPA taking charge of cleanup in East Palestine, Ohio
No one was hurt, but concerns that the chemicals could explode led state and local officials to approve releasing and burning toxic vinyl chloride from five tanker cars and to evacuate half of East Palestine and the surrounding area near the Pennsylvania border. Shapiro said Norfolk Southern will pay $5 million to reimburse fire departments for equipment that was contaminated or damaged and $1 million to Beaver and Lawrence counties to help business owners and residents whose livelihoods were damaged.
Another nearly $1.4 million will go to state agencies that responded, including for setting up a health clinic for residents, Shapiro said.
Shapiro's office said he will push Norfolk Southern to cover any additional costs that accumulate.
RELATED: Ohio train derailment: Should New Englanders be worried about air quality?
In Ohio, Norfolk Southern previously announced more than $1 million to replace fire equipment used in the response to the fiery wreck, plus $1 million for East Palestine and more than $1.2 million for evacuation costs for nearly 900 families and businesses.
The company has said it is "committed to coordinating the cleanup project and paying for its associated costs," and wants to ensure that East Palestine's residents and natural environment recover.
Federal and state officials have repeatedly said it's safe for evacuated residents to return to the area and that air testing in the town and inside hundreds of homes hasn't detected any concerning levels of contaminants. However, some residents say they're still suffering from illnesses nearly a month later.