How NFL teams will show support for Damar Hamlin this weekend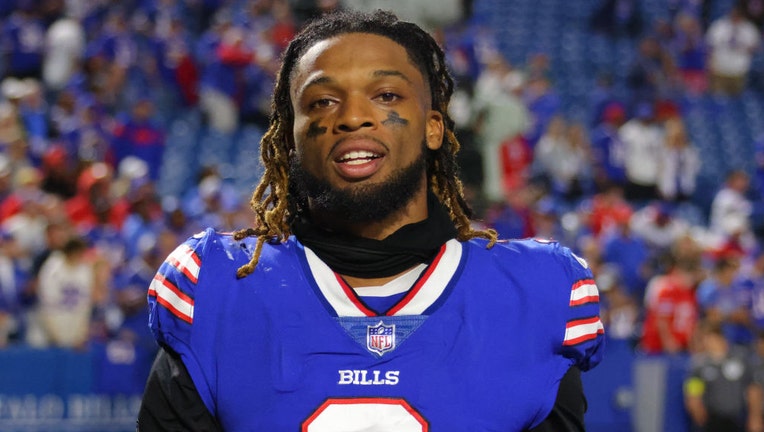 article
The NFL announced Friday that the league will show their support for Buffalo Bills safety Damar Hamlin during Week 18 games this weekend. Hamlin continues to make tremendous strides in his recovery. Hamlin went into cardiac arrest during the team's game against the Cincinnati Bengals Monday night. 
The league said all 32 NFL teams have a few options to support the 24-year-old. 
A pregame moment of support
Teams can have a pregame moment of support for Hamlin. The league distributed a public address announcement that clubs are encouraged to read prior to the national anthem as a unified show of support for Damar, the first responders and medical caregivers, according to an NFL release. 
The announcement will read as follows and be accompanied by a scoreboard graphic of Hamlin:
"Throughout this week, the entire NFL family has been praying for Damar Hamlin of the Buffalo Bills as he continues his recovery, and we thank the first responders and medical professionals involved in his care.  The [CLUB NAME] ask you to join us in a moment of support and love for Damar, and cheer for him and his family as they continue their fight."
Field painting
There's also field painting where all 32 teams (home and away) can outline the turf with the no. "3" (Hamlin's number) in each 30-yard line number on the field in either the Buffalo Bills colors, red or blue, the NFL shared. 
Pregame shirts
During pregame warmups, players have the choice to wear black Nike t-shirts displaying "Love for Damar 3." The NFL says Buffalo Bills players will wear a similar t-shirt but with the team's royal blue color. There will also be New Era hats with a "3" on them given to the Bills team to wear during pregame warm-ups.
'3' jersey patches for Buffalo
Buffalo Bills players will wear "3" jersey patches in Week 18 to honor their teammate. According to the NFL, fans, teams and players have supported Hamlin's GoFundMe fundraiser and a fund has been set up by his family where donations can be made at chasingmsfoundation.com.
RELATED: Bills' Damar Hamlin breathing on his own, able to talk after breathing tube removed, agent says
Hamlin is breathing on his own and able to talk after having his breathing tube removed, his agent said Friday
The Buffalo Bills tweeted that Hamlin FaceTimed into the team's meeting Friday to talk to players and coaches. Hamlin told the team "Love you boys," the Bills tweeted.
Hamlin was still listed Thursday in critical condition in the intensive care unit of the University of Cincinnati Medical Center. Aside from being able to communicate by writing, Hamlin was also been able to grip people's hands.
Coach Sean McDermott and his team found out that Hamlin has made remarkable progress in his recovery Thursday since his heart stopped during Monday night's game.
RELATED: Meet the man who performed 'vital' CPR on Damar Hamlin
In the last few days since the Bills were left emotionally devastated as they watched their teammate collapse on the field in Cincinnati, the team's motto has gone from "Pray for Damar" to "Play for Damar."
The Associated Press contributed to this report. This story was reported from Washington, D.C.