New St. Paul to Chicago train: MnDOT offer survey on extra train service
MINNEAPOLIS (FOX 9) - MnDOT is now taking input on a new, planned daily train service to run from St. Paul to Chicago.
The new service will run in conjunction with the current Amtrak service.
Currently, Amtrak offers a daily Empire Builder train, which includes stops in St. Paul, Milwaukee, and Chicago, as part of a longer route that starts in the Pacific Northwest.
Under the current schedule, the eastbound train makes a daily stop in St. Paul at about 8:30 a.m. and arrives in Chicago by 4:45 p.m. The westbound trip leaves Chicago around 3 p.m. and arrives in St. Paul by about 11 p.m.
The new Twin Cities-Milwaukee-Chicago line would add a second daily trip, that runs solely in the Midwest.
The new train would follow the same route as the Empire Builder, with stops in Red Wing, Winona, La Crosse, Tomah, Wisconsin Dells, Portage, Columbus, Milwaukee, and Glenview, Ill. before arriving in Chicago.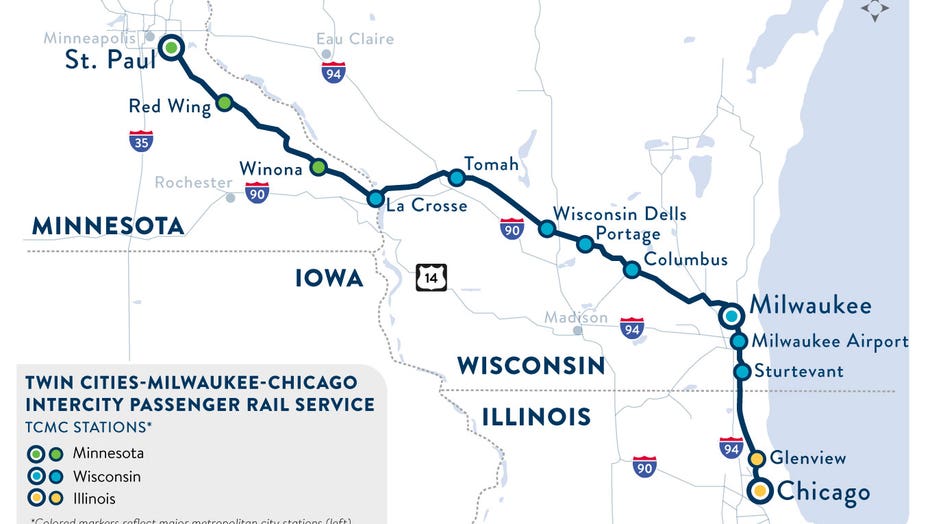 A chart of the new daily train service from MnDOT (FOX 9)
However, the exact details of the route are not yet decided. The survey will help guide officials as they make final decisions on the new train service. You can click here to take the survey.
Funding for the new train service came in 2022, as part of a federal grant.
Construction will modernize and upgrade sections of the current Empire Builder route. Construction on the new train is scheduled to begin next year and be complete by 2026. MnDOT plans to announce schedules, fares, and the service start date next year.
While adding more service between the Twin Cities and Chicago, the Minnesota legislature also approved money last session to build a train line between Minneapolis and Duluth.
That train, dubbed the Northern Lights Express, is still waiting on federal funding to move forward.