New Chick-fil-A cauliflower sandwich sparks debate on TikTok
TikTok launched into a frenzy after Chick-fil-A dropped its new "plant-forward" menu option, the "Chick-fil-A Cauliflower sandwich." 
The new plant-based sandwich is priced at $6.59, and is currently being tested in Colorado, South Carolina and North Carolina after its premiere on Monday, according to Chick-fil-A's website. 
But the sandwich has sparked debate on TikTok, with some food influencers trying out the meal for fans. 
One TikToker, @morganchompz, reviewed the sandwich in a video on Tuesday that went viral with over 1.7 million views. 
"It honestly looks like a normal chicken sandwich, but it does have that cauliflower smell," the influencer told her followers. 
Her final verdict was that the sandwich mostly tasted like a "filet of breading." 
Another TikTok user also tried the cauliflower sandwich, but gave it a "10/10" and said that it looked and tasted like the original sandwich.
The hashtag for Chick-fil-A's cauliflower sandwich has amassed over 416 million views on the platform.
A CHICK-FIL-A IN CALIFORNIA MAY BE DECLARED 'A PUBLIC NUISANCE,' CITY COUNCIL PLANS VOTE
A Chick-fil-A spokesperson defended the cauliflower sandwich in a statement to Fox News Digital.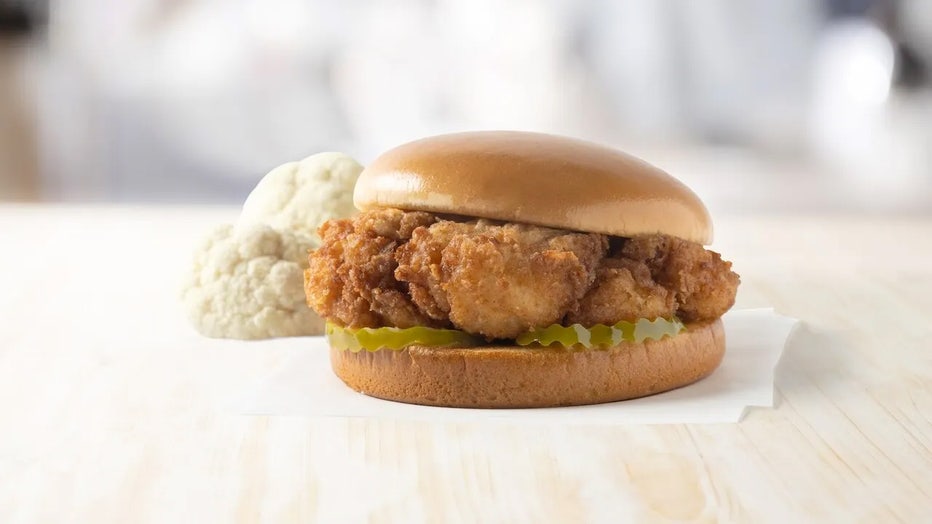 Photo courtesy Chick-Fil-A
"The Chick-fil-A Cauliflower Sandwich is a competitively priced plant-forward offering that features high-quality ingredients, including a whole cauliflower filet that is hand-breaded, prepared and cooked throughout the day."
The spokesperson also acknowledged that customer feedback is important to Chick-fil-A menu options. 
"Guest input plays a key role in determining the future of test market menu offerings. We welcome and appreciate feedback on all menu tests, including the Chick-fil-A Cauliflower Sandwich."
"We're excited for our guests to try it!" the spokesperson said. 
BRITISH ANIMAL RIGHTS ACTIVISTS PROTEST AT LONDON STEAKHOUSE OWNED BY 'SALT BAE'
But some users were less pleased with the price. 
"For $7 I want the whole d--- chicken forget the cauliflower," one user wrote.
Another agreed, writing, "How is a cauliflower more expensive [than] a chicken."
"It's literally a veggie and bread why is it $7," a third user wrote, adding a disappointed face emoji.
WAFFLE HOUSE RESTAURANT FIRES BACK AT GEN Z OVER 'SECRET MENU' TREND: 'NOT MAKING ANYTHING YOU SAW ON TIKTOK'
Parody site the Babylon Bee poked fun at Chick-fil-A's announcement in an article headlined, "Chick-Fil-A Courts Godless Heathen Community With Cauliflower Sandwich." 
"Let's face it, not everyone likes the Lord's blessed chicken," the Babylon Bee wrote, in a quote jokingly attributed to Chick-fil-A's Menu Director Leslie Neslage. 
"With this new cauliflower sandwich, we hope to attract a whole new clientele of godless Communist heathens to our restaurant!"
The article added that the sandwich "will be served with a side of waffle cricket fries."