Release of toxic chemicals from derailed Ohio tanker cars begins
EAST PALESTINE, Ohio - Crews began releasing toxic chemicals into the air from five derailed tanker cars that were in danger of exploding Monday after warning residents near the Ohio-Pennsylvania state line to leave immediately or face the possibility of death.
Flames and black smoke billowed high into the sky from the derailment site late in the afternoon, about an hour after authorities said the controlled release would begin. The Ohio Emergency Management Agency confirmed the release was underway.
Ohio Gov. Mike DeWine earlier ordered evacuations in the area of the derailment that has been smoldering since Friday night. Authorities believe most, if not all, residents in the danger zone had left but they were knocking on doors one more time before releasing the vinyl chloride inside the cars, he said.
"You need to leave, you just need to leave. This is a matter of life and death," DeWine said at press conference.
Officials warned the controlled burn would send phosgene and hydrogen chloride into the air. Phosgene is a highly toxic gas that can cause vomiting and breathing trouble and was used as a weapon in World War I.
Scott Deutsch of Norfolk Southern Railway said doing this during the daytime would allow the fumes to disperse more quickly and prevent the rail cars from exploding and sending shrapnel and other debris from flying through the neighborhood.
"We can't control where that goes," said Deutsch, who estimated the release would take from one to three hours.
The process involves using a small charge to blow a hole in the cars, allowing the material to go into a trench and burning it off before it's released in the air, he said. The crews handling the controlled release have done this safely before, Deutsch said.
RELATED: 50-car train derailment causes massive fire, evacuations in Ohio
The site is very close to the state line, and the evacuation area extends into a sparsely populated area of Pennsylvania. About half of the 4,800 residents in East Palestine had been warned to leave over the weekend before officials decided on Monday to use the controlled release.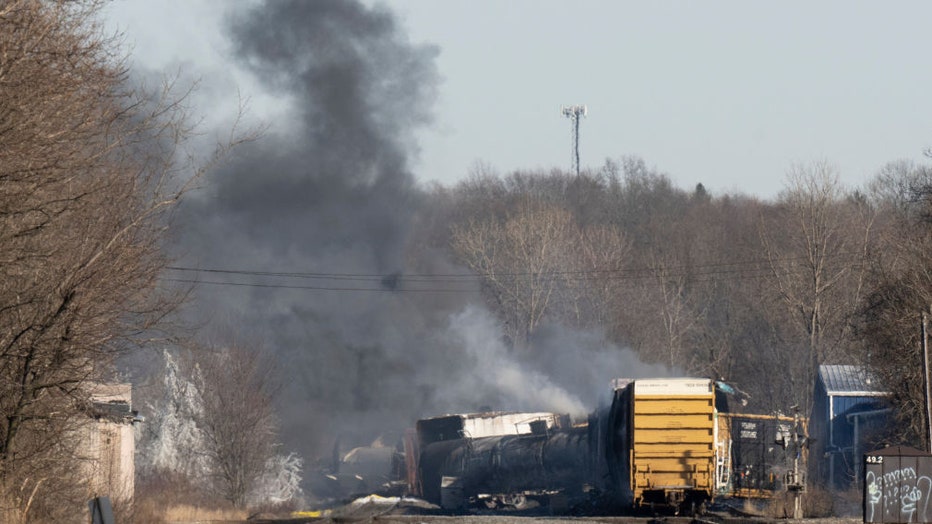 Smoke rises from a derailed cargo train in East Palestine, Ohio, on February 4, 2023. - The train accident sparked a massive fire and evacuation orders, officials and reports said Saturday. (DUSTIN FRANZ/AFP via Getty Images)
Pennsylvania Gov. Josh Shapiro said the evacuation zone includes about 20 Pennsylvania residences. Pennsylvania State Police went door-to-door to assist the last remaining residents and ensure they leave.
"This is very serious," he said. "I want you to know that if I were there right now, if the First Lady and our children were there right now, we would evacuate. We would leave this area. It is potentially too dangerous."
Forced evacuations began Sunday night in the village of East Palestine after authorities became alarmed that the rail cars could explode after a "drastic temperature change" was observed in a rail car.
Residents were packing overnight bags, loading their pets into cars and searching for hotel rooms Monday morning. Police in the village moved out of their communication center as the threat of an explosion increased.
Police cars, snow plows and military vehicles from the Ohio National Guard blocked streets leading into the area.
About 50 cars, including 10 carrying hazardous materials, derailed in a fiery crash Friday night, according to rail operator Norfolk Southern and the National Transportation Safety Board. No injuries to crew, residents or first responders were reported.
Five were transporting vinyl chloride, which is used to make the polyvinyl chloride hard plastic resin in plastic products and is associated with increased risk of liver cancer and other cancers, according to the federal government's National Cancer Institute
Federal investigators say the cause of the derailment was a mechanical issue with a rail car axle.
The three-member train crew received an alert about the mechanical defect "shortly before the derailment," Michael Graham, a board member of the NTSB, said Sunday. Investigators identified the exact "point of derailment," but the board was still working to determine which rail car experienced the axle issue, he said.
Mayor Trent Conaway, who declared a state of emergency in the village, said one person was arrested for going around barricades right up to the crash. He warned people to stay away and said they'd risk arrest.
"I don't know why anybody would want to be up there; you're breathing toxic fumes if you're that close," he said.
___
This story has been corrected to show that the evacuation zone includes about 20 Pennsylvania residences, not residents
___
Seewer reported from Toledo, Ohio. Associated Press journalists Kantele Franko, Gene Puskar and Brooke Schultz in Harrisburg, Pennsylvania, contributed. Schultz is a corps member for the Associated Press/Report for America Statehouse News Initiative. Report for America is a nonprofit national service program that places journalists in local newsrooms to report on undercovered issues.