Mount Eden Prairie: How the Target cart made it to the summit
EDEN PRAIRIE, Minn. (FOX 9) - It's officially spring, but winter is hanging on — especially in a parking lot near Target at Eden Prairie Center. 
The mound of snow, which has been dubbed Mount Eden Prairie or Mount Target, has become an iconic image of sorts over the past few days, and it's drawn enough visitors to prompt a warning not to climb it, with signs posted at its base. 
For a while, there was a Target shopping cart planted high atop the mound. FOX 9 went straight to the source — one of the teenagers who hauled the cart up to the top of Mount Eden Prairie.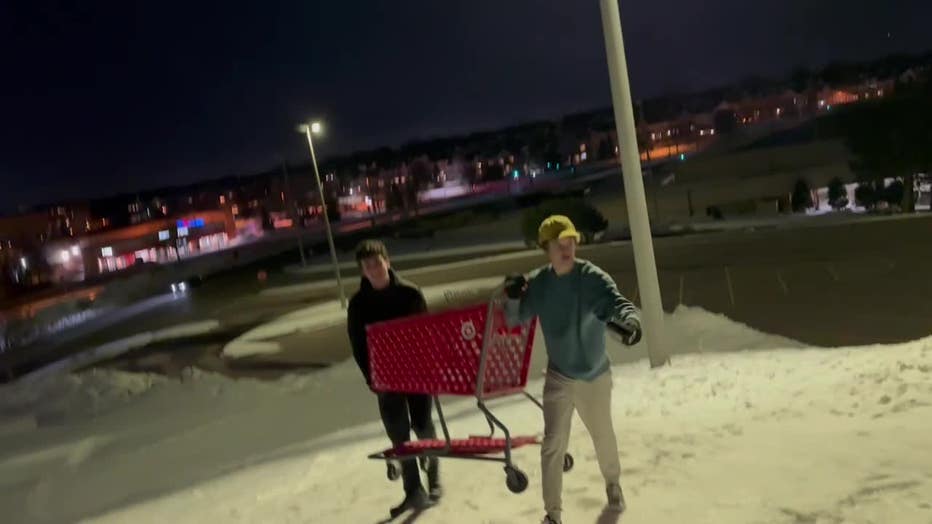 Tavin and his friends hauled a Target shopping cart up Mount Eden Prairie.
"We saw this shopping cart and I was like, it would be really funny guys to get a photo of this on top of the snow pile. It'll be super cool. And everyone was like, let's do it. So we dragged it up. We had to roll it up, it was super, super difficult and then we got a photo next to it," Tavin, of Shakopee, told FOX 9. 
Tavin also shared video of him and his friends making the great climb to the peak. Watch it in the player above. 
Their mission has proven to be quite inspirational, with the story getting shared even as far away as Arizona.