America is more rent-burdened than ever: These cities take the biggest chunk of your budget
Americans are, on average, more rent-burdened than ever, according to the latest rental report from Moody's Analytics.
For the first time in 20-plus years of tracking, renters nationwide are paying an average of 30% of their monthly incomes to landlords. That's up 1.5% from a year ago, the Moody's report shows, and in three states, people are spending more than a third of their income on rent.
Analysts say the 30% rent-to-income ratio — the threshold for being rent-burdened in America — speaks to a "burning issue" that requires bold action from both the public and private sectors.
"It certainly rings the alarm bell that we are having this affordability issue," said Moody's senior economist Lu Chen, one of the report's authors. "It's causing much higher stress over the median household budget."
READ MORE: Where people moved in 2022: Florida showed gains, California showed declines
Chen said in 1999 and 2000, the median household paid 22.5% of their income on rent. At the end of 2019, before the COVID-19 pandemic, the average was about 27%. COVID caused a short decline in rent-to-income ratios in 2020, but rents rose rapidly again in 2021 and the beginning of 2022. By the end of 2022, the U.S. "finally reached this milestone, this symbolic threshold of 30%."
"Rising mortgage rates caused many households to be priced out from home buying and would-be buyers to remain renters," analysts said in their report. "As the disparity between rent growth and income growth widens, Americans' wallets feel financial distress as wage growth trails rent growth."
Cities in the U.S. with the highest rent burdens
Renters in these seven U.S. cities pay, on average, more than 30% of their income in rent:
New York City, New York: 68.5% rent-to-income ratio
Miami, Florida: 41.6%
Fort Lauderdale, Florida: 36.7%
Los Angeles, California: 35.6%
Palm Beach, Florida: 33.6%
Northern New Jersey: 33.3%
Boston, Massachusetts: 32.9%
States with rent-to-income ratios above 30%
According to the report, the following three states topped the 30% rent-to-income ratios for the fourth quarter of 2022:
Florida
Massachusetts
New York
States where rent burdens are growing the fastest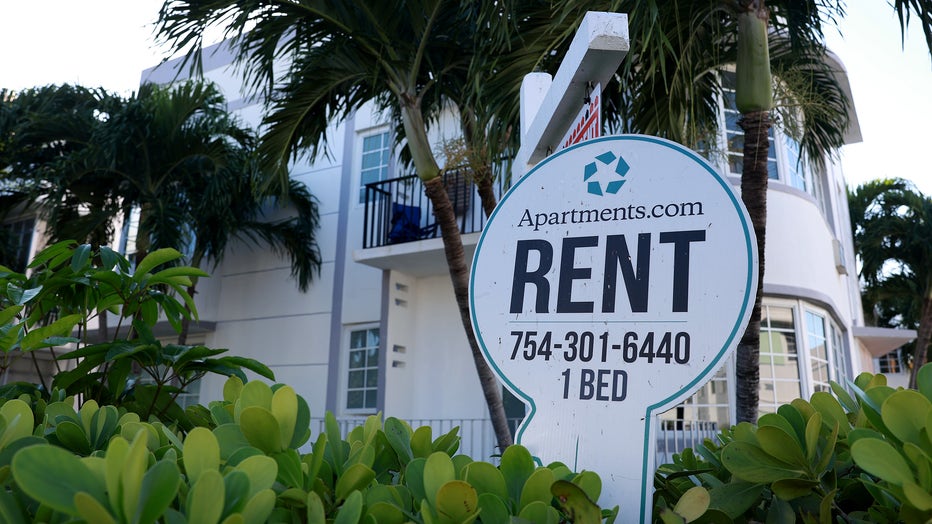 A 'For Rent' sign in front of a building on December 06, 2022 in Miami Beach, Florida. (Photo by Joe Raedle/Getty Images)
Over the past three years, the following states have seen the highest increase in rent burdens. Analysts say rent increases in these states, where rents are up more than 20%, haven't kept up with wage growth among median households:
Nevada (up 4.9%)
Florida (up 4.8%)
Alabama (up 4.2%)
South Carolina (up 4.2%)
Arizona (up 4.1%)
New Mexico (up 4%)
States where rent burdens declined
Despite record-high rental rates, nine states saw their rent burdens drop slightly. These are:
Georgia
Maryland
Oklahoma
Nevada
Utah
Wisconsin
Pennsylvania
Texas
Alabama
Cities most affected by pandemic-driven migration
The report lists 20 so-called "hot" metros, also known as the "pandemic darlings" that saw notable population increases during the pandemic. When remote work became the norm, higher income earners who lived in traditionally expensive markets began moving to warmer and more affordable metros (mostly in the Sun Belt), driving up rent prices in those areas.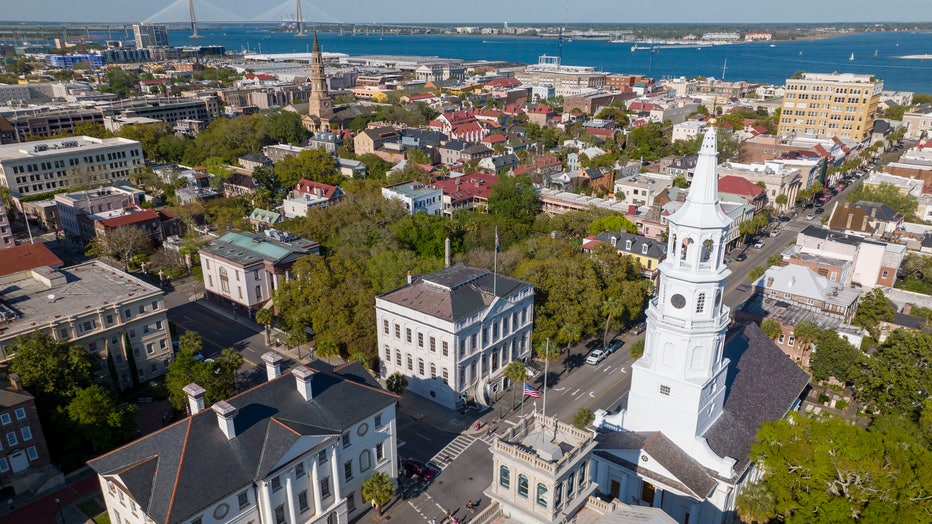 Aerial view of historic Charleston, South Carolina. (Photo by: Visions of America/Joseph Sohm/UCG/Universal Images Group via Getty Images)
"Many of the median households there are in industries that aren't the highest paid," Chen explained. "And for that reason we are seeing much smaller income growths, but on the other hand you have all these luxurious, amenity-loaded apartments, which are enjoying much higher rents and bringing the average rents up to significantly higher than what the local residents can afford."
The following 20 metros were still considered "hot" by the end of 2022, but the report notes 75 metros have higher rent burdens now than they did before COVID-19 because rent rose faster than incomes.
Miami, Florida
Charleston, South Carolina
Greensboro/Winston-Salem, North Carolina
Tucson, Arizona
Fort Lauderdale, Florida
Orlando, Florida
Birmingham, Alabama
Las Vegas, Nevada
Charlotte, North Carolina
Raleigh-Durham, North Carolina
Phoenix, Arizona
Atlanta, Georgia
Tampa-St. Petersburg, Florida
Albuquerque, New Mexico
Palm Beach, Florida
Little Rock, Arkansas
Jacksonville, Florida
San Bernardino/Riverside, California
Ventura County, California
Memphis, Tennessee
Will renters see relief anytime soon?
There is some good news when it comes to rent in America, Chen said: The all-time high rent burdens are likely peaking and "starting to normalize."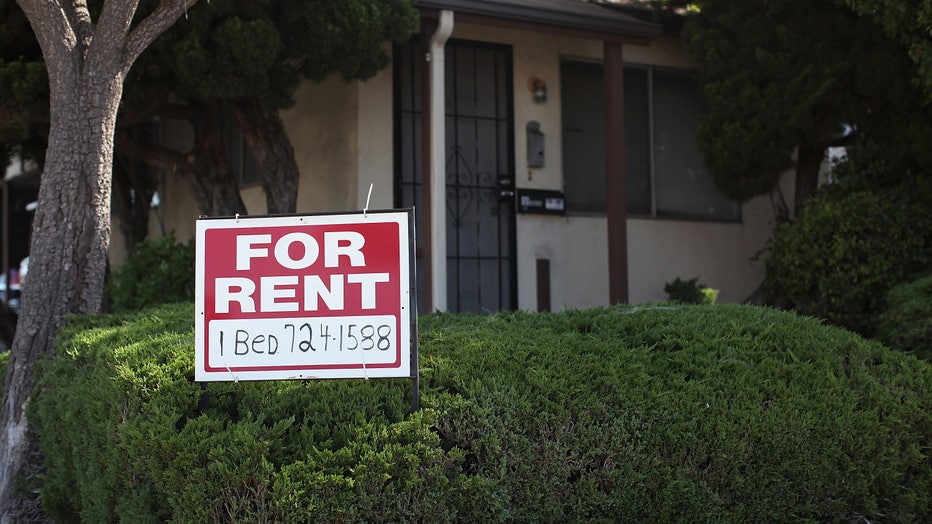 A "for rent" sign is posted in front of a house in Richmond, California. (Photo by Justin Sullivan/Getty Images)
"We're seeing some positive signs," Chen said.
But peaking doesn't mean rents will come down anytime soon.
"We may be staying at this 30% threshold for some time, and it means we need to address it in a creative way," Chen said.
Chen said public-private partnerships are among the most meaningful ways to address the affordable housing issue: public subsidies can help when affordable housing "doesn't always pencil out with developers from an economic point of view."
"It really requires a lot of sponsorship," Chen said.
READ MORE: Goldman Sachs says 4 US cities will suffer a 2008 crash in home values
Another way to bring more affordable housing to the market is by converting unused space in other sectors — like office and retail — to residential real estate.
"I think that's something we didn't see take the mainstream before COVID happened," Chen said. "Now we're seeing it more and more, and it's a very promising trend to track. That could be one way to inspire incentives for the private sector to get into that space and create affordable housing.
"Affordable housing is important for all of us, it doesn't matter where we are on the income spectrum," Chen continued. "It takes a lot of effort, but we're on the right path and we'll continue monitoring."