Minnesotans react as Israel-Hamas conflict escalates
MINNEAPOLIS (FOX 9) - A mix of emotions is being felt around the world this weekend, as people watch chaos unfold in the Middle East.
"Our hearts are really broken today," Temple Israel senior rabbi Marcia Zimmerman said. "We prayed the entire weekend once we heard of the attack… we need to see what happens in the days to come, but our hearts and our prayers are with our brothers and sisters in Israel."
Israel has declared war on the Palestinian militant group Hamas after its surprise attack killed hundreds of people on the 50th anniversary of the Yom Kippur War.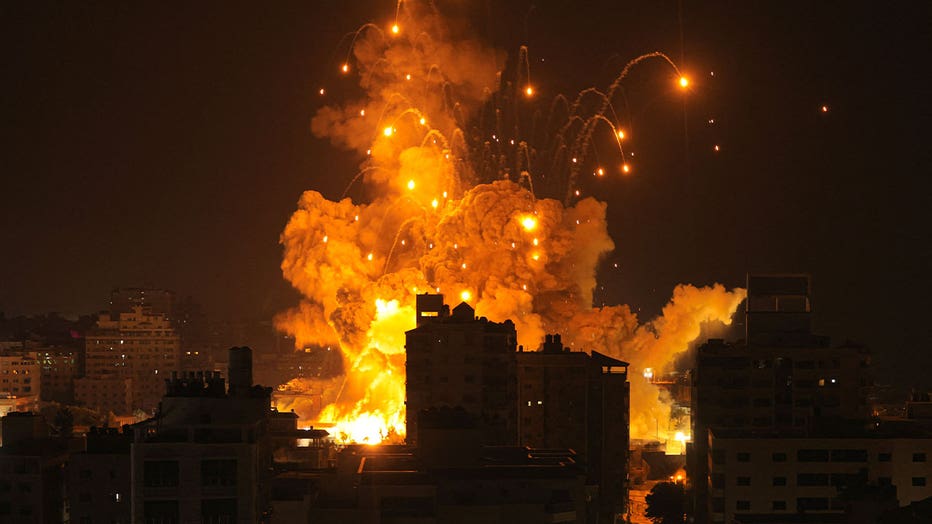 A missile explodes in Gaza City during an Israeli air strike on October 8, 2023. srael, reeling from the deadliest attack on its territory in half a century, formally declared war on Hamas Sunday as the conflicts death toll surged close to 1,000 afte (MAHMUD HAMS/AFP / Getty Images)
Meredith Abby is an advocate for Palestinian causes. She wants people to remember innocent lives are being lost on both sides.
"We need to use this as an opportunity to build empathy for Palestinians and counter this narrative that only Israeli lives matter," Abby said. 
Meanwhile, on Sunday, Senator Amy Klobuchar reiterated the United States' support for Israel.
"This is one of our allies," Senator Klobuchar said. "There is a long-standing relationship between the U.S. and Israel. Israel has stood with us, and we have stood with them, and this was a terrorist attack."