Minnesota voters file lawsuit to block Donald Trump from ballot in 2024
ST. PAUL, Minn. (FOX 9) - A group filed a lawsuit on Tuesday to block former President Donald Trump from the ballot in Minnesota based on the 14th Amendment, which bans those who engaged in insurrection against America from running for president.
Last week, Minnesota Secretary of State Steve Simon told FOX 9 his office had received close to 500 phone calls with questions about whether former President Donald Trump will be able to be on the ballot in 2024. Simon said it's not his job to decide who's on the ballot or to interpret the Constitution, but he will follow any court rulings pertaining to the issue.
Well, now a group is taking the issue to the courts. Eight Minnesota voters — Paul Anderson, a former GOP-appointed state Supreme Court justice; Joan Growe, a former Democratic Secretary of State; and David Thul, an Iraq War veteran who ran his county GOP chapter; among others — are named as petitioners in the lawsuit that challenges Trump's name being on the 2024 primary and general election ballots in Minnesota. Secretary Simon is listed as the respondent. 
The lawsuit argues Trump is "constitutionally ineligible" to be president, or for any public office, citing the 14th Amendment to the U.S. Constitution known as the insurrectionist disqualification clause. The suit says the events of Jan. 6, 2021, "amounted to an insurrection or a rebellion" and Trump's effort to overthrow the results of the 2020 election from Nov. 3, 2020, through Jan. 6, 2021, "constituted a rebellion."
The lawsuit details ways Trump attempted to overturn the results of the election and urged his supporters to amass at the U.S. Capitol on Jan. 6, 2021. Here is the full lawsuit:
The process of getting on the presidential ballot is different from any other office in the state. Major political parties submit names of those who will appear representing their party. The only way the nominee could change is if a court bans the candidate and that has happened in recent Minnesota history.
In 2016, the Minnesota Supreme Court found Republican State Representative Bob Barrett didn't live in his district and said he was ineligible to run for re-election. State law says parties have 71 days before the general election to submit the names of their nominees, but there's nothing in there about a potential plan B.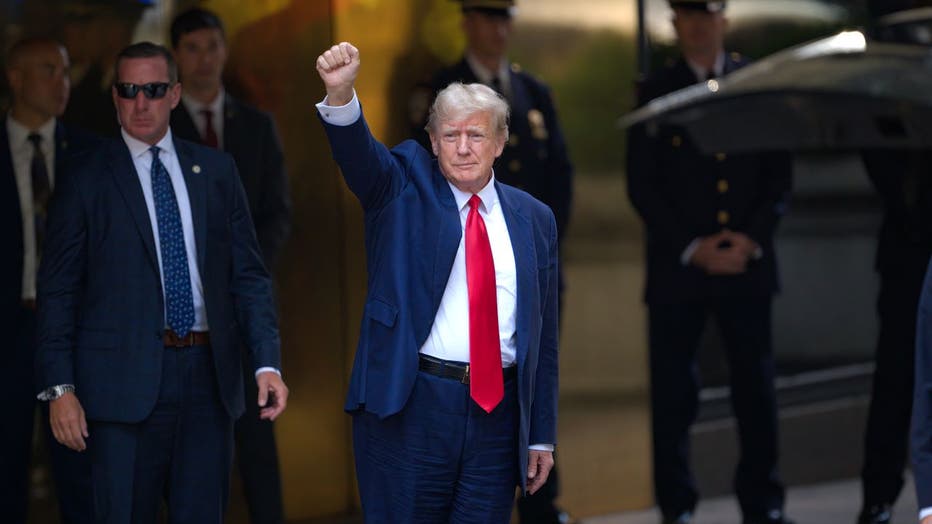 Former U.S. President Donald Trump leaves Trump Tower on September 6, 2023 in New York City. (Photo by James Devaney/GC Images) (Getty Images)
"There's nothing explicitly in Minnesota law that talks about what happens if someone's name is stricken at that late date," said Simon.
Lawsuits over the issue of Trump's eligibility to appear on the ballot are expected to be filed in multiple states.
Simon predicted the issue would eventually end up in the hands of the U.S. Supreme Court.