Minnesota Twins' Dick Bremer stepping away from calling games after 40 years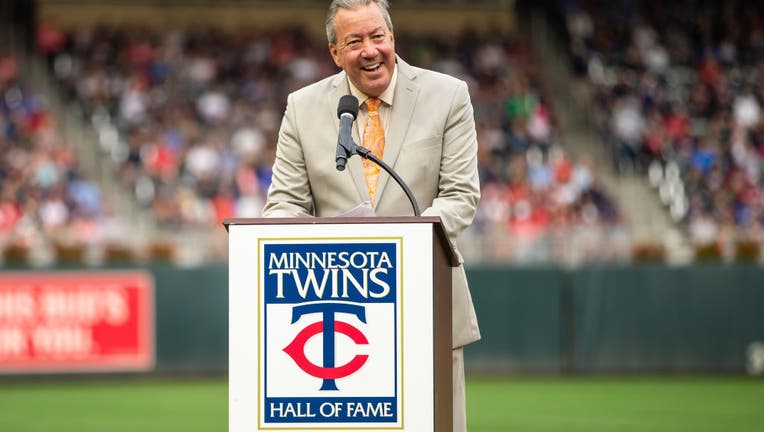 article
MINNEAPOLIS (FOX 9) - After a 40-year run, Minnesota Twins play-by-play guy Dick Bremer is hanging up his microphone. 
Bremer announced Tuesday he's no longer going to be calling games after four decades as the TV voice of the Twins. The team announced Bremer will still stay on as a member of the Twins' organization as a special assistant for the team, representing them at community events. 
"For 40 years, I've been blessed to totally immerse myself in the game that I love for the team that I love," Bremer said in a statement. "In those 40 years, I broadcast 4,972 Twins games. Over the last year or so, I thought it would really be cool to make it to 5,000. Then, I thought to myself, how selfish would that be? A broadcast should NEVER be about the announcer. It should ALWAYS be about the game and those who play it. I hope in my final season, I proved that 'I've still got my fastball', a goal I set when I started with the Twins in 1983. I look forward to the next chapter in my life with the Twins and thank Twins Territory for 40 incredible seasons! God bless."
In recent years, Bremer made the "left hand toast" a staple on social media. After every Twins' win, home or away, Bremer would make himself a celebratory adult beverage, take a picture of it in his hand and post it to Twitter. It was always with the left hand, as wins are in the left column in the standings.
He got to do that as many as 87 times this season as the Twins won the American League Central Division for the third time in five seasons. Bremer missed the first handful of home games this year, including his first home opener, due to having COVID-19.
A born and raised Minnesotan, Bremer started with the team in 1983 calling play-by-play with Spectrum Sports. He took one year off in 1986, and came back for the 1987 season, the Twins' first World Series win, and has been the TV voice ever since. Over that time, Twins' games have been broadcast on Twinsvision, Midwest Sports Channel, Victory Sports, Fox Sports North and now Bally Sports North. 
In 2013, Bremer received the Silver Circle Emmy for Broadcast Excellence and was inducted into the Minnesota Museum of Broadcasting Hall of Fame. In 2020, Bremer authored his best-selling memoir, "Game Used." He retires as the longest-tenured television broadcaster for a single team in Major League Baseball. 
Bremer graduated from Staples High School and went to St. Cloud State. He got his start in broadcasting, calling Iowa men's basketball. Bremer has also called Minnesota North Stars games, Vikings' preseason football, University of Minnesota football, men's basketball and men's hockey, Big Ten basketball and the Minnesota State High School League's football and girls' and boys' basketball tournaments.
The Twins are currently assessing potential broadcast options, as well as a talent lineup for the 2024 season. More information on that is expected this offseason.