Minnesota man's sourdough mastery earns him trip to Super Bowl
(FOX 9) - What started as a way to revisit a long-lost hobby has turned into a labor of love for a man from Minnetonka. For Barry Zelickson, baking is more of an art than a science. It's also been an opportunity to rise to the occasion on one of the world's largest stages.
"I don't know if I look at it as stress relief. It's just enjoyment," said Zelickson.
Some artists use paint as their medium.
"The creative aspect of it," said Zelickson. "It's fun to put together the different things, and it's always evolving."
While others sculpt clay or metal, Barry Zelickson combines humble ingredients like flour, water, and salt.
"I know there is a science to it but at the same time, there's still a lot of creativity in how it all comes together because there are so many variables," he said.
And elevates them into works of art. "It's really hard to fail on bread. You usually end up with a good result at the end of the day."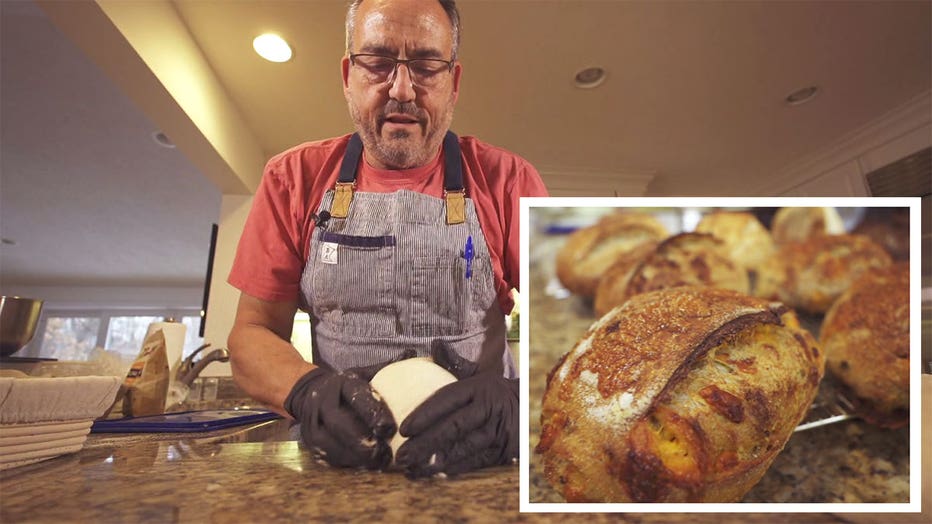 For Barry Zelickson, baking is more of an art than a science. (FOX 9)
I guess you could say an early experience is baked into Zelickson's DNA. He started the hobby when he was in high school but put it on the back burner for decades as life got in the way. Then, just before it seemed like everyone in the world discovered the joys of making sourdough bread during the pandemic, Zelickson began going against the grain.
"I was looking for a hobby a month before COVID hit. I went out and bought a 50-pound bag of flour and thought I'm going to get into this again. COVID hit, then I had all the time in the world."
Zelickson says he picked sourdough because it's more of a challenge, and soon he was sharing his culinary creations with family and friends.
"When the world is shut down and nobody has any places to go, and you are making more and more bread, and you only have a couple of people in your household, you have to find ways to share."
As word of mouth spread, he created a website where people could order his homemade baked goods each Wednesday and then pick them up at a storefront in Hopkins the following Saturday.
"I've got a great solid following of friends and family who enjoy it," he explained "I thought I would find a trend that people like it has not developed. It changes from week to week, and I try to offer different varieties to give them options of what they can get."
Zelickson likes to experiment with different flavor combinations, and eventually, he started entering and winning national baking competitions. "I have to be partial to chocolate Oreo. That was my first award-winning bread, it put me on the map and gave me a little credibility, which was fun. The jalapeno cheddar is a big favorite, and then my caraway rye."
Earlier this year, his hobby took him all the way to the Super Bowl of cooking, the Taste of the NFL, a charity event the night before the big game in Phoenix. He had to bake 150 loaves of bread in less than 24 hours alongside well-known chefs, like Carla Hall, Andrew Zimmern, and Tim Love. "For me, the challenge was seeing if I could do it, that was exciting. It was a once-in-a-lifetime opportunity. The validation from the chefs who came up and tried the bread and took bread with them that was really exciting for me. It was a unique experience."
Zelickson knows which side his bread is buttered on. He doesn't want to turn his part-time passion into a full-time job. But any way you slice it, Zelickson believes his pursuit of perfection will continue to bake his day.