Minneapolis and St. Paul celebrate St. Patrick's Day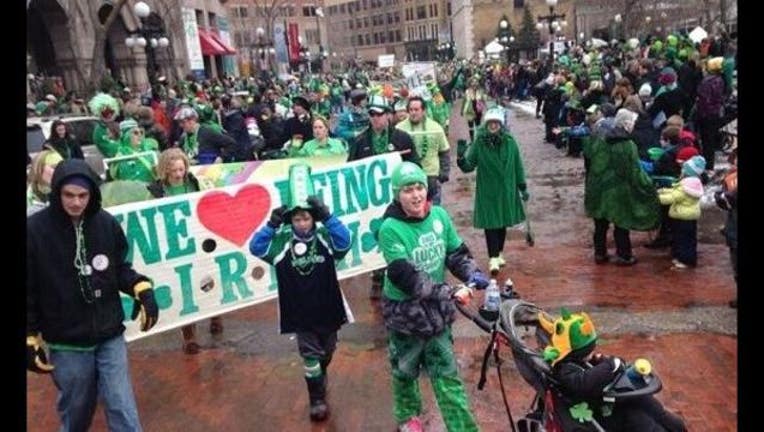 article
St. Patrick's Day festivities in the Twin Cities will kick off at noon in St. Paul on Tuesday, where thousands are expected to attend the 49th annual St. Patrick's Day Parade.
St. Patrick's Day Parade in St. Paul

The parade, sponsored by the St. Patrick's Association, will start around the Mears Park area at 12 p.m. and end at Rice Street.
O'Gara's "World's Shortest Parade"

Following that, at 3:30 p.m. there will be another parade in St. Paul outside of O'Gara's. The restaurant and bar will be hosting its 24th annual "World's Shortest Parade" led by the Brian Boru Pipe Band, with free entertainment and no cover charge. Music will start around 4 p.m.
Patrick McGovern's Big Tent Party

Patrick McGovern's on West Seventh Street in St. Paul will be hosting a tent party like the one they had this past Saturday. McGovern's "Big Tent" will open at noon, with DJ's playing at 3 p.m. The infamous Minnesota Police Pipe Band will also be performing there around 1 p.m.
St. Patrick's Day Parade in Minneapolis

Minneapolis will also be hosting its annual parade starting at 6:30 p.m. down Nicollet Mall between 11th and Fifth streets. Nearby bars such as Brit's Pub and Kieran's Pub will also be hosting events.
Kieran's and Brit's Pub

From 12 p.m. to 1 p.m. Kieran's will have live music for St. Patrick's Day on their main stage. Brit's Pub will also be celebrating, starting their celebrations with happy hour specials at 4:30 p.m. and wrapping up the night with bagpipers and music from O'Hammer Band.