Message behind the music: Laamar examines Black experience on EP 'Flowers'
MINNEAPOLIS (FOX 9) - In a studio in Northeast Minneapolis, the sound of music fills the air.
But there's a message beneath the lilting melodies and a musician who has found his voice.
"You know, putting something out independently and seeing if it has legs has been fun," said Geoffrey Lamar Wilson.
Wilson is the creative force behind Laamar. Their music is a mix of everything from country and Americana to funk and R&B, all combined to create a signature sound.
"For me, it's really like a combination of the different sorts of musical idioms that I enjoy playing. And I think in my late thirties now, I'm finally just accepting that I don't need to be in a genre per se," said Wilson.
Growing up in north Minneapolis, Wilson was surrounded by music. His dad was a drummer, who would often hold band practice in the basement.
Wilson himself settled on the saxophone and studied jazz in college, before learning to play the guitar in grad school and deciding to become a singer-songwriter.
After a few years as part of a Brooklyn-based folk duo Jus Post Bellum, Wilson decided to move back to Minnesota to be close to family.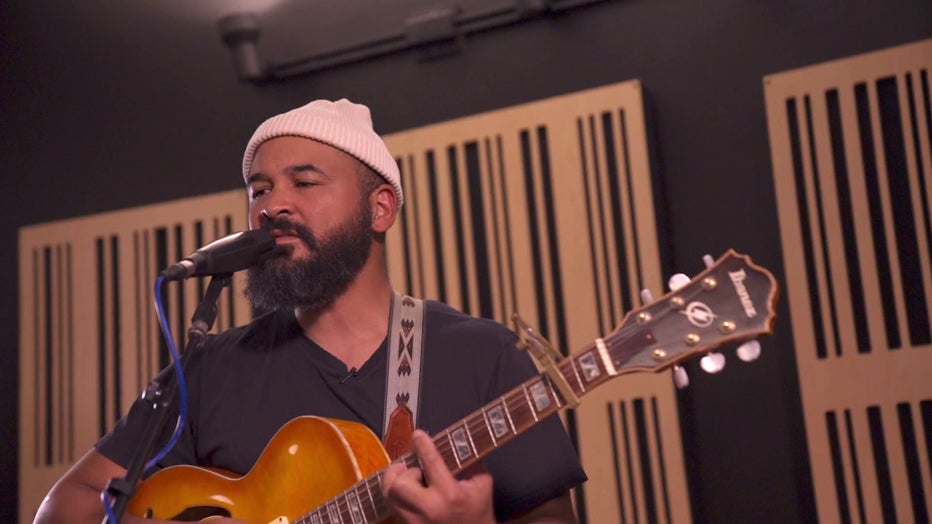 Minnesota singer-songwriter Laamar (FOX 9)
But soon after his homecoming, Philando Castile was shot and killed by St. Anthony police officer Jeronimo Yanez during a traffic stop, which inspired Wilson to start writing songs about the Black experience in America today.
"That really just got me thinking about my hometown and realizing that police brutality wasn't just this NYPD juggernaut that was happening on the East Coast. It was happening in the nice Midwest where everyone's well-meaning and mild-mannered and sort of removed the veil of that for me," said Wilson.
On his four-song EP titled "Flowers", Wilson tackles serious subjects like racial and social justice in a collection of catchy tunes.
"I like beautiful melodies and chord progressions, and I think for some folks that's been an entryway into the content by saying, oh, I really like the song. It's kind of catchy. Like I'm humming along and singing along, and then a few times through you're like, oh, wait, what is he singing about," said Wilson.
Like the song "Home To My Baby" where Wilson gives a first-person account of what a traffic stop can feel like for someone who is Black or brown.
"Really it's just sort of an exploration of the microaggressions and the trauma that people of color experience just by disproportionately and repeatedly being pulled over," said Wilson.
Or "Say My Name", which references Castile and echoes the protesters who marched to call for an end to police brutality. Then there's "My Kingdom", which gives nods to Breonna Taylor, Jamar Clark, and of course George Floyd, among others.
"George Floyd was just so visceral and it really left me feeling like I want to do something. I need to do something. What is my contribution to this moment going to be?" said Wilson.
Wilson hopes his passion project strikes a chord with people who want a different way to engage in what can be divisive issues and maybe become an instrument of change in the process.
"Folks can hear the music, enjoy the music, come to know that there's content in it that can be difficult to hear, can be difficult to engage with, but doesn't have to be scary," said Wilson.