'This is real': Sesame Street's first Black woman puppeteer fills 'impactful' role
Megan Piphus Peace grew up watching her friends on Sesame Street. She loved the characters so much, she thought they were real.
Piphus Peace never dreamed that decades later, she'd be working on the same set as the characters she watched as a child — while inspiring young Black girls to pursue their own unique talents.
Piphus Peace, 30, is the first Black woman puppeteer on Sesame Street in its 50-plus year history. What started as an internship in March 2020 evolved into a permanent role as the voice of Gabrielle, a 6-year-old, "fun-loving" Black Muppet who likes singing, dancing, animals and nature.
"I've really been walking what feels like inside of a dream," Piphus Peace said in an interview with FOX TV Stations. "To work for an organization that has always been at the forefront of major issues, like diversity ... and kindness, teaching our kids to be smarter, kinder and stronger, it's just a blessing."
A calling
Piphus Peace was just 10 years old when she "stumbled into" puppeteering, she recalled. Someone at her church was starting a puppet ministry, using puppets to teach children, and asked some of the kids if they'd be willing to learn puppetry to put on shows for the other children. Piphus Peace said yes, then went to a festival with her fellow church members to learn about puppetry and ventriloquism.
When she returned, she told her parents she'd found her calling: "I said, wow, I think I want to learn how to do ventriloquism."
"I really felt it could be a way for me to express myself," she continued. "I was extremely shy ... and it was really a way for me to open up and make friends."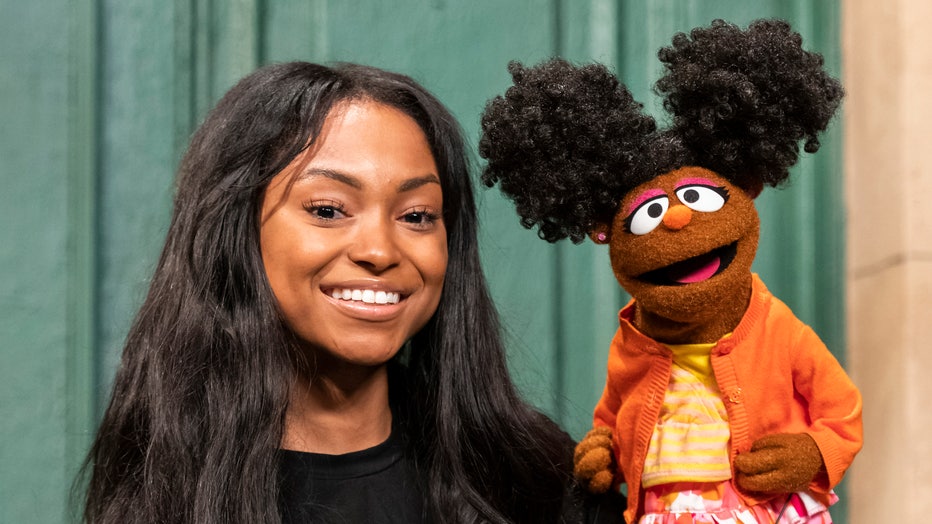 Megan Piphus Peace, Sesame Street's first Black woman puppeteer, poses with Gabrielle, her character on the show (photo credit: Zach Hyman)
From there, Piphus Peace checked out tapes from the library and "watched them backwards and forward." She even started taking her puppet to school.
After her teachers learned she had been practicing puppetry, they asked Piphus Peace and her first puppet, Charlie McCarthy, to lead her Christian school's devotional the next week. It was the first of what would eventually become her full-time work — and lifelong passion.
READ MORE: 'Sesame Street' co-creator Lloyd Morrisett dies at 93
"I performed at various churches, local festivals, really anywhere that I would be asked. It became both my community service and my job when I was in high school and in college," Piphus Peace said.
Piphus Peace drew much of her inspiration from the legendary ventriloquist Shari Lewis, the voice of Lambchop and star of Lambchop's Play-Along, a popular children's show that aired in the '90s.
"I absolutely adored Shari Lewis," she said. "I actually didn't know that she was a puppeteer until I started learning puppetry myself. Growing up, watching her as a kid, she was just so wonderful and talented and flawless that I thought Lambchop was real.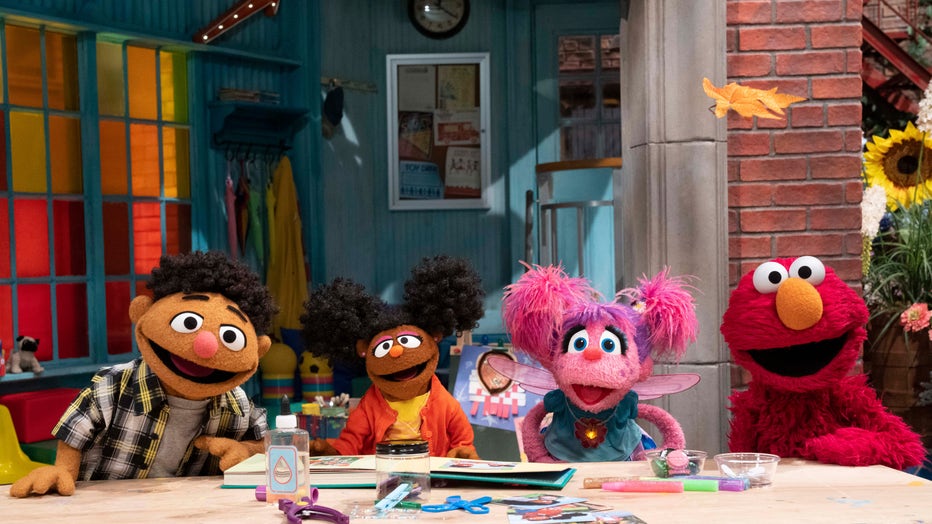 Sesame Street family album (Photo credit: Richard Termine)
"So I got all of her shows on DVD, and I would just sit in front of the TV and study her and mimic her voices, her poise, everything about her. I wanted to make a character that someone loved so much that they forgot I was there."
Before Sesame Street, Piphus Peace performed on America's Got Talent and competed in a couple of European competition shows in Germany and Italy.
"Puppetry has definitely taken me some exciting places," she said.
She graduated from Vanderbilt University with a bachelor's degree in economics and music, and a master's degree in finance. For several years, Piphus Peace worked in real estate full-time during the week and spent her weekends doing what she loved.
"I explored a lot of different career fields when I was in college. But really my passion called toward puppetry," she said.
The journey to Sesame Street
In March 2020, Piphus Peace joined Sesame Street's mentorship program to learn Muppet-style puppetry. Three months later, she was asked to voice Gabrielle in a CNN-Sesame Street town hall on racism.
"Within just three months of training with them, I was thrown into doing extremely impactful work on teaching kids how to process what was happening in the world during the protests of 2020," she recalled.
Gabrielle and Elmo on Sesame Street for Grandparents Day (Photo credit: Richard Termine)
Piphus Peace continued to voice Gabrielle after the town hall, and recorded with her in person for the first time in September 2021. Today, Pipus Peace and Gabrielle are permanent fixtures on the iconic show, and Piphus Peace has finally accepted that "this is real."
"It's such an overwhelming experience to be on set," she said. "I remember looking to one of my colleagues and saying, 'Am I dreaming? Are we really here?' It wasn't until a couple of years of me being on Sesame Street that it really felt permanent and I accepted that this is real, and Megan you're here to stay."
Making history
Piphus Peace lives in Nashville with her husband and two sons. She travels to New York for Sesame Street's recording season, and when she's called in to perform.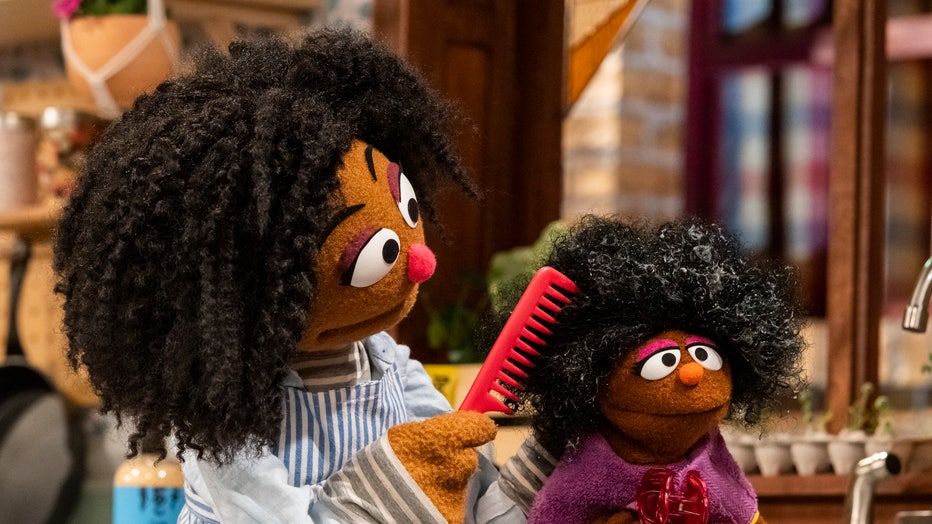 Gabrielle on wash day (Photo credit: Zach Hyman)
Since making history as the show's first Black woman puppeteer, Piphus Peace said she's received messages and videos on Instagram from young Black girls who are teaching themselves puppetry.
"And that just warmed my heart, because I know that me becoming the first Black woman puppeteer will inspire other young girls to pursue non-traditional and very unique talents," she said.