Meet the special needs students behind Northfield's Defeat of Jesse James Days buttons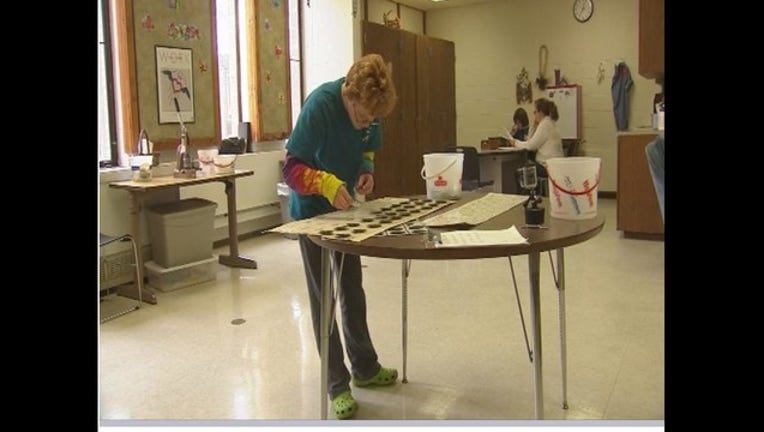 article
The annual Defeat of Jesse James Day in Northfield, Minnesota has some hard working students making sure it is a success every year.
Each September, the town of Northfield celebrates those who stood up to the notorious bank robber and outlaw, with a celebration downtown featuring parades and reenactments. However, to get in you'll need a $4 button. And it is that button some local special needs students work so hard to put together.
Anyone who has been to downtown Northfield knows its picturesque qualities make it look like something out of a Norman Rockwell painting. And history buffs love to talk about the towns famous stand against Jesse James who tried to rob the First National Bank back in 1876.
It is in light of that pageantry that some area students are putting their skills to work. They're trying to make 12,500 buttons ahead of this year's festival.
17-year-old Brook Askaland, one of the kids working on the buttons, had a simple rationale for the work when asked what she likes about the job.
"Making money," she said with a laugh.
Special needs students from Northfield Middle School and High School make up the employees for the program. The goal is to help the young adults learn real life skills.
"We have students with down syndrome, students with autism," said Lisa Lagergren,  who is one of the teachers guiding the program. "They fill out a time card, they get a paycheck, they endorse it, cash it at the bank, we go spend the money."
Without much fanfare, students in Northfield have been doing this behind the scenes work for more than 20 years. This year the Jesse James celebration's new board chair T.J. Heinricy will invite the students to be an official part of the promotional photos, the pig roast, and to be front row for the parade.
"I just want these bunch of kids who have been never recognized, to know they are a part of our family," Heinricy said.
At 10 cents a button, the money the kids earn can really ad up. Thus far they are about halfway done making the beloved souvenirs.