Marijuana tax: Walz, DFL lawmakers diverge on how much is enough
ST. PAUL, Minn. (FOX 9) - Talk with Democratic lawmakers, and they'll say it's a matter of if -- not when -- Minnesota legalizes recreational marijuana.
It's also clear that they don't have every detail settled. Take, for example, the tax rate on marijuana sales. While Gov. Tim Walz has proposed a 15% marijuana tax, DFL lawmakers and advocates favor an 8% rate. Both are on top of the state's 6.875% sales tax.
The higher the tax rate, the more it drives buyers to the black market, marijuana advocates say. But Walz sees it differently.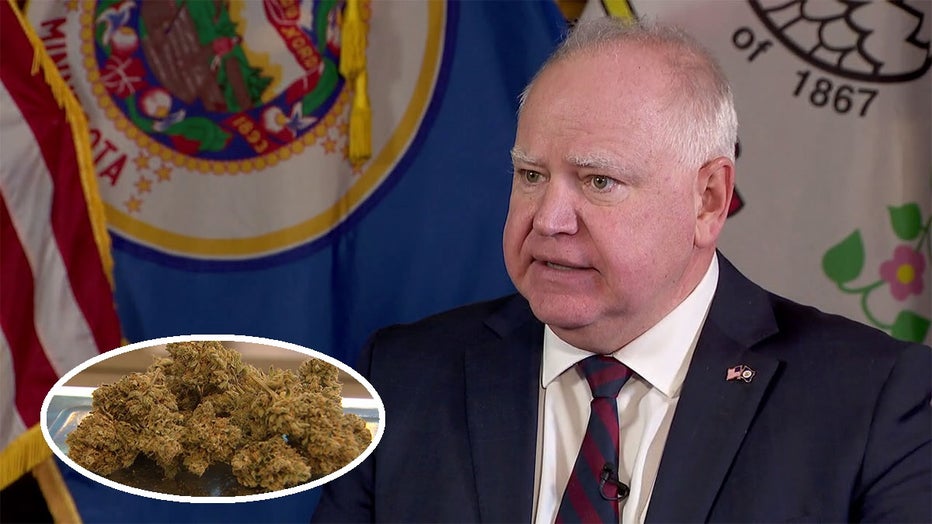 Governor Tim Walz says he's ready to sign a bill to legalize recreational marijuana in Minnesota. (FOX 9)
"Because the evidence doesn't show that (a black market) happens," Walz said in an interview Thursday. "I talked to other governors, asking them. They said it's about finding the right point where the revenues create the programs you want to see that make a difference but don't drive people underground."
The 19 states that've legalized marijuana have tax rates that are all over the place. Some states have taxes that are as low as the 8% rate that DFL lawmakers and advocates support. But others -- like Washington state, where the tax is 37% on top of state sales tax -- are far higher.
Democratic lawmakers have proposed spending $100 million on a new regulatory structure and grants to help minority-owned businesses compete with larger out-of-state marijuana companies. The question is whether an 8% tax would cover the new costs.
"The point of this is not to raise revenue for the state of Minnesota," state Rep. Zack Stephenson, DFL-Coon Rapids, said last month. "We should not legalize cannabis to raise revenue for the state of Minnesota. There are many reasons to do this. That is not one of them."
 Walz said his 15% tax proposal would cover the regulatory and grant costs without dipping into the state's general fund.
"I certainly am not trying to encourage people to use (marijuana)," Walz said. "If we're going to do this, use that revenue to go back into programs. For many people, especially those opposed to it, the idea of using general funds to make this work is not very palatable."
Legal marijuana legislation has advanced through six House committees and three committees in the Senate. Bills have several more committee stops before reaching the House and Senate floor. DFL leaders have predicted that legislation will pass but have not laid out a timeline.