L'Oréal unveils 'smart' lipstick tool for people with limited hand, arm mobility
One of the world's major beauty companies is rolling out a new product to make makeup more accessible — a "smart" lipstick applicator tool. 
The tool, called HAPTA, is the first handheld computerized makeup applicator designed for users with limited hand and arm mobility. 
Fine motor skills, as defined by the research nonprofit Understood, are the ability to make movements using the small muscles in our hands and wrists. Fine motor skills can be limited or weakened in adults for a number of reasons, such as stroke, multiple sclerosis, cerebral palsy, or arthritis, to name a few.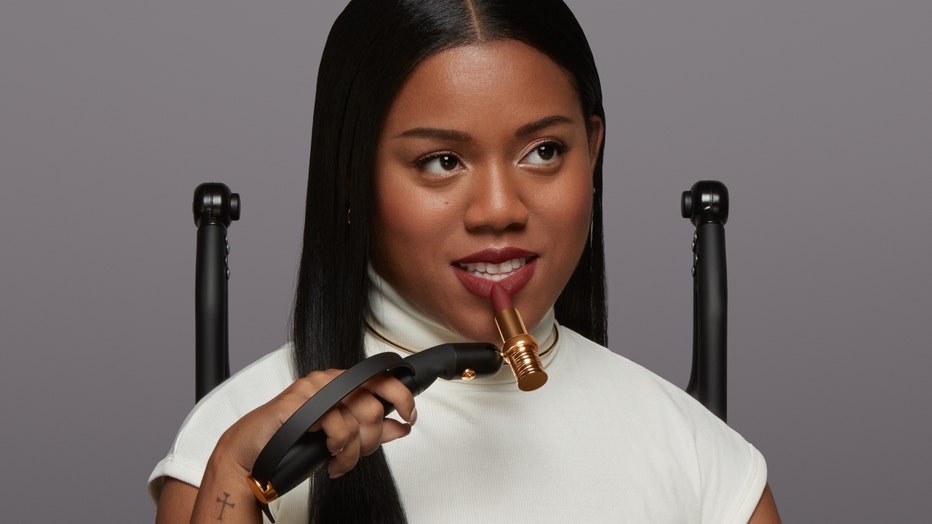 A model demonstrates HAPTA. Image: L'Oréal
L'Oréal says the fine motor skills of an estimated 50 million people are affected, meaning countless people across the globe may need assistance with daily routine tasks — such as applying makeup. 
HAPTA works with real-time sensors and self-leveling technology to help provide a steady lipstick application. 
The HAPTA lipstick applicator device from L'Oréal. Image: L'Oréal
It works in tandem with lipsticks from L'Oréal-owned Lancôme that will "click" into the desired position on HAPTA. Additional makeup application tools are in the works.
The technology was introduced last week at CES, formerly known as the Consumer Electronics Show.
RELATED: Here's the top tech being unveiled at CES 2023
L'Oréal also unveiled its Brow Magic technology, which brings augmented reality to your eyebrows.
The company's app scans your face and uses AR to make personalized recommendations for choices of shape, thickness and effect. You apply a primer, then the Brow Magic device uses 2,400 tiny nozzles to brush over and paint your eyebrows.
A model demonstrates Brow Magic. Image: L'Oréal
L'Oreal developed Brow Magic in partnership with Prinker, which makes a device that quickly applies temporary tattoos.
The makeup in Brow Magic, which is expected to launch later this year, can last up to two days and be taken off with regular makeup remover.
This story was reported from Detroit. The Associated Press contributed.