Legal woes beset 'serial stowaway' who sneaks on flights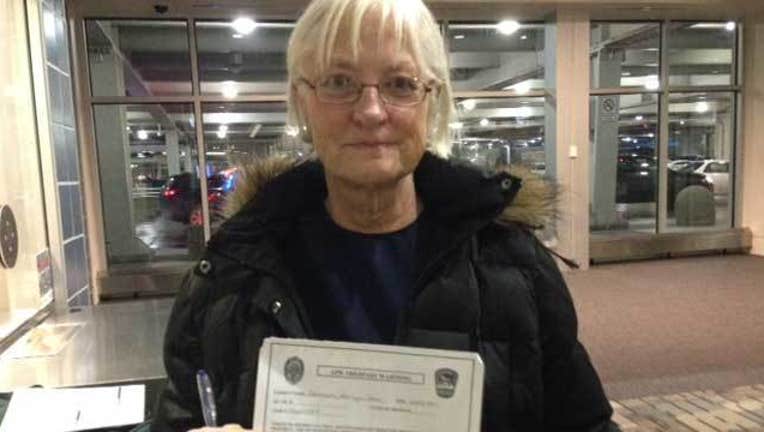 article
CHICAGO (AP) — What to do with Marilyn Hartman?
That's the question at a hearing Thursday for a 66-year-old woman dubbed the "serial stowaway" for a history of trying to sneak onto commercial jets without a ticket. She's behind bars, not because she faces charges that she slipped onto a jet from Chicago to London, but because of what the judge who set her free told her not to do: She returned to the airport.
Now, two months after a judge ordered Hartman held without bond — a move typically reserved for dangerous offenders such as murder suspects — her attorney is expected to seek her release from jail.
RELATED: Marilyn Hartman's history at MSP and other U.S. airports 
Parle Roe-Taylor won't say whether mental health professionals have concluded Hartman is legally sane as they have before. Nor will she say if she's found a mental health facility or another place to stay for Hartman.
But she says Hartman doesn't belong in jail.
"She is not violent, she's not demonstrated to be a harm to herself. There is no reason to take her out of society," said Roe-Taylor, a Cook County public defender's office attorney.
But that might happen. After years of arrests followed by brief stays in jails and mental health facilities, Hartman is in big legal trouble. Because she allegedly remained in the airport intending to commit theft— a flight she didn't pay for — and boarded the jet for the same reason, she faces felony burglary charges that carry a maximum sentence of seven years in prison. She's also charged with felony criminal trespassing.
SECURITY VIDEO: How serial stowaway Marilyn Hartman slips past airport security
The hearing is the latest chapter in a story that's played out the past decade in Chicago, Hawaii, San Francisco, Florida and elsewhere. It will again display the case of a woman who frustrates the legal system — voiced by a judge in 2016 when Hartman was arrested at O'Hare International Airport after being placed on mental health probation and released to a nursing home.
"We can't keep doing this over and over and over again," Cook County Circuit Judge William Raines said.
Hartman has been nabbed in and near airports dozens of times and made it onto planes maybe half-dozen times. Recently, she made it into the air on a flight from Chicago to London.
Why she does it is unclear. Though she refused to be interviewed for this story, she has tried to explain.
"I feel the need to get on a plane to go away," she told Joe Eskenazi for a 2015 San Francisco Magazine story.
Her life explains little.
Hartman's legal run-ins didn't begin until she was into middle age. A letter in a court file in Chicago says Hartman for decades was stable — high school in Chicago, then courses at the Chicago College of Commerce followed by decades as a legal secretary, legal research and telemarketing before she stopped working in 2003.
She never married, has no children and it's unclear why in the 1980s she changed her last name from Stall to Hartman. She has at least two brothers in the Chicago area, but calls to them weren't returned.
She was found mentally fit, though troubled, by Cook County mental health professionals in 2015. The psychiatric summary include a diagnosis of "Major Depressive Disorder in full remission, and Unspecified Personality disorder with Anti-Social Traits" along with "Adjustment Disorder," according to a probation department letter that also noted she was taking an anti-depressant.
RELATED STORY: Serial stowaway Marilyn Hartman arrested twice at Chicago airports
Those who've talked to her say she can be pleasant. Eskenazi said she sounds almost reasonable when she recites names of people she says are out to get her, from jailhouse snitches to former President Barack Obama.
Her personality can win people over, including officers who over the years have given her a train ticket and rides to a hotel and bus station.
With her white hair, glasses and polite demeanor, she looks like a grandmother.
"She's very clever," said San Mateo County District Attorney Steve Wagstaffe, whose office became acquainted with Hartman when she tried repeatedly to get past security at San Francisco International Airport in 2014. "She described it once to one of our detectives, how she does this roll and spin move to get by boarding and onto an airplane."
Her persistence showed in January at O'Hare.
"She hid her face with her hair and walked past the (TSA) officers," said Tandra Simonton, Cook County State's Attorney's office spokeswoman.
Hartman tried to board a flight to Connecticut by hiding behind a passenger waiting to board the jet, Simonton said. But when she tried to slip past the passenger, the gate agent told her to sit down.
Prosecutors said she remained in the airport and the next day boarded a shuttle to the international terminal. Simonton said she somehow got onto the shuttle without the required passport and plane ticket.
The next day, she appeared at a gate. Then, said Simonton, "She... walks past two British Airlines ticket agents who are checking other passengers, darts into a small room off to the side and walks quickly past Customs and a border patrol agent who is looking at the passports of people entering the ramp."
Prosecutors say she then flew to London.
READ THIS NEXT: Serial stowaway Marilyn Hartman arrested again at Chicago-O'Hare