Lawyers make closing arguments in trial of 2 cops charged in Elijah McClain's death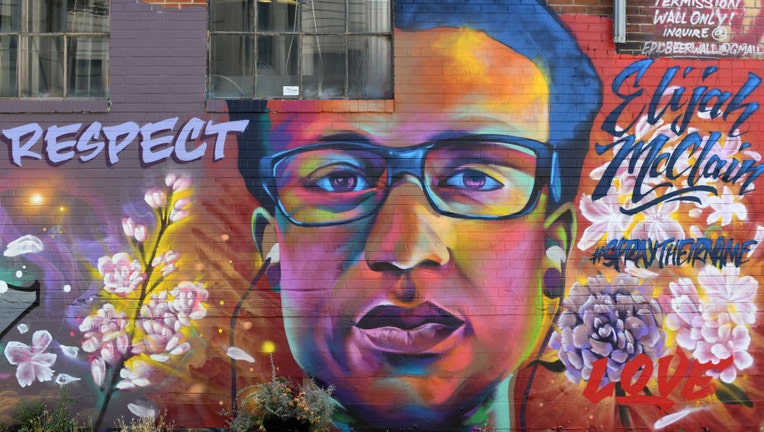 article
DENVER - Lawyers began delivering closing arguments Tuesday in the trial of the first two police officers prosecuted in the 2019 death of Elijah McClain, a Black man who was put in a neck hold and pinned down by officers in a Denver suburb before paramedics injected him with a powerful sedative.
McClain was stopped while walking home from a convenience store on a summer night, listening to music and wearing a mask that covered most of his face. A 911 caller reported him as suspicious and the police stop quickly became physical with McClain, a 23-year-old massage therapist seemingly caught off guard, asking to be left alone. He had not been accused of committing any crime.
"His name was Elijah McClain. He was going home," prosecutor Duane Lyons told jurors, echoing McClain's words that were captured on police body camera video. "He was someone who mattered," Lyons added, as a photo of a smiling McClain was shown to jurors.
RELATED: Elijah McClain death: What to know amid trial of two Colorado officers
Prosecution witnesses testified that the sedative ketamine killed McClain. But prosecutors also offered medical testimony that the restraint of McClain by Aurora officers Randy Roedema and Jason Rosenblatt triggered a series of health problems that made it hard for McClain to breathe and more vulnerable to a fatal overdose.
Defense attorneys said McClain's death was a tragedy and did not call any witnesses during the weekslong trial, instead using questions for prosecution witnesses to make their case that the officers were innocent.
RELATED: Bodycam footage of Elijah McClain's death presented in trial of 2 cops charged with homicide
Roedema attorney Donald Sisson urged the jury to reject the prosecution's emotional appeals and focus instead on the potential dangers faced by the officers.
"If they don't act, they may not go home to their family that night," Sisson said. He added that the officers repeatedly told McClain to stop fighting and had no choice but to forcefully subdue him after Roedema shouted out during the confrontation that McClain had reached for another officer's gun.
Rosenblatt's attorney, Harvey Steinberg, said his client was a scapegoat who had nothing to do with McClain's death. It was caused by the ketamine, Steinberg said.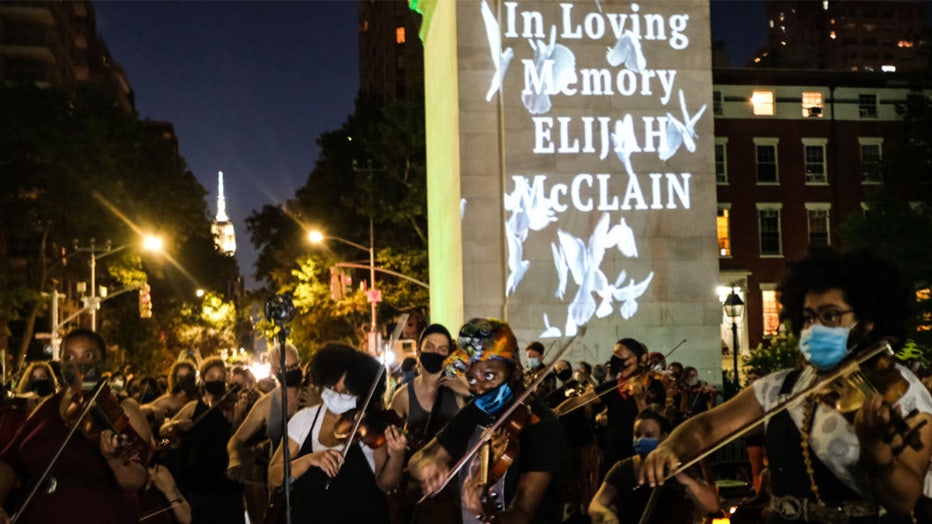 FILE - String players perform during a violin vigil for Elijah McClain in Washington Square Park on June 29, 2020, in New York City.  (Byron Smith/Getty Images)
"It was the paramedics," Steinberg said. "And by the way, Rosenblatt wasn't even nearby when all that takes place."
But prosecutor Lyons said the officers failed to de-escalate the situation, ignored McClain's obvious distress and turned off some of the body worn cameras during portions of the encounter.
"To say this was just a tragedy would trivialize what happened that evening. The defendants are guilty of crimes," Lyons said.
RELATED: Elijah McClain's death sparked protests and led to police reforms. Now, 2 cops on trial
McClain's mother, Sheneen McClain sat in the front row in the packed courtroom during the arguments.
Roedema and Rosenblatt are charged with manslaughter, criminally negligent homicide and second-degree assault — all felonies. An assault conviction carries the most serious penalty, up to 16 years in prison.
Officer Nathan Woodyard — whose trial setarts Friday— was the first to stop McClain. Within 10 seconds, Woodyard put his hands on McClain and turned him around. As McClain tried to escape his grip, Woodyard said, "Relax, or I'm going to have to change this situation."
The encounter escalated, with Woodyard, Roedema and Rosenblatt taking McClain to the ground and Woodyard putting him in a neck hold and pressing against his carotid artery, temporarily rendering him unconscious. The officers later told investigators they took McClain down after hearing Roedema say, "He grabbed your gun dude."
This moment can be heard but not seen on body camera video. The extensive video of the moments leading to his death were shown repeatedly to jurors.
Two paramedics, Jeremy Cooper and Peter Cichuniec, were also charged in McClain's death and are scheduled to go on trial in November.
The local district attorney did not pursue criminal charges in 2019, but the case was re-examined in 2020 after Gov. Jared Polis asked state Attorney General Philip Weiser to investigate amid protests over police brutality against Black people following the killing of George Floyd in Minneapolis.
Roedema and Woodyard are currently suspended without pay. Rosenblatt is the only officer involved in the incident who was fired — not for the fatal encounter itself, but for making light of other officers' reenactment of the neck hold.
___
Brown reported from Billings, Montana.