Kyle Rittenhouse shooting: Anthony Huber federal civil rights lawsuit permitted
KENOSHA, Wis. - A federal judge in Wisconsin on Wednesday ruled that a wrongful death lawsuit filed by the father of Anthony Huber, shot and killed by Kyle Rittenhouse during a protest in 2020, can proceed against Rittenhouse, police officers and others.
Anthony Huber was participating in an Aug. 25, 2020, protest sparked by the police shooting of Jacob Blake two days earlier. The Black man was left partially paralyzed after he was shot in the back by police during a domestic disturbance call. 
Huber died after he was shot by Rittenhouse. Anthony Huber's father, John Huber, alleges that Rittenhouse, who was 17 at the time of the shootings, conspired with law enforcement to cause harm to protestors. John Huber is seeking unspecified damages from city officials, officers and Rittenhouse.
U.S. District Judge Lynn Adelman on Wednesday dismissed motions filed by Rittenhouse and the government defendants seeking to dismiss the civil rights lawsuit.
In allowing the case against Rittenhouse and the others to proceed, the judge said that Anthony Huber's death "could plausibly be regarded as having been proximately caused by the actions of the governmental defendants."
Rittenhouse had argued that the case against him should be dismissed because he wasn't properly served with the lawsuit. Adelman dismissed that, saying that Rittenhouse "is almost certainly evading service."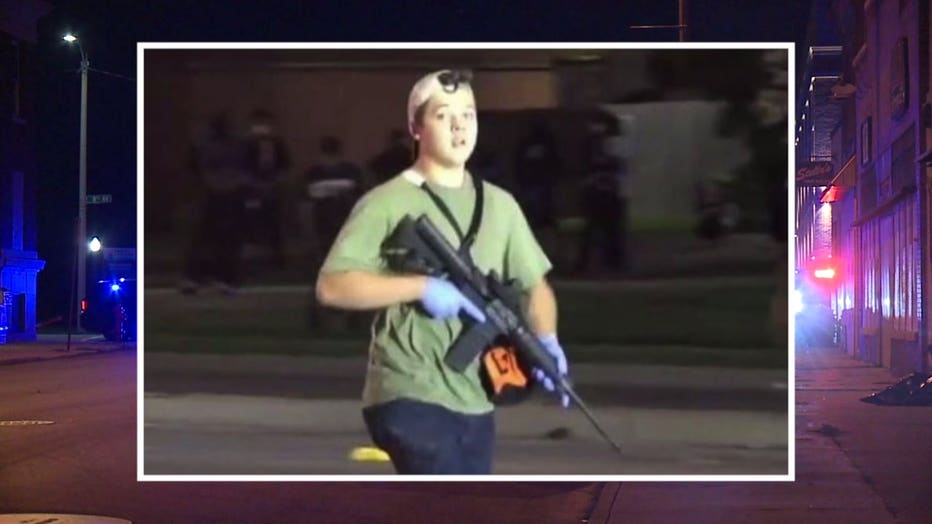 Attorneys and private investigators for John Huber spent over 100 hours trying to locate Rittenhouse, tracking down addresses in seven states, before they found the home of his mother and sister in Florida. The lawsuit was served on Rittenhouse's sister, who said that he wasn't home. Adelman said that was sufficient to qualify as being served.
"Rittenhouse has been deliberately cagey about his whereabouts," Adelman wrote. "Although he denies living in Florida, he does not identify the place that he deems to be his residence."
Rittenhouse's attorneys did not immediately respond to emailed requests for comment. Attorneys for law enforcement and Kenosha officials sued also did not immediately return emailed messages.
The ruling puts Anthony Huber's family "one step closer to justice for their son's needless death," said Anand Swaminathan, one of the attorneys for John Huber and Karen Bloom, parents of Anthony Huber.
"The Kenosha officials that created a powder keg situation by their actions tried to claim that they cannot be held accountable for their unconstitutional conduct; that argument was soundly rejected today," Swaminathan said in a statement.
This case is one of several ongoing civil lawsuits filed in the wake of the shootings. Grosskreutz last year filed a similar lawsuit against Rittenhouse.
Rittenhouse has maintained a high public profile, particularly on social media, where he is an outspoken advocate for gun rights. He has nearly 1 million followers on Twitter and has spoken at conservative gatherings.
Shooting death of Anthony Huber
The lawsuit was filed in August 2021, two months before Rittenhouse was acquitted of all charges in November 2021 after pleading self-defense in the deadly Kenosha shootings.
Huber, 26, and Joseph Rosenbaum, 36, were killed in the shootings. Gaige Grosskreutz was also shot but survived his injuries.
Prosecutors said Rittenhouse traveled from his home in Antioch, Illinois, and joined other armed individuals in Kenosha who answered a call from local militia to protect businesses from protesters. The protests turned chaotic that night. 
Rosenbaum was shot in the parking lot of an auto dealership, and as Rittenhouse ran from the scene, he stumbled and fell, prosecutors said, and Huber was shot in the chest as he tried to disarm Rittenhouse by wrestling his rifle away.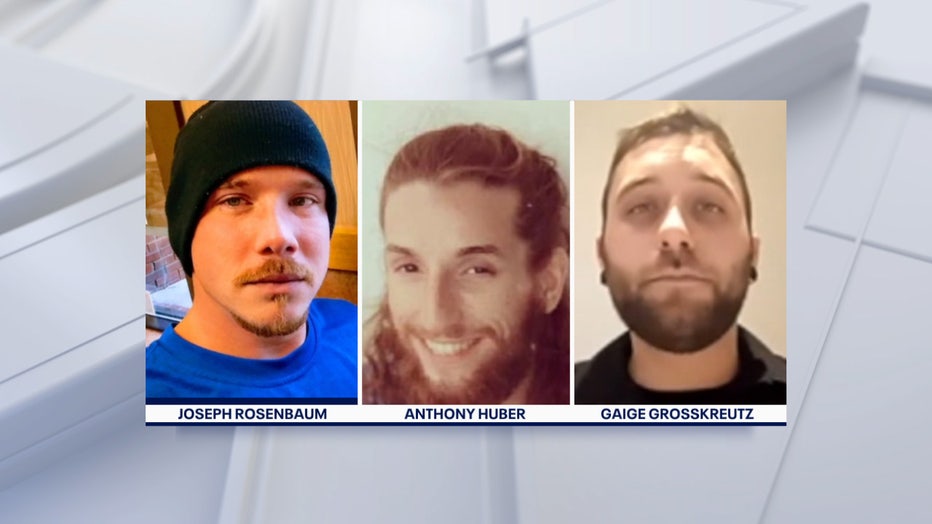 "After he had killed and maimed multiple individuals, Kyle Rittenhouse walked up to a dozen Kenosha police officers, assault rifle in hand, with crowds yelling that he had just killed innocent people. What did the police do? They spoke to him and let him walk away," said Huber family attorney Anand Swaminathan when the lawsuit was filed.
Rittenhouse maintained he fired in self-defense, but prosecutors charged him with a litany of counts, including reckless homicide, recklessly endangering safety, attempted first-degree intentional homicide and being a minor in possession of a dangerous weapon. He was later found not guilty on all counts.
Allegations in the lawsuit
The federal lawsuit seeks unspecified damages against Kenosha County Sheriff David Beth; Daniel Miskinis, the former City of Kenosha police chief; Eric Larsen, the city's acting police chief; and unnamed officers and deputies.
The plaintiffs allege in the lawsuit, filed in the U.S. Eastern District of Wisconsin in Milwaukee, that the defendants "deputized these armed individuals, conspired with them and ratified their actions by letting them patrol the streets armed with deadly weapons to mete out justice as they saw fit. "
"The police are supposed to serve and protect," Anthony's father, John Huber, said in a statement when the lawsuit was filed. "But that's not what the Kenosha police did. They walked away from their duties and turned over the streets of Kenosha to Kyle Rittenhouse and other armed vigilantes. If they had done their job, my son would still be alive today."
The lawsuit also alleges that the officers' decision to treat demonstrators and militia members differently was motivated by racial discrimination and was in retaliation for protests critical of police violence.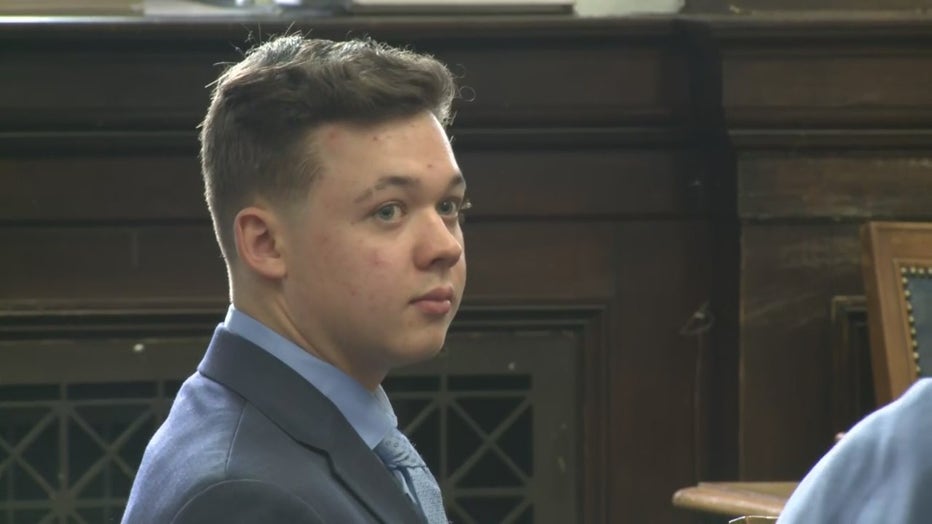 The plaintiffs allege in the lawsuit that while police allowed armed militia members who were white to roam the streets illegally with weapons, they strictly enforced a curfew against peaceful protestors, who were a diverse group speaking out against police violence.
That discriminatory and retaliatory conduct violated the U.S. Constitution's guarantees of a right to free speech and peaceful assembly and to equal protection of the law, the lawsuit said.
After the lawsuit was filed, Anthony Huber's mother, Karen Bloom, said it's about justice for her son and his legacy.
SIGN UP TODAY: Get daily headlines, breaking news emails from FOX6 News
"After Anthony's death, there will always be a hole in my heart," Bloom said. "But his memory lives on, and I will never stop telling his story."
Statement from Anthony Huber's family attorneys
"Today a federal judge ruled in favor Anthony Huber's family in a civil rights lawsuit against the City of Kenosha and Kenosha police officers that seeks to hold the law-enforcement officers responsible for their role in the events leading to Anthony Huber's death. The Court also rejected Rittenhouse's attempts to dismiss this civil action. 
Today's ruling is a momentous victory for the Huber family, moving their case closer to a jury trial. The full civil rights complaint can be found here. 
In August 2021, Anthony Huber's family filed a constitutional civil rights lawsuit in federal court against the City of Kenosha Police Department and Kenosha County Sheriff's Department for their role in Rittenhouse's deadly rampage that left the Hubers' son, Anthony, dead. Kenosha City and County Police took sides during the peaceful protest and deputized Kyle Rittenhouse and the other armed, pro-police militia members to patrol the streets and control demonstrators who were protesting police violence and racism. The lawsuit alleges that the police invited in Rittenhouse and other illegally armed individuals to patrol the streets with deadly weapons to mete out justice as they saw fit. 
Today's order affirms the Huber family's lawsuit: 
"[Defendants'] conduct, as alleged in the complaint, involved forcing protestors into a confined area with hostile, armed individuals, and then failing to protect the protestors from violence perpetrated by the armed individuals," wrote Judge Lynn Adelman. Judge Adelman further noted that the complaint alleges that the shootings "were a foreseeable result of the defendants' decision to create an explosive situation by forcing protestors into a confined area with hostile armed individuals."
 John Huber and Karen Bloom, Anthony's parents, have had to litigate the grief of their son's murder over the past several years, all while enduring bitter public attacks from far-right media. After the 2021 criminal trial of Kyle Rittenhouse ended in acquittal, Anthony's parents wrote: 
"Make no mistake: our fight to hold those responsible for Anthony's death accountable continues in full force. Neither Mr. Rittenhouse nor the Kenosha police who authorized his bloody rampage will escape justice. Anthony will have his day in court."
 "Today's ruling puts Anthony's family one step closer to justice for their son's needless death," said Anand Swaminathan of Loevy & Loevy Attorneys at Law, one of John Huber and Karen Bloom's attorneys. "The Kenosha officials that created a powder keg situation by their actions tried to claim that they cannot be held accountable for their unconstitutional conduct; that argument was soundly rejected today." 
"The lawsuit will proceed to discovery, allowing full transparency into the events of that fateful and tragic evening," continued Swaminathan. 
Rittenhouse and the other Defendants had asked the judge to dismiss this civil lawsuit against them. Rittenhouse claimed that he was not properly "served" with the legal complaint – the essential first step for initiating a civil lawsuit. The Court stated that "Rittenhouse . . . is almost certainly evading service." 
The estate of Anthony Huber is represented by his attorneys, Jon Loevy, Dan Twetten, Anand Swaminathan, Steve Art, and Quinn Rallins, all of Loevy & Loevy Attorneys at Law."
The Associated Press contributed to this report.